The CZ 75B Pistol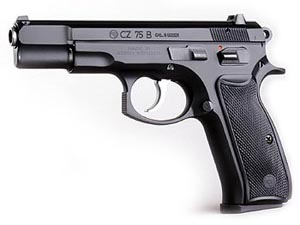 Illustration courtesy of CZ-USA.
The CZ 75, produced by Ceska Zbrojovka of the Czech Republic, was designed in 1975. Basic features include short recoil operation, tilt barrel with radial locking lugs, 10 round magazine, three dot sighting system, and hammer forged barrel. DA/SA or DAO models are available in 9mm Luger or 40 S&W.
A version with a de-cocking lever is also available, as is an ambidextrous model called the CZ 85B. There is a .45 ACP model called the CZ 97. All of these pistols feature the heft of all steel construction. Here are some specifications, taken from the CZ-USA web site:
Caliber = 9x19 and .40 S&W
Overall length = 8.1 in.
Barrel length = 4.7 in.
Height = 5.4 in.
Width = 1.4in
Weight = 2.2 lbs.
2006 MSRP = $509 (9x19), $525 (.40 S&W)
Although I own several long guns, I had never owned a handgun. The features I wanted for my first pistol included DA/SA operation, full size, steel construction, exposed hammer, accuracy, reliability, caliber .40 S&W, and reasonable price.
The CZ 75B met all these. A friend at a local gun shop agreed to sell me a CZ for $400, which was about $100 below retail, so I ordered the CZ 75B pistol.
After receiving my CZ, I promptly disassembled it and cleaned off the packing grease and wiped it down lightly with Rem-oil. Disassembly and reassembly was a snap.
Visually, the CZ 75B is similar in appearance to the Hi-Power. When you pick it up the first thing you notice is it's substantial heft, and then you notice the ergonomic grip. The side panels of the grip are a hard checkered composite. I selected the black polycoated finish, which is a black matte and thus far has been very rust resistant.
The standard sights are the three dot variety. Tritium night sights are available if desired. The slide release and safety are simple and easy to use, but shooters with small hands might find the slide release a little hard to reach with their thumb.
At the range the CZ 75B has been a joy to shoot. The double action pull for the first shot is long and heavy, but it is comparable to other pistols of this configuration. The single action pull for subsequent shots is reasonably crisp with just a hint of creep. Recoil is minimized by the pistol's weight.
I would highly recommend the CZ 75B as a first class, affordable handgun. Because of its weight and overall dimensions, it would probably not be a good choice for concealed carry. CZ offers the compact P-01 and sub-compact CZ 2075 RAMI, which would be better suited for concealed carry purposes.
Note: Full length reviews of the CZ 75B, CZ 75 Compact and CZ 85 Combat pistols can be found on the Product Reviews page.