CZ Firearm Foursome:
103D 20 gauge shotgun, 103D 12 gauge shotgun, 455 Lux .22 LR rifle, 527M 7.62x39mm carbine
By Mark Wynn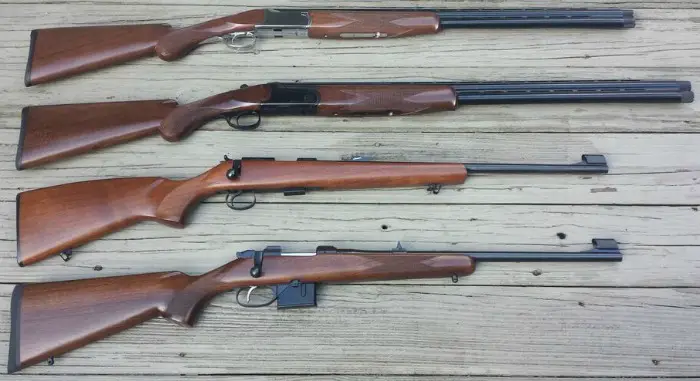 From top: CZ-USA/Huglu Canvasback 103D 20-gauge, CZ-USA/Huglu Canvasback 103D 12-gauge, CZ 455 Lux .22LR, CZ 527M 7.62x39 mm. Photo by Mark Wynn.
After years of infatuation with black polymer guns and their light weight, versatility and no-nonsense demeanor, what should appear to my wondering eyes but four steel and walnut range peers known mainly by their initials: CZ. That stands for Ceska zbrojovka a.s. Uhersky Brod. CZ acquired and is near Brno (another famous European firearm name) in the Czech Republic.
Anointing anything a favorite tempts rebuttal. However, after owning about 40 guns over the years and eventually selling most of them, I belatedly bought these four delightful CZ-USA offerings over a period of several months:
CZ-USA/Huglu 20-gauge Canvasback 103D O/U shotgun
CZ-USA/Huglu 12-gauge Canvasback 103D MC Black O/U shotgun
CZ 455 Lux .22LR bolt-action rifle
CZ 527M 7.62x39 mm bolt-action carbine
I had not been looking for any more guns, let alone a quartet. It started with a shooting buddy's question, "What do you think of CZ over/unders?"
Hmnn. I rarely thought much about CZs or over/under shotguns. I tend more toward sturdy American firearms, including some that look as if assembled by hyphenated garage bands (e.g., Kel-Tec, Hi-Point).
Ergo, my initial reflex for considering a non-American product was guilt. This lasted as long as it takes to say "global economy." After all, in addition to its Czech Republic firearms, CZ-USA (based in Kansas City) became the exclusive importer of Turkish Huglu shotguns in 2005.
Like any loyal community booster, I began the quest at local gun stores. Few CZs were evident. In one chain store, at the end of the used gun rack, leaned a 20 gauge CZ-USA (Huglu) Redhead O/U, named for a duck. My buddy has a redheaded wife, Mrs. Duck (real name). Naturally he bought the Redhead, earning him the nickname Bigamissed (bigamist).
The thing is, I liked that gun too. However, I preferred a few different features. More Internet research eventually revealed what I doubted I would ever find: a shotgun so perfect for me I would not change a thing if I had designed it myself:
CZ-USA (Huglu) Canvasback 103D MC Black 12 gauge Over/Under Features
good quality and reliability
affordable for most budgets
easy to clean and maintain
safe and instinctive to operate
Turkish walnut stock
barrel and receiver black chrome
3-inch chamber
5 chokes (F, IM, M, IC, C)
pistol grip with rounded bottom
fore-end and grip checkering
Schnabel fore-end that fills the hand
manual tang safety
single selective trigger (mechanical)
extractor (rather than ejectors)
brass front bead sight
7 lbs. 2 oz. (just right for carrying and recoil abatement)
48 inches long with 28-inch barrel
48 inches overall length is the same as a Benelli Vinci autoloader with a 24 inch barrel. I found these attributes in an older model Canvasback 103D that had just been superseded by a later model. Only $525 new in box. Who says a duck can't grin?
I added the 12 gauge Canvasback 103D to get a wider choice of shells with more oomph, including one ounce loads that recoil no more in a seven pound 12 gauge gun than a 7/8 ounce load does in a six pound 20 gauge. Nevertheless, the 20 gauge Canvasback 103D remains highly valued for its greater challenge and those two fewer pounds, especially when the temperature goes over 80 degrees F.
CZ 455 Lux .22 LR and CZ 527M 7.62x39mm
Like a designer virus, the shotguns made me susceptible to CZ rimfire and centerfire rifles. The CZ 455 Lux .22 LR bolt action rifle became just as irresistible as the CZ-USA Huglu shotguns. As did the shorter and lighter CZ 527M 7.62x39 mm bolt action carbine that even includes a set trigger option for very light pulls.
Both the .22 and 7.62x39 feature deeper drop European style stocks that naturally draw the eye to the excellent iron sights. Both are often used without telescopic sights, simply because the guns feel and shoot so well it seems ungrateful to encumber them.
I figured I was past due becoming acquainted with the 7.62x39mm cartridge, which was developed by the Russians in WWII and first used against the Germans in 1945. It is actually a .303 caliber, a comfortable size between .30 Carbine (7.62x33mm) and .30-30 Winchester (7.62x51mmR), with more close-in punch than the .223 Remington (5.56x45mm NATO).
The 7.62x39mm case taper enhances feed and its steel core service bullets enhance penetration. Many indoor ranges do not allow the prevalent surplus and new ammo with steel core bullets and steel cases, but acceptable non-magnetic ammo can be found.
However, all is not red roses. Contrary to its manual, and whether the magazine is inserted, the CZ 527M 7.62x39mm carbine with its mini-Mauser action does not load single cartridges. The five round metal magazine is not easy to release and it is unpleasant to load more than three cartridges without an aid like a plastic thumb loop. Neither is sight adjustment easy, but fortunately it may not often be required.
In contrast, the CZ 455 Lux .22 LR rifle, without a Mauser type extractor, loads single cartridges easily, with or without a magazine inserted. It is also easy to load all five cartridges into its easily released polymer magazine. It also has better iron sights that are easier to adjust.
Both the rimfire Models 452/455 and centerfire Model 527 are accurate, easy handling rifles to hold and behold. With exemplary tech specs, their panache makes them family pass-alongs.
With careful searching, all four of these CZ-USA guns cost about $2,500 (averaging slightly over $600 in 2015). That is about the same or less as some single firearms or a Tata Nano STD (not an affliction, but a small car from India).
Occasionally, however, the acquisition process can become vexing. While buying locally is the convenient and decent thing to try first, sometimes the product wanted is not available or reasonably competitive through local sources.
Ordering Via FFL
One of the established local gun stores, where over the years I bought some guns and sold more, became my customary location for Federal Firearms License (FFL) deliveries. The store personnel seemed happy to process FFL applications for $20 to $30 plus tax and fee, as applicable.
Unfortunately, this gun store was declining for a year or so with shrinking inventory and store space. Yet, it was still a shock when the fourth CZ delivery arrived to a locked front door. The gun store had gone out of business in mid-month on a Friday that happened to be my birthday!
Local store vs. chain store vs. gun show vs. Internet FFL is one of the most enduring issues in gun sales. What do businesses owe customers? What do customers owe businesses? Does either owe anything except competitive selling and buying?
So another local gun store FFL was chosen and the gun was simply transferred to it, right? Wrong. The vendor and shipper said the gun had to be returned to the vendor instead of just transferred to a new FFL location.
It took a week for the gun to get back to Utah from Virginia. It took another week for it to be trucked back to the new gun store FFL I gave the vendor and shipper the same day we discovered the original gun store FFL had closed. Twenty days after ordering the gun online, finally it was in hand.
Fortunately, CZ firearms are worth searching for and waiting for, even through unexpected delivery adjustments. Buying locally or through the Internet affirms the axiom that the only thing that doesn't change is change itself. Adapt or else; is any choice more universal?