D&S Enterprises Cordura Pistol Packs
By Chuck Hawks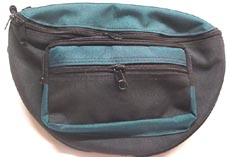 Cordura Pistol Pack. Illustration courtesy of D&S Enterprises.
My home state of Oregon is home to a number of successful businesses involved in the shooting, hunting and outdoor trades (acronym: SHOT). Leupold, Nosler, Leatherman, and Gerber Legendary Blades are among the names of Oregon business known worldwide for their excellent products. A much smaller and less well known, but quite deserving, Oregon business that has been around for many years is D&S Enterprises.
D&S Enterprises, located in Bend, Oregon USA, is owned and operated by Deborah Perry and Susan Cottle (D&S, get it?). In addition to the "Made in the USA" pistol pack reviewed here, they also offer holsters, hunting and concealed carry vests, rifle and pistol cases and a variety of other gun related products.
I have used D&S pistol packs (or "fanny packs," even though practically everyone wears them in front) for years. The D&S traditional style pistol pack/fanny pack is available in leather or 1000 thread, padded, Cordura nylon. I recently purchased a new Cordura model (I already have a leather D&S pistol pack), which inspired this review.
D&S pistol packs come with a padded back, three front pockets, ambidextrous (and silent) YKK zippers and are machine washable. Their belts are adjustable to 54" in length and the belt width is 1 1/2". These fanny packs include a large gun pocket in back, a large general cargo area in the middle, and a wallet size pouch plus a change or business card pocket on the front of the pack. The Cordura models are available in several solid colors as well as two color combinations (black as the base color with blue trim, black with gray trim, etc.). The fanny pack that I recently purchased is black and navy blue.
I have found extra pockets extremely useful on any fanny pack. I carry a fanny pack on a daily basis, and I can assure you that multiple pockets are very useful for keeping the pack's contents organized.
Sizes and Retail Prices (2006):
Small - 10.5 x 6.5 x 3.5 inches. $34.95. Fits small frame automatics (Beretta .22's and .25's, Walther PPK/S, Kahr PM9, Glock 26 and 27, etc.) and snubby revolvers (Colt Detective Special, S&W Chief's Special, etc.).
Medium - 11 x 7.5 x 4 inches. $39.95. Fits medium frame autos such as the Glock 19 and 23, SiG P229 and P239, S&W Sigma 908 and 910 and similar size pistols.
Large - 12 x 8 x 4 inches. $44.95. Fits revolvers with a 4" barrel and large frame autos such as Glock 17 and 20 or full size Colt 1911 Government Model.
The leather fanny packs come in the same sizes and cost $10 more than the equivalent size Cordura fanny packs. Leather colors are brown and black.
The pistol is retained in a holster that is attached by Velcro to the inside back surface of the fanny pack. This allows the holster/gun to be positioned optimally within the pack and changed to fit different guns. Extra holsters are available from D&S for $6.95. I use my size small fanny pack for both my Kahr PM9 and my Colt Cobra, for example, merely by changing holsters. Nylon cartridge holders for up to 6 extra rounds and spare magazine holders that stick to the pack's Velcro panel are also available for only $2.00.
A fanny pack is my preferred method of concealed carry, and I have been wearing my new D&S Enterprises Cordura pistol pack every day since I bought it. It has not failed to please. It is a good quality, well-designed and unobtrusive fanny pack / pistol pack at a reasonable price. I highly recommend it. The D&S Enterprises "GunGear.com" web site can be found at: http://www.gungear.com and explains their various lines in greater detail as well as providing contact information for those wishing to order online or by telephone.