D&D Box Turkey Calls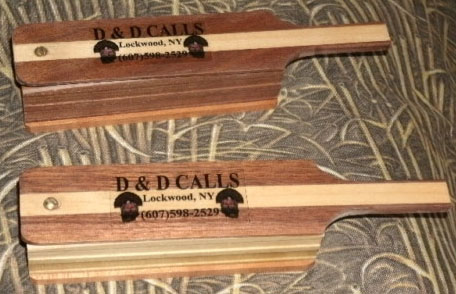 Photo Courtesy D&D Calls
There are probably almost as many box turkey calls as there are turkey hunters in this country. Hunters have been making their own calls for more years than I can count. Some of them are good, some not so good and some are just plain awful. A lot of the homemade calls look like they were put together by a five-year old, but they usually work. Their owners swear that the "sweet song" of their call brings the gobblers charging in. If the hand-made calls on the market and specialty calls made by local craftsmen weren't enough to confuse most hunters, the plethora of commercial calls is sure to finish the job. Which call is best? There is no way to answer that question to everyone's satisfaction. Therefore, we will cop out and suggest that if your call works, stick with it.
However, if you are not completely satisfied with the call you have been using, we have another suggestion. We recently came across a box call that was superbly crafted and has the capability of generating two different hen voices. It is the D&D two-tone box call.
D&D calls get their name from Dick and Don Curtis of Lockwood, New York, a father and son team that brought a unique concept to the market. After years of experimentation, they put together a two-tone box turkey call that works. One sound board (side) is walnut and the other is poplar; hence, two distinctly different hen sounds. The lid is walnut with a poplar inlay, characteristic of all D&D boxes.
The superb workmanship of these boxes is apparent as soon as you pick one up. Don designed the jigs, after collaborating with his dad. Each component required a different jig. They bounced various ideas back and forth and settled on the final design, which uses a dado joint at the base of each side for strength. Each box goes through a 43 step process from start to finish. The end result is a box that is functional and durable. As you would expect from a box of this quality, each call is hand-tuned and fully chalked prior to delivery. All in all, these boxes are a work of art.
Our turkey season was over by the time we received our call, so we tried it out on our pet turkey, Lucky Tom. He has lived longer than any turkey has a right to live. He is the last of the turkeys and pheasants that we used to raise for collectors, pushing 14 years. He has survived sub-zero temperatures in the winter, one hundred degree heat in the summer and outlived his mate. He has a beard that would make any hunter proud, although his feathers are a bit scruffy around the edges.
At dawn, I went out and began to call behind the barn. Old Tom started gobbling like I haven't heard since his mate died. It drove him crazy; he danced around and spread his tail feathers like he was a two-year old. I stopped after ten minutes, not wanting to give him a heart attack. I swear, he was looking at the female Peking ducks in the next pen with a jaundiced eye. Lucky Tom proved the D&D slogan, "If he doesn't answer our call, he's already dead!!"
I think it is safe to say that the D&D box turkey call is one of the finest handmade calls on the market. They are sold on eBay for $18 plus $6.50 shipping to anywhere in the U.S. Whether you are buying your first call or looking for a new one for next season, you cannot go wrong with D&D. We would recommend that you don't wait too long, as they only built a total of 800 calls and when they are gone, there is no guarantee that any more will be produced. In fact, we have decided to order a couple more, just in case.