G-Outdoors G.P.S. Deceit and Discreet Handgun Cases
By Dr. Jim and Mary Clary and the Guns and Shooting Online Staff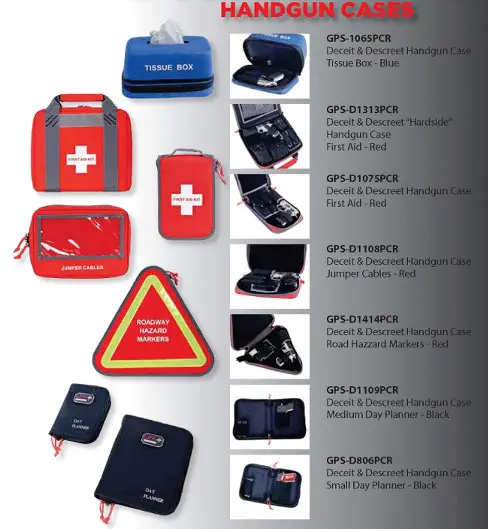 Deceit and Discreet Handgun Cases. Illustration courtesy of G-Outdoors.
G-Outdoors, Inc. of Chino, California chose Guns and Shooting Online to exclusively announce the availability of their new Deceit and Discreet handgun cases. This new line of handgun cases was first announced to Guns and Shooting Online readers in 2013 and unveiled to the rest of the media and dealers in January 2014 at the SHOT Show in Las Vegas, Nevada. The Deceit and Discreet line of gun cases became available to the public for purchase shortly afterward.
Deceit and Discreet cases are designed to allow any handgun enthusiast the opportunity to keep a weapon available. They were designed to be discreet and deceptive in the way the handguns are stored, yet always close and available, whether you are at home, the office or in a vehicle.
Deceit and Discreet handgun cases are disguised to look like common objects, such as a box of Kleenex, first aid kits, jumper cable set, road hazard markers and day planners. Here are the initial choices and product numbers:
GPS-1065PCR - Tissue box
GPS-D1313PCR - Hard side first aid kit
GPS-D107SPCR - Small first aid kit
GPS-D1108PCR - Jumper cables
GPS-D1414PCR - Road hazard markers
GPS-D1109PCR - Medium size day planner
GPS-D806PCR - Small day planner
The Tissue Box is great for the home or office. It is attractive and can be set on your desk or nightstand. No one will know from its appearance that underneath, in the padded double zipper compartment, is a medium frame handgun and two extra magazines. Of course, if anyone picks-up the tissue box (with gun inside), it will immediately be obvious that it is much heavier than it should be. With an MSRP of $24.99, it is a great way to keep your handgun close by, without being obvious . . . discreet!
In case you don't need a tissue box on your desk or nightstand, a day planner is always useful. If people would never expect a tissue box to conceal a handgun, we doubt that anyone would suspect a day planner. There are two Deceit and Discreet Day Planners available, the small one conceals a compact handgun and one magazine. The larger version will handle full-sized Glocks, Springfields and even a Colt 1911 with two magazines. Naturally, this makes for an unusually heavy day planner, should anyone else be allowed to handle it. If you want to add your own name or initials to the Day Planners, the GPS logo is attached with velcro and can be removed. Both cases are well padded and have lockable double zippers. The small Day Planner has an MSRP of $14.99, while the large Day Planner MSRP is $17.99.
The Jumper Cables handgun case is great for your car or truck. Again, this case is made from heavy duty nylon and stitched with nylon thread. The back of the case will "grab" any velcro strips for mounting behind the seat or in the trunk. The padded compartment holds a medium frame handgun of your choice and two magazines. With an MSRP of $29.99, it is a neat way to surreptitiously legally carry a handgun in your vehicle, readily available should you need it.
For the trucker who spends a lot of time on the road, there is no better way to carry your concealed handgun than in the Road Hazard Marker kit. This case is designed much like the Jumper Cables case, heavy duty construction, back of the case designed to grab velcro straps and handles any medium frame handgun with two magazines. With an MSRP of $29.99, you can't go wrong.
The First Aid Kits are not only ideal for the car or truck, they are perfect for campers or at a base camp. No one would ever suspect that the first aid kits are actually handgun cases in disguise. As with the Jumper Cable kit, these are constructed from heavy duty nylon with nylon stitching. The Medium First Aid Kit holds a medium frame handgun with two mags and has an MSRP of $29.99, while the Large First Aid Kit will handle two handguns and two magazines. The latter has an MSRP of $59.99. These are two of our favorites, as they are right at home whether we are camping, hunting or traveling.
All of these new Deceit and Discreet handgun cases come with a double lockable zipper for security and legal transport if your state requires a locked case during transit. Most can be customized for right or left hand use. However the most important feature is that nobody else will know the true contents of these innovative handgun cases.
The bottom line on the Deceit and Discreet handgun cases is that there is one or more to fit every sportsman's needs and in the dangerous times that we live, they represent a great investment in security and peace of mind. The URL of the G Outdoors Products website, where G.P.S. Deceit and Discreete cases can be found, is: www.goutdoorsproducts.com