J. Dewey Gun Cleaning Products
By Chuck Hawks
As some Guns and Shooting Online readers know, I am not enamored with cleaning firearms. Fact is, my usual rifle cleaning procedure is to wet the end of a Bore Snake with Hoppe's No. 9 and pull it through the bore twice, then wipe down the gun with a silicone cloth. That's as far as I generally get involved with cleaning my rifles and shotguns (and a good reason for me to avoid autoloaders!). Therefore, when the J. Dewey Mfg. Co. asked me to review their gun cleaning paraphernalia, I surprised myself by agreeing. It must have been a momentary lapse of reason.
In due course, Fed-Ex was leaving a skinny box over a meter long on my doorstep. When opened, the contents were revealed as a whole set of centerfire rifle cleaning tools. These J. Dewey precision cleaning tools and accessories are a far cry from the inexpensive jointed aluminum cleaning rod and accessories boxed set that most of us bought at our local sporting goods store. J. Dewey quality gun cleaning products are used by the U.S. Shooting Team, Navy Seals and Army snipers, as well as many benchrest shooters. These, of course, are folks to whom bore care and accuracy are absolutely critical.

Dewey 30 rod. Illustration courtesy of J. Dewey Mfg. Co.
Take, for example, the J. Dewey cleaning rod #30C-36 (2012 MSRP $29.95). This .27 caliber and up rod is one-piece of 36" spring tempered steel, coated with a permanently bonded nylon coating that will not peel or pick-up abrasives. The fat, screwdriver type handle is mounted to the steel rod with ball bearing races front and rear; it spins like a top. The threaded tip of the rod is protected by a red plastic cover to prevent damage. It is supplied with a .30 caliber brass jag and brush adapter. The rod can be purchased packaged in a clear plastic tube with red end caps that allow it to be hung on the wall of your gun room for an additional $1.50. I mean, it's a really cool cleaning rod, better made than some cheap guns!

10" Bore Saver. Illustration courtesy of J. Dewey Mfg. Co.
Along with the cleaning rod came a 10" Dewey Adjustable Bore Saver Rod Guide #ABS (2012 MSRP $20.95). It is designed for use with right or left hand actions and coated or uncoated cleaning rods. Available for calibers .17-.22, .24-7mm, .30-8mm, .338-.358 and .416, the ABS models fit .695 - .700 diameter bolts. The guide replaces the bolt in your action and allows the rod to go straight down the bore without harming the chamber or throat. O-rings keep solvents from seeping back into the action and magazine areas. It is supplied with complete instructions for proper use.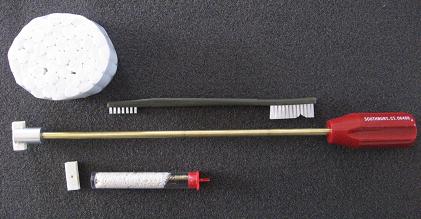 Dewey Bolt Action Cleaning Kit. Illustration courtesy of J. Dewey Mfg. Co.
Like the cleaning rod, Bolt Action Cleaning Kit #BAC (2012 MSRP $25.95) also came packaged in a clear plastic tube suitable for wall hanging. The kit includes:
#CHR Chamber Cleaning Rod, 8/32 female threaded
#LC Lug Recess Cleaning Head, 8/32 male threaded
#LF Lug Recess Cleaning Felts
#CT-2 50 Pack of Cotton Rolls
#CM Chamber Mop
#GB-5 Double Ended Nylon Cleaning Brush
#HW 1/16" Hex Wrench
Dewey Ultimate Oiler. Illustration courtesy of J. Dewey Mfg. Co.
Intended to be stored in an accessories drawer, rather than hung from a wall peg, are several J. Dewey accessories. These included an amazing Ultimate Oiler (2012 MSRP $11.95). This tricky little oil can is made with a translucent polypropylene body (so you can tell at a glance how much gun oil is inside) and a 2.5" long, double O-ring sealed, brass nozzle. The nozzle has an open/close feature that allows single drop control. This really is an ultimate oiler! It will find a place in one of my double gun cases.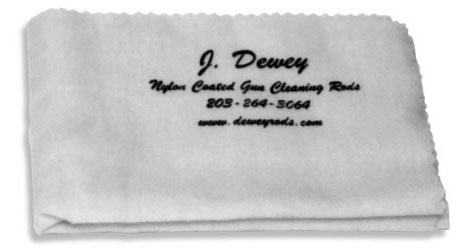 Dewey large silicone cloth. Illustration courtesy of J. Dewey Mfg. Co.
The J. Dewey silicone cloth #GC-1 (2012 MSRP $3.95) is relatively conventional, but at 12"x16" it is about twice the size of the usual skimpy cloth and therefore much nicer to use. I have used silicone cloths for decades to remove finger prints and protect my firearms from rust.
Because I specifically mentioned a .270 rifle that Gunsmithing Editor Rocky Hays had restored and I would be taking to the range, the good folks at J. Dewey included a 100 pack of their Big Patches (2012 MSRP $4.95), which are 2" round and made from 100% pre-shrunk cotton flannel. These are suitable for calibers between .27-.35. Patches of other sizes and shapes are, of course, available.
Dewey patches, brushes and mops. Illustration courtesy of J. Dewey Mfg. Co.
They also sent along an assortment of .270-7mm tips. These included a Parker Hale style Professional Brass Jag #27C-PH (2012 MSRP $4.95), "No Harm Brass Core" phosphor bronze .270-7mm bore brush (2012 MSRP $2.25) and "No Harm Brass Core" nylon bristle .270-7mm bore brush (2012 MSRP $2.25). Also included was a brass brush adapter #LGBA (2012 MSRP $2.25) that converts .27 & up male rods to accept 8/32 brushes. This little item accepts Dewey and standard American bore brushes.
The mechanics of gun cleaning are pretty simple and probably well known to most Guns and Shooting Online readers, so I won't bore you with the details. All J. Dewey products are either self-explanatory or supplied with complete instructions for use. If you are new to firearms ownership and thus to gun cleaning, just follow the directions. Whether you are a new shooter or an experienced veteran, you will appreciate these J. Dewey gun cleaning products.
Since, as I write these words, it is the Holiday season, I will point out that most of these items would make excellent "stocking stuffers" for shooters on your Christmas shopping list. However, it will take a very long Christmas stocking to hold the 36" rifle cleaning rod!
Taken together, this is the most complete and highest quality set of rifle cleaning supplies I have ever owned. J. Dewey has been in business since 1975 and everything is precision made in the USA of top quality materials. As you can see from the MSRP's quoted in this article, they are also very reasonably priced. You can read about all of these items, and many others, on the J. Dewey website (www.deweyrods.com). The J. Dewey website also includes a section of useful "Gun Care Tips" and an online store where you can buy J. Dewey products direct. E-mail [email protected] to request a catalog.