Docter Sports Optics Classic Riflescopes
By Chuck Hawks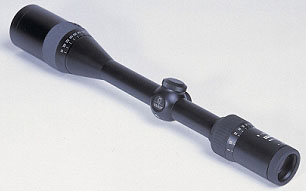 Illustration courtesy of Docter Sports Optics, Analytik Jena Group.
In 1991, Bernard Docter acquired the Jenoptik Carl Zeiss Jena GmbH plant in Eisfeld, Germany, which is how Docter scopes got their unusual name. The company subsequently fell on hard times, changed hands, and today it is part of the Analytik Jena Group. Their web site is: www.docter-germany.com
The Docter Classic sport line includes three riflescopes, all built on 25.4mm/1 inch diameter main tubes. (Other Docter Sports Optics scopes are built on 30mm main tubes.) Included are 3-10x40mm, 4.5-16x40mm and 8-25x50mm models.
These scopes boast brilliant optics, high twilight efficiency, full multi-coatings and (unlike many European scopes) reticles that do not change size as the magnification is changed. The reticle remains centered at all times. Docter scopes are built on one-piece, aircraft aluminum main tubes and are shockproof as well as purged, nitrogen filled and O-ring sealed to prevent fogging. Key parts are brass or stainless steel. Other notable features include accurate 1/4 or 1/8 MOA windage and elevation adjustments and rubber covered European fast focus rings for the ocular. There are three or four lenses in the objective (depending on model) to minimize color fringing. Lens caps are supplied. These scopes comes with a 5-year parts and labor warrantee and an additional 25-year warrantee on materials. Docter Sports Optics scopes are now distributed in the US by Merkel USA (www.merkel-usa.com).
The finish of the Docter Classic line is a hard anodized matte black. There is a Docter "owl" logo on the left side of the windage and elevation turret and the model, "Docter," and "Made in Germany" are printed in light grey on top of the objective bell.
The rubber covered zoom ring of the Classic scopes is unusually fat, wide and easy to grip. The magnification scale at the back of the zoom ring is sloped toward the shooter's eye for ease of use.
The reticle choices include Duplex, fine crosshair/dot and German #4. The windage and elevation adjustments require the use of a coin or something similar. This is a bit less handy when sighting-in than fingertip adjustments, but allows lower turret caps. Docter Sports Optics scopes are not inexpensive, being roughly comparable in price to a Carl Zeiss Conquest or a Leupold VX-III.
Like other German/Austrian riflescopes, Docter's biggest selling point is its optical quality. They provide sharp, clear, contrasty views of the target with little falloff at the edges. Optical aberrations are well controlled. The windage and elevation adjustments are accurate and precise. The graduated scales around the coin-slot adjustment screws are resetable.
These are well made, high quality scopes. If you are in the market for German optics at a reasonable price, check out Analytik Jena's Docter Sports Optics line. Now that they are distributed by Merkel USA, they seem poised to give Zeiss and Kahles some stiff competition in the US marketplace.