The Ducati Monster
By David Tong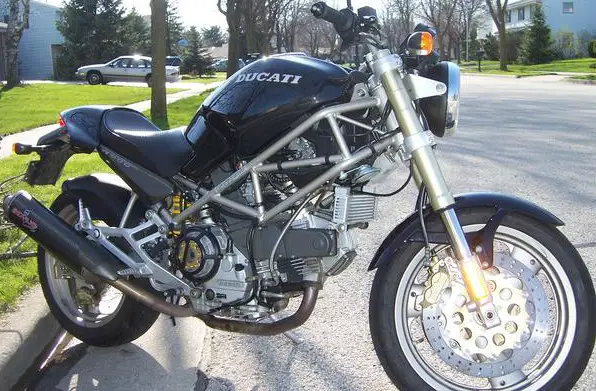 1995 Ducati Monster.
As many well know, the Italian Ducati firm has long built high performance motorcycles. Much like the MV Agusta of decades ago, the equally old Ducati company has had a storied history in motorcycle sport, best known for their famous road racing machines.
Since the mid-1970s, the 90-degree, L-Twin has been Ducati's engine of choice. Unlike every other air-cooled angled cylinder twin, even the cooling fins for each cylinder are arranged in the direction of travel for as optimal a cooling scheme as possible. The forward cylinder, whose head is proximal to the front wheel, have fins nearly parallel to the ground.
Possibly the finest motorcycle racer of all time, the Brit, Stanley Michael Bailey Hailwood (Mike the Bike) came out of retirement in 1978 after an 11 year layoff, to win the Senior TT race at the Isle of Man road course on a modified Ducati 900 Super Sport fitted with a full fairing. Hailwood averaged some 108mph on the public roads closed for the race.
Ducati has nearly always made two kinds of motorcycles, those with fairings and several models without any kind of covering. The latter being today's so-called naked sport bike.
In the 1980s, the company changed the engine's cam drive system from the very expensive (and difficult to service) beveled gear and tower shaft overhead cam to the much more conventional and far less onerous to maintain toothed belt drive. These "rubber band" motors are still used in every Ducati engine up to today's Superbikes.
Miguel Galluzzi was a designer at Ducati, and was responsible for penning Il Mostro (the Monster), which was released in 1992. While the bike still featured the steel trellis frame, Brembo brakes and single shock rear suspension of the faired 750SS and 900SS motorcycles, many riders had clamored for a more upright riding position and removing the aerodynamic fairing exposed the mechanical essence of the bike, its engine.
What he created was a styling tour de force. While certainly there was nothing unusual about the bike's technical specification, the beautiful fuel tank and solo seat cowling seamlessly flowed into each other into a shape so memorable, that variations of the best-selling bike in Ducati's history are being built 23 years later, in 2014!
Here are some basic specifications for the 1995 model I owned:
Model: Ducati M 900 Monster
Engine: 904cc L-Twin, air cooled, overhead cam, 2 valves/cylinder using Desmodromic actuation
Fueling: downdraft carburetors
Frame: Chrome-moly steel triangulated
Front suspension: Upside down cartridge fork, non-adjustable
Rear Suspension: Aluminum swing arm, vertical Sachs rear shock with linkage
Seat height: 30.3 inches
Dry weight: 403 pounds
The bike was definitely more about emotion than practicality. Ducati Monsters are not particularly great for long distance comfort, or sustained high road speeds, though the company does build dedicated sport tourers and road racers, if that is the objective.
The Monster is more, pardon the pun, naked aggression. Like its fully faired stablemates, it lacks much steering lock and one must be careful around town, as U-turns or parking lots can be an issue. Its riding position is sporty, with a low conventional tubular handlebar and high, rear set foot pegs. While this may sound like a pretty rotten place to be without something to break up the wind, in practice this seating position actually works satisfactorily for those flexible enough to tolerate it. The rider is placed leaning into the wind, which takes pressure off one's wrists and neck at high speed.
The carbureted engine and its tall final gearing meant that it was not a happy bike at town speeds. There was not much flywheel effect and the large carburetors and lumpy cam timing means that the rider will probably use second, or at most third gear at any speed below 45 MPH.
The front fork's lack of adjustment this early in the Monster's life produced a fairly soft ride quality, with brake dive due to light spring rates and little compression damping. The rear suspension, on the other hand, was comparatively well-controlled and firmly damped. The front and rear wheels cast alloy construction reduced unsprung weight and made the conservative suspension choices work as well as possible.
My bike's previous owner had fitted an Ohlins steering damper, rejetted the carburetors, fitted a K&N high flow air filter and installed a pair of carbon-fiber mufflers that were straight metal baffles with no packing. I had to be careful to ride conservatively and without many revs around town, as the loud pipes were nearly guaranteed to set off any car alarm if one didn't exercise restraint. What a hoot.
While I am not one to pop wheelies, no question the Monster started the "Street fighter" class of bikes. Its short wheelbase, light weight and punchy power delivery all contributed to a fun experience that has been copied by many other companies, as the motorcycle market further morphs into ever more niche offerings to satisfy every riding style and taste.
One of the more noteworthy things about the Ducati engine family is their Desmodromic valve actuation. First seen on prewar Mercedes-Benz Grand Prix cars, the Ducati's camshaft lobes govern a pair of levers that open AND close the valves, eliminating valve springs and potential valve float at very high revolutions. This may be a bit of an affectation, given that there are street bike engines capable of revving to 15,000 RPM today without Desmo valves. However, it remains a unique attribute of the Italian marque.
In 1996, a 600cc Monster was introduced to offer the younger rider a chance to enjoy the style without the insurance bill. In 2000 a restyling of the seat, tank and seat cowling, plus the addition of fuel injection, were fine updates.
In 2001, the 916cc liquid cooled, four valve per cylinder racing derived engine from the company's 916 Superbike was installed to boost power. In 2006, a further increase in power occurred when the new S4R received the 998cc Testastretta engine. This bike perhaps represents the pinnacle of the Monster line.
They now carry more refined versions of the original air-cooled, two valve engines. Their under seat exhausts, fully adjustable suspension front and rear, radial mounted Brembo four piston calipers and floating rotors help the very experienced rider put the 130 net horsepower engine's power safely to the ground.
Many have characterized Ducati as the Ferrari of Motorcycles, but one had best be prepared should one wish to become an owner. Servicing and parts prices are high, parts supply is spotty if the bike is over seven years old and valve adjustments on the Desmodromic valvetrain are time consuming, if not physically difficult.
If one is shopping for a mid-1990s Ducati, I would have an experienced mechanic perform both a compression and leakdown test to ensure ring and valve seal. My Monster had issues with both and I am thankful that I decided to purchase one of those extended warranties on my used Monster. That was the only practical decision of the entire transaction! It paid for re-applying the Nikasil cylinder chrome plating, a new front cylinder head and to an extent reduced the high oil consumption. (One quart per 500 miles!)
Hey, it's Italian. One has to have a sense of humor about it all. However, the darn thing was sure a lot of fun.