CRKT Eat'N Tools®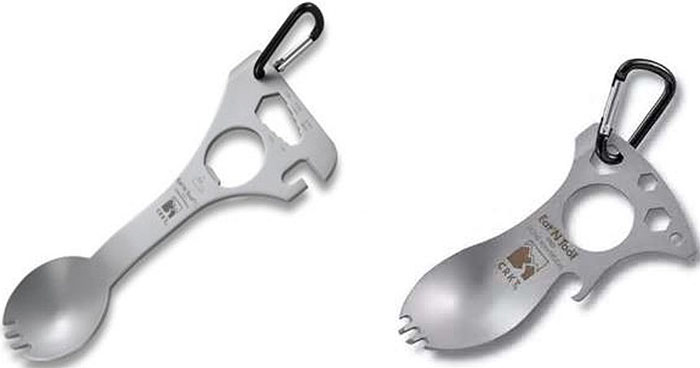 Illustration courtesy of Columbia River Knife & Tool, Inc.
It may surprise a lot of folks to learn that these types of tools have been around since the late 1800's. The "spork," sometimes called a "foon," is a combination of fork and spoon to simplify eating. They have been used by restaurants, military units, prisons and occasionally by airlines for their in-flight meals.
The first known patent for the spork was issued to Samuel Francis in 1874, with others following based on slight modifications. The term spork originated in the 20th century and was first registered as a trademark by Hyde W. Ballard, but the record of that application seems to have been lost by the USPTO. Then, in 1970, the Van Brode Milling Company registered SPORK for a combination spoon, fork and knife made of plastic. That registration expired after 20 years and was not re-filed in the US. However, in the United Kingdom, Plastico Limited registered the name Spork as a trademark in September 1975, which still remains in effect.
The Eat'N Tool® was created by Liong Mah, a well-known New York designer. While it may appear the same as previous sporks,", it is much more. Mr. Mah used his CAD skills to design a lightweight, ergonomic, high-tech outdoor tool that will not easily bend or break, as will the knock-offs. Just for good measure, he added a screwdriver blade and bottle opener. Both tools have metric wrench reliefs for emergency use in the field. The Eat'N Tools®are inexpensive and a good investment for backpackers, hunters and campers. They aren't intended to replace your eating utensils in base camp. However, they can be handy to have when you are heading out for a day, overnight or an extended hunt in the wilderness.
Whether you prefer the longer version or the original compact version of the Eat'N Tool® is your choice. Our family is split; Mary likes the XL version, while I use the original.
If you buy either tool, we recommend that you replace the non-load bearing carabiner with a load-bearing version and throw the plastic one in the trash. Attach your Eat'N Tool® to any loop on your backpack and it will always be there when you need it. The 2014 MSRP of the original Eat'N Tool® is $7.99, while the XL version is $14.99.