THE 2000 ROYAL ENFIELD BULLET
By Chuck Hawks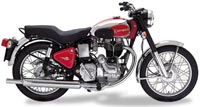 Illustration courtesy of Classic Motorcycles, Limited.
Frankly, purchasing a Royal Enfield Bullet could be a risky proposition, due to limited distribution and unknown reliability. It is probably a maintenance intensive motorcycle, which makes it unsuitable for most riders unless they happen to be reasonably skilled mechanics. Yet the British designed, made in India, Enfield Bullet is so unique that I cannot resist being attracted to it.
This bike is a throwback to the great British singles of yesteryear. Literally so, as the original Royal Enfield 350 Bullet was introduced in 1949. The factory in India that currently builds the Bullet was licensed to produce Royal Enfield motorcycles back in 1955, and has been doing so ever since. When Royal Enfield (UK) folded in 1970, the tooling for the single cylinder Bullet model was sent to Madras, India, where they are still being made. This is not a copy of an old design; it is the real thing! New Bullets have been approved for vintage racing.
The Bullet comes in 346cc (18 HP) and 499cc (22 HP) versions, either of which are timeless classics (some would say antiques). The 346cc version is the only motorcycle left in what was once a large "nifty 350" class. There are Military (ugly OD green with rectangular metal saddlebags), Classic (painted), and Deluxe (chrome and paint) models of the Bullet. Prices in Y2K range from $3500 to $4500, depending on displacement and model.
The Deluxe is the most expensive model, and it features chrome fenders, a chrome tank with colored side panels, and rubber knee grips. It is the model usually featured in the Royal Enfield ads, and the model I would spring for if I were to purchase a Bullet.
Unfortunately, assembly, fit and finish on the Bullets I have examined were rather poor. There were thins in the paint, and the casting of the cases and engines looked crude, as were the frame welds. For example, there was "flash" metal at the edges of all the cooling fins. These machines would require a lot of time consuming grinding, polishing and detailing, probably including a complete refinish from the frame up, to make them equal in appearance to a Royal Enfield made in England.
The Bullets have been updated to modern standards in certain areas. They now use a 12 volt electrical system, are equipped with turn signals, shift on the left, and employ Mikuni carburetors. The engines are ohv vertical singles with four-speed transmissions. Final drive is by chain. The wheels are laced, and feature drum brakes at both ends, with a twin leading shoe design in front. Both side and center stands are provided. The petrol tank holds 3.8 U.S. gallons, and the seat height is 30 inches. Dry weight runs a modest 359-370 pounds, depending on the model.
All Bullets have separate engine and transmission cases. (Most modern motorcycles employ more rigid "unit construction," where the engine and transmission share a common case.) The rather crude four-speed transmission was designed to shift on the right. Converting it to left foot shifting has not helped its precision. (There is a conversion kit available to return the shifter to the right.) In this regard, the provided neutral finder helps somewhat. They also have an old fashioned battery and coil ignition, with breaker points. If you buy a Bullet you will also need to learn how to kick start a motorcycle, as there is no electric starter. Instruments are limited to a speedometer, odometer, and ammeter (no tachometer or tripmeter). A tool kit is included.
Horsepower is modest, so the simple mild steel tubular cradle frame is reported to do an adequate job. Better rubber, at the owner's discretion, can replace the less than state of the art retro style tires, which require inner tubes. The old-fashioned drum brakes are reasonably adequate, but be careful to ride within their capability at all times.
The basic specifications for the 500cc Deluxe Bullet are as follows:
Displacement = 499cc
Bore and stroke = 84mmx90mm
Compression ratio = 5.5:1
Transmission = 4-speed, constant mesh
Clutch = multi-plate, oil bath
Lubrication = dry sump
Suspension = telescopic front forks, twin rear shocks
Brakes = 7" twin leading shoe front drum, 6" rear drum
Tires = Avon Speedmaster, 3.25x19 front, 3.5x19 rear
Fuel tank = 3.8 U.S. gallon (.33 gallon reserve)
Wheelbase = 53.5"
Ground clearance = 5.5"
Seat height = 30"
Dry weight = 370 pounds
Top speed = approximately 75 MPH.

Royal Enfield dealers, or the U.S. importer, can help with increasing power and performance. Royal Enfield U.S. offers a high compression (9.5:1) piston and free flowing mufflers. Through Classic Motorworks and Blackhawk Cycles (which can be accessed from the Royal Enfield U.S. web page) carburetor kits, high flow air filters, alloy rocker arm sets, Progressive Suspension rear shocks, and electronic ignition are available. I would recommend investing in all of the above. They also have various size sprockets, some neat appearance and comfort accessories for the bikes, and a selection of motor clothes, decals, patches, etc.

Speaking of the Royal Enfield U.S. web page, it has a lot of useful and fun information, including the complete Bullet owner's manual. For those desiring more detailed information about these unique motorcycles, I recommend a visit. It can be accessed via a link from my Motorcycle Page.

A big single feels as if it kicks you about ten feet down the road with each power pulse from the engine thumping beneath you. When you twist the throttle open, you don't accelerate with the turbine like thrust of a modern multi; the thumps just occur in more rapid succession and the chunks of road whiz by faster.

Classic British bikes handle very nicely. Like traditional British sports cars, they have a certain "chuckability." They can't actually go as fast around corners as a modern sport bike, but they feel as if they are going like the wind. They are an awful lot of fun to ride.

These Bullets are probably best viewed as second bikes for the experienced rider. I include them because anyone who has not had the opportunity to thump down the road on a classic single has missed one of life's great experiences.