F-Class Long Range Target Shooting, Part I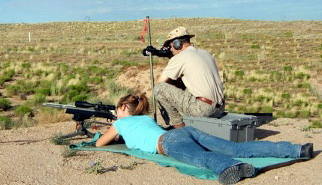 Susannah Clary & Andy McCourt on the firing line with the 6mmBR rifle.
F-Class shooting is the newest form of target shooting that presents a challenge to even the best and most experienced hunter. It is an opportunity for individuals that want more than casual target shooting and plinking in the off-season to hone their shooting skills.
Palma shooting requires the shooter to use micrometer aperture (iron) sights firing a 7.62 NATO cartridge (.308 Win) with 155 grain bullet at target ranges from 600 to 1,000 yards. The iron sights tend to discourage most hunters from taking up Palma, not to mention the cartridge restriction. However, F-Class Open competition allows any rifle up to 22 lbs (10kg), firing bullets from .223 to .308 diameters. Hence, you have a wide choice of calibers, from the .223 Rem. to the .300 Win. Mag. Target ranges are the same, 600 to 1,000 yards and you can use a front and rear rest, as well as the telescopic sight of your choice. These last options are what appealed to me, and probably most of the readers here.
In addition to the F-Class Open, there is F-Class/Target Rifle (F/TR) category, which is restricted to .223 Rem. and .308 Win. In this competition, shooting is off a bipod with a rifle no heavier than 18.15 pounds.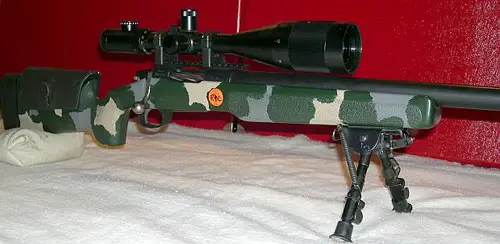 Brad Sauve�s F-Class TR Rifle

John Dinks F-Class Open Rifle
I have the utmost respect for Palma and Benchrest shooters. However, the fact is that few of us have the eyes or steady hands to be competitive in those two sports. A friend of mine from northern New Mexico was a world-class Palma shooter for twenty years. However, as his eyes deteriorated with age, he reluctantly gave up Palma shooting. At 55, he was too young to give up competitive shooting. F-Class was a way for him to continue shooting AND shoot more often. For several years now, he has shot F-Class, building rifles in several different calibers for more pleasure than he ever had before. I recently watched him shoot two twenty round strings at 600 yards for a score of 397. He will be at the National Championships in September 2007. (There is hope for us older guys!)
My daughter, Susannah, was introduced to F-Class Open shooting this summer by Andrew McCourt, an engineer at Sandia National Laboratory. Andrew is a nationally ranked F-Class shooter. After finding out that Susannah liked to hunt and target shoot, Andrew offered to mentor her in F-Class shooting, using his custom rifles and ammo, an offer that we could not pass up.
Because the requirements in F-Class Open are flexible, you could use a good target rifle with a bull barrel and a bipod or front rest to determine whether you enjoy the challenge. Your optics should be at least 20x to be able to �zero in� on the center X. However, a magnification of 25x-35x is better. Commercial hunting ammunition is not satisfactory. In fact, shooting at 600 yards with that stuff will make you question why they even bother to sell it. Commercial match-grade ammunition will vary from lot to lot. You may pick up a box that shoots like you were standing directly in front of the target, while the next box might pattern like a shotgun. Hence, most F-Class shooters reload to work up the best loads for their individual rifles. If you are interested in F-Class shooting, you will want to build a custom rifle in the caliber of your choice and fit it with the best optics you can afford. Having decided that Susannah was serious about F-Class shooting, it was time to build our own rifle.
Where do we start? First, select a good action. There are many great custom actions on the market: Bat, Barnard, Farley, Hall, Kelbly, Nesika, RPA, Stiller, Time Precision, Savage and Remington 700 (yep, a good target rifle action). It all depends on how much you want to spend. Since I am operating on a budget, I chose the Remington 700 action. In fact, you can go to your local discount store and buy a Remington 700 ADL rifle with a short action for under $400. Take it to your gunsmith, have him remove the barrel and stock, sell them and get a few dollars back.
Next comes the barrel. The following are manufacturers of quality barrels and provide after-market assistance if needed: Bartlein, Border, Broughton, Brux, Douglas, Hart, Kostyshyn, Krieger, Lilja, Obermeyer, PacNor, Shilen, Spencer, Trueflight, and Walther. These all run between $400 and $600 each and you can�t go wrong with any of them. We added a $400 Bartlein barrel to our Remington action.
Now we come to the stock. Of the manufacturers that cater to the Palma, F-Class and Benchrest shooters, the following are all excellent:� Barnard, Elk Ridge, Lone Wolf, Mastin, Master Class, McMillan, Richards, Robertson, and Warner Tool. A member of the Zia Rifle & Pistol Club in Albuquerque offered us a McMillan Tooley MRB for $400, a good deal that we couldn�t pass up.
Finally, the choice of optics. Here again, you have a wide variety to choose from, depending on your budget. Among the companies producing excellent tactical scopes are Bausch & Lomb, Kowa, Leica, Leopold, Nightforce, Nikon, Redfield, Sightron, Swarovski, Unertl, US Optics, Vandala and Weaver. The local favorites seem to be the Leopold and Nightforce, priced at $1100 to $1400. However, the Sightron SIII 6-24x 50mm at $800 deserves a close look. I have a couple of Sightron SII's on my hunting rifles and they are equal to scopes costing twice as much. Because I could not find the new Sightron SIII locally, and needed a scope for the F-Class National Championships at Raton, NM in September, I went with a Leopold 8.5-25x, Mil-dot Mk4 for $1,100.
If you are adding up the numbers, the price is getting up there at $2,300, and we still have to add in Badger 30 mm rings ($170) and a Badger MOA rail ($150). This brings us to a little over $2600. Last, but not least, we had our gunsmith to put everything together, so add another $500.
There you have it, somewhere in the neighborhood of $3,100 for an acceptable F-Class rifle. Depending on the caliber you choose, the barrel will last for 2,000 � 3,000 rounds before accuracy drops off and it needs to be replaced. Susannah decided on the 6mmBR caliber for longer barrel life.
Now, before you say, �NO WAY,� think about how much you have paid for those out-of-state hunting trips over the years. I am reminded of two trips to a private ranch in south Texas in 2006. Each trip cost more than $5,000, with the taxidermy bill adding an additional $5,000. Thus, for $15,000 I have lots of memories, a freezer full of meat and some good trophies. In hindsight, I wish that I had given up one hunt for an F-Class rifle that I could shoot all year.
All that is left to complete our F-Class package are the brass and bullets. There is a lot of good brass out there, as well as garbage brass. Rather than get into an argument with those of you who reload, I will simply say that I like Lapua and Norma brass for consistency.
Among the bullets, you cannot go wrong with Berger, Clinch River, Hornady, JLK, Lapua, Nosler or Sierra match grade. Because my daughter started shooting JLK bullets, I will stick with them for now, but that doesn�t mean the others aren�t great. You will have to find out for yourself what combination of brass, primers, bullets and powder work best in your rifle. That is part of the fun of F-Class. You get to play and put your favorite loads to a real test.
However, remember the words of Brad Sauve, 2004 & 2006 F/TR National Champion:
"Spend more time shooting than loading 'perfect' ammunition or cleaning. Squeezing that last � minute out of your groups won't do you any good if you can't hold one MOA or you can't read wind conditions.
Before I wrap up this article, I would like to make a statement for the record. A hunter that takes or brags about 600 yard shots is either foolhardy or just plain dumb. Take a look at the picture below.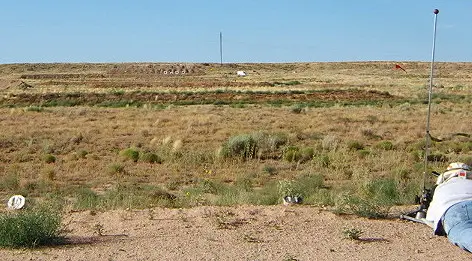 High contrast 24-inch targets 600 at yards
600 yards is a far piece, and even with a 20x pair of binoculars, the 24� target looks tiny (that is a white RV van to the right of the targets). Now, imagine a deer or antelope at that distance (a10" target area, maximum). Even for an expert marksman using an F-Class target rifle, such a shot would be questionable. For the average hunter with a hunting rifle it would be irresponsible. If you were to hit the animal at that range, the odds are that it would be wounded and condemned to a slow, painful death. My advice is to keep your hunting shots within the MPBR of your cartridge/load or 300 yards at the most, because even at that distance your bullet will drop at least 15 inches. The drop at 600 yards for most hunting rifles is in excess of 91 inches (7.6 feet).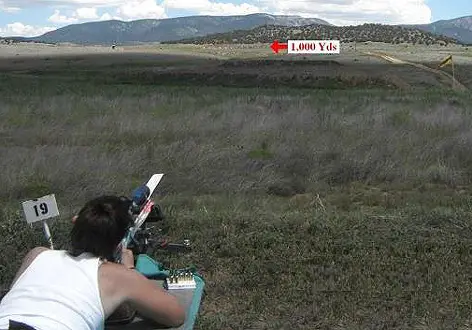 If you thought that 600 yards was a long way, check out this picture of the 1,000 yard range at Capitan, NM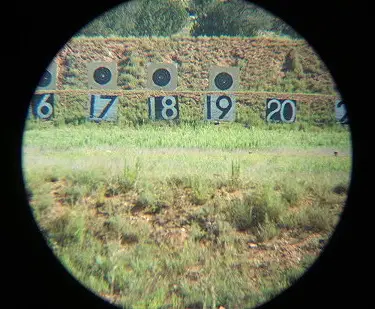 This is what those targets look like through a 45x spotting scope.
The bottom line: F-Class shooting is always a challenge and lots of fun.
Part II, The 2007 F-Class National Championships at the NRA Whittington Center, Raton, New Mexico will follow as soon as I return. In the meantime, be safe, shoot straight and JOIN THE NRA TO PROTECT YOUR RIGHTS.