F-Class Long Range Target Shooting, Part II
The 2007 National Championships
Article and Photos by Dr. Jim Clary
NRA Whittington Center Entrance.
Long range target shooters from three continents gathered at the NRA Whittington Center in Raton, New Mexico for the 2007 F-Class National Championships from September 13th to the 15th. The Bald Eagle Rifle Club of New Mexico hosted the event. The BERC hosted the first annual Spirit of America matches in 2002. We couldn't attend the 2007 Spirit of America matches this year; but we will be there for 2008.
I would like to extend my personal thanks and appreciation to all of the Bald Eagle members who worked the F-Class Nationals; they ran a very professional competition and allowed me to mingle freely, taking pictures of everything in sight. I must have been somewhat of a pest, but no one complained and everyone smiled. Everyone asked me to make sure that they were notified when this article was published. Without exception, they were great. My wife and I look forward to seeing them again next year and returning to Whittington in the near future.
If you were not aware of the NRA Whittington Center, you have missed the most awesome shooting facility in this country. Whittington Center sits on 33,333 acres of beautiful northern New Mexico landscape. The historic marker for the Santa Fe Trail is located just past the visitors' center and next to it is a full size bronze statue "The Scout" (Charlton Heston).
There are small bore, full bore, pistol and shotgun ranges available to all NRA members. Even if a local or national match is being conducted, there are ranges available for the "drop-in" member. One of the things that impressed me was the cleanliness and upkeep of the facility. You never saw trash on the roads (which were well maintained); the ranges had an abundance of parking, and very clean rest-room facilities in each location. If you get hungry or thirsty, there is a very nice cafeteria and a gift shop at the front gate has some neat stuff with all the free coffee you can drink.
If all that is not enough to stimulate your interest, they have camping facilities and cabins for rent at reasonable rates for NRA members. Overall, the NRA Whittington Center is a great place to visit, an ideal stopping place on any western vacation and a superb place to hone your shooting skills. In addition, I haven't even mentioned the wildlife that we saw. The pronghorn antelope and mule deer were everywhere. In fact, on one day during the 1,000 yard shooting, a small herd of antelope bedded down behind the 500 yard berm, completely oblivious to the noise and bullets flying over their heads.
My daughter Susannah (who was shooting in the Nationals), my wife Mary and I arrived at Whittington around 7pm Wednesday night, September 12th, after a four-hour drive from Albuquerque, punctuated by an additional two-hour delay resulting from a rollover on I-25 north (no one injured). Having no idea how good the accommodations were at Whittington Center I had made reservations at the Oasis Motel in nearby Raton. However, the Oasis is a family owned motel, staffed by wonderfully friendly folks with an incredible restaurant. They serve true Mexican cuisine, well worth sampling even if you are bunking at Whittington.
Thursday morning came very early at 0530. After stumbling across the ten yard distance from our room (#2) to the Oasis restaurant for coffee, we loaded up the truck and headed back to Whittington. It's only a five mile drive from Raton to the Center, so I was able to throw down a second cup and relax while my wife drove her truck. Registration, squading for relays and weigh-in of all rifles began at 0700. If you will remember from Part I, there are weight limits for F-Class rifles. In the F-Class Target Rifle (F-TR) category, shooting is off a bipod with a (maximum) 18.15 pound rifle. In the F-Class Open category, rifles up to 22 pounds are allowed.
Alan Warner, Line Coach for the U.S. F-Class Rifle Team was tasked with the job of weighing each individual rifle. Everyone had shot in competition before and all rifles qualified. For anyone who does not already know, Alan is a master gun maker. He ships rifles all over the world to target shooters. When you want the very best, you go to Alan for one of his custom rifles. However, be aware that the lead time will be at least eight months. Conor Murphy, a member of the Irish F-Class team, informed me that Alan's rifles are well worth the wait, as there is not a better F-Class rifle made in the world today.
By nine o'clock, everyone was finished and they had the opening ceremony. The cannon salute was followed by participants from each country raising their flags while their national anthems were played. As I stated in the beginning, there were participants from three continents, North America, Europe and Africa. Although the event is classified as the U.S. F-Class National Championships, participants from all over the world are welcome and invited to attend.
Thursday's shooting consisted of three relays at the 600 yard line. Each shooter fires 15 rounds for record, after their initial sighters, during each relay. The aggregate for the day is 45 rounds with a maximum possible score of 450. The conditions for today's shoot were good. The winds were light and reasonable to "read," and there was minimal vertical effect due to heating of the range. All in all, this was a great day for shooting and some great scores were recorded. If you weren't in the range of 440 - 450 for the day, you weren't in the top ten shooters. Susannah wasn't in the top ten, with her aggregate score of 430, but she was not on the bottom either. She was pleased with her shooting. She has only been at this for two months and she can only get better. The veteran shooters, like Nancy Tompkins and J.J. Conway were incredibly supportive and generous with their advice.
At this point, I have to say a word about these two folks. Nancy Tompkins is an excellent shooter and a class act. You won't find a finer lady anywhere. On the line, she is all business. Off the firing line, she is absolutely the nicest person you could imagine. She always has a smile on her face, encourages every shooter there and shares with the shooters coming after her how the conditions are affecting the shots. You can find listings of Nancy's records and match wins on the Sierra Bullets website. Her book, "Prone and Long-Range Rifle Shooting," is a must-read for all beginning target shooters, as well as a good refresher course for veterans. We bought one and had Nancy autograph it. Heck, with the information in that book, I might even be able to become a fair F-Class shooter. It will certainly make me a better shooter for hunting.
Nancy Tompkins, smiling as usual.
J.J. Conway is a legend in his own lifetime. He started shooting in 1949 and only hung up his rifles last year, at age 83. F-Class shooting got its start in Canada by George "Farky" Farquharson (the sport is named for him). In the mid-90's, Bill Wylde and J.J. traveled to Canada to find out what it was about. Upon returning, they began to promote F-Class throughout the U.S. Although most folks attribute the founding of U.S. F-Class in 1996 to J.J., he is quick to point out that Bill Wylde deserves equal credit for getting him to travel to Canada in the first place and "spreading the word." Many current F-Class shooters might be surprised to find out that when J.J. started shooting F-Class, he used a 22-250 target rifle with an 80 grain bullet. In case you are wondering, when J.J. took the opening shot, he shot an "X." He still has it!
The Newest and the Oldest Shooters: Susannah Clary & J.J. Conway
Before getting into Friday's matches, I need to mention the range safety officer, Pat Clemens and his crew. They were incredible. They worked tirelessly from start to finish, with virtually no breaks. Because of their dedication and the cooperation of all participants, we had a safe competition.
The well organized firing line.
Friday started out looking like the conditions would be great for shooting. Oh, how wrong could I be? The winds were very ugly by the time everyone was ready to shoot, with the marker flags signaling different wind directions at each 100 yard interval. Not a good sign for the first round of 1,000 yard competition. If that weren't bad enough, as soon as the sun started to heat up the range, the vertical effect and boil made even the best shooters want to cry.
Now, if you don't know what a boil is (and I didn't) it is when the target appears to expand and contract while you are looking at it through your scope. I had never seen anything like it. I asked my daughter how you hold on the X under those conditions. Her reply, "It's tough, Dad, and hard to explain." So, I never did find out how they do it. These conditions humbled some of the best shooters on the line.
The 1,000 yard competition consists of three relay matches of 15 rounds for individuals and 20 rounds per shooter in each four man team. The first relay allows unlimited sighters to zero-in, and I several shooters fire half a dozen rounds trying to dope the conditions. More than one shooter come off the line shaking their heads in disbelief and swearing to sell their guns at the next garage sale (of course, they didn't). Despite the conditions, a few shooters managed to post aggregate scores between above 440.
We broke for lunch and returned for the first team competitions at 1,000 yards. If the conditions in the morning could be described as ugly, those in the afternoon were worse. I watched one of the most heart breaking moments of the competition. The first three shooters on the South African team shot near perfect scores, well on their way to winning the day, when the fourth shooter's rifle began to malfunction. I cannot describe the disappointment and frustration, because that gun cost the team 30 points and their chance to win for the day. However, the chaps from South Africa are great sports. After it was over, they still managed to be cheerful.
The team from South Africa, left to right:
Jannie Els, Ian Potgieter, Franz Snyman, Rhynier Burger, Bryn Reece-Edwards.
With the first matches (individual and team shooting) completed by late Friday afternoon, everyone headed to their rooms to clean rifles, reload more ammunition and pray for better conditions on Saturday. And, of course, the South Africans set about repairing the malfunctioning rifle that had cost them so many points (and they did).
Saturday dawned as a beautiful day for the final competition at 1,000 yards with light variable winds and no boil. The individual shooters went first in three match relays (15 rounds per) for a total of 45 rounds for aggregate record. Robert Bock set a new match record on one relay, with a 150 and 13X's. You will hear more about Robert later in this article.
My daughter Susannah shot her best on this morning, turning in an aggregate of 427/450. No medals for her in the competition, but she was the 1,000 yard aggregate high woman for the morning, which made made her day. This 16-year old has only been shooting for two months and managed to top some of the best in the world on that morning; talk about walking on cloud nine. What made it even better was when Nancy Tompkins came over and gave her a big hug and congratulations. As I said, Nancy is a class act that few people can follow.
The second round of 1,000 yard team shooting followed immediately after completion of the individual matches. This was the make or break day for the TR and Open teams. Some simply had to hang on to their lead, while others made almost heroic efforts to catch up. In the end, if they didn't have a respectable score on Friday, it was impossible to catch up on Saturday.
By 2pm in the afternoon, it was all over but the shouting and crying. Everyone waited anxiously for the announcements at the awards ceremony. I could not do justice to all of the winners in this short article. You can find a complete listing of all winners in each category (TR, Open, Expert, Master, and more) on the Bald Eagles website. I will list only the individual and team National Champions.
The 2007 F-Class TR National Champion is Brad Sauve. (Brad also won in 2004 and 2006.) Not only can Brad shoot, but also he is one of the nicest men you will ever meet. Congratulations, my friend!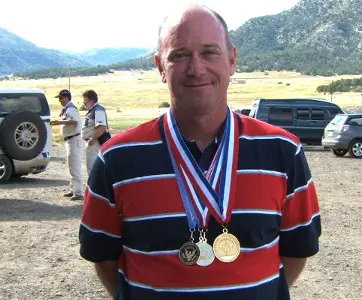 Brad Sauve F-Class TR National Champion.
The 2007 F-Class Open National Champion is Robert Bock. If you will recall, Robert set a new F-Class match record with a perfect score of 150 and 13x's. It will be a long time before anyone comes close to that, except maybe for Robert. In Susannah's words, "Mr. Bock is really cool". Congratulations Bob!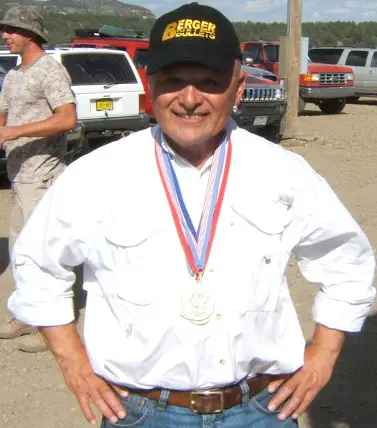 Robert Bock F-Class Open National Champion.
The 2007 F-Class TR National Team Champions are Team Sinclair. These men are real shooters. Good or bad conditions, they deliver. Congratulations guys!
F-Class TR National Champion Team Sinclair.
Back row (l-r): Brad Sauve, Paul Phillips; Front row (l-r): Derek Rodgers, Warren Dean.
The 2007 F-Class Open National 1,000 yard Team Champions are Team Sierra Spindleshooters. The team members are: Coach Nancy Tompkins, Bret Solomon, Shawn Aherns, Jeff Traylor and Jeff Cochran.
The 2007 F-Class Open National 600 yard Team Champions are Team Berger. The team members are: Coach Bob Mead, Jim Murphy, John Brewer, Bob Bock and Larry Bartholome.
These folks all proved that even under the worst of conditions they could find the bullseye. What a week!
It was clearly impossible for me to get a picture of everyone, but I met many wonderful people who stand out in my mind and I did take a great many photographs. Unfortunately, the space and download time constraints of this article prevented Managing Editor Chuck Hawks from using more of them. However, I would be totally remiss if I did not at least mention Conor Murphy (Ireland), Liam Jennings (Ireland), Jannie Els (South Africa), Ian Potgieter (South Africa), Des Parr (Scotland) and Sus'coach Andrew McCourt (USA) for helping me to have the time of my life at the F-Class 2007 Nationals.
As we headed back to Albuquerque on Saturday afternoon, we reflected on the three days of competition. We were privileged to meet some of the finest shooters in the world at one of the most beautiful shooting venues in the world. What an awesome experience. We are already making plans to attend the 2008 F-Class National Championships in Lodi, Wisconsin. Until then, Susannah will attend as many local and regional matches as her school schedule permits. As for me? Well, I might even get into F-Class shooting myself. Who says you can't teach an old dog new tricks? If J.J. Conway can still hit the x-ring at age 83, I should be able to at least hit the target at 68.