2022 Fabarm ELOS D2 20 Gauge O/U Shotgun:
The Search for the Ultimate Lightweight Upland Gun


Illustration courtesy of Fabarm.
The older and fatter hunters get, the more the notion of a super lightweight hunting shotgun holds appeal. Often, it is the three hundred pound earthling that extols of virtues of flyweight guns, including the overpriced and under-powered 28 gauges. I've done my fair share of contributing, both in the age department and the covid-paunch arenas. I consider a shotgun that is legitimately under 6 lbs. as a lightweight field gun. At 5-3/4 lbs., the Fabarm D2 20 gauge easily qualifies.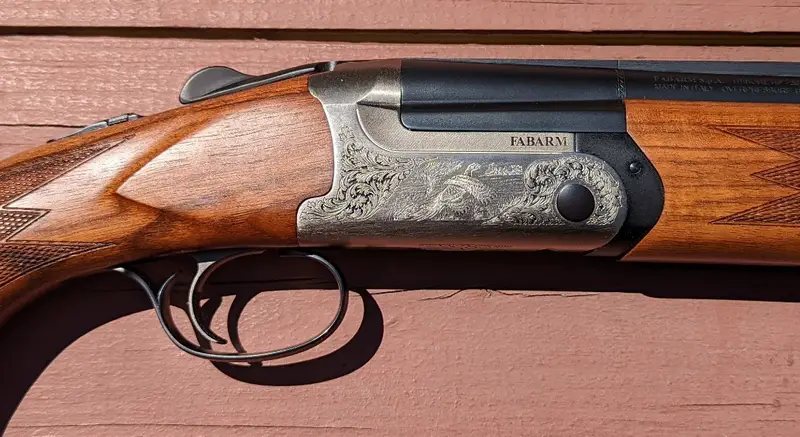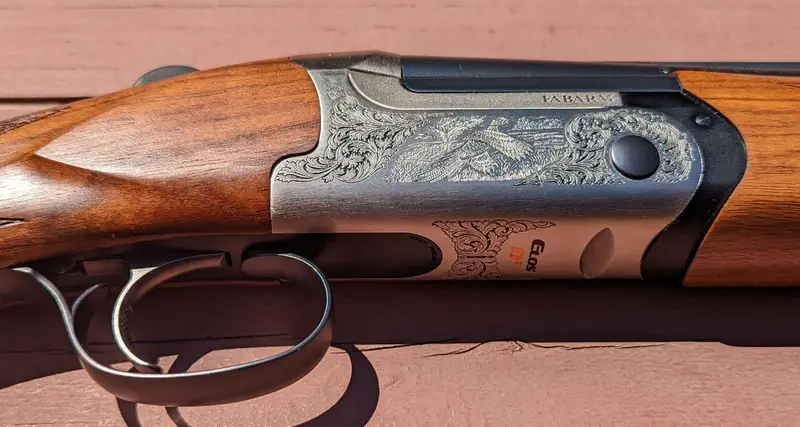 The Fabarm N2 is very nicely inked and engraved: particularly for an alloy receiver shotgun.
Here are the actual weights via calibrated digital scale of several 20 gauge guns that I either own, did own, or have personally tested.
Benelli M2 APG 24 inch, 6.0 pounds.

Beretta 391 Urika 2 Gold, 26 inch, 6 pounds, six ounces.

Beretta 303, 26 inch, 6-1/4 pounds.

Browning A-5 Magnum 20, 26 inch plain barrel, 6.5 pounds.

Browning A-5 Magnum 20, 26 inch Vent Rib, 8 pounds, 3 ounces.

Browning Cynergy Field, O/U, 28 inch barrels, 6-3/4 pounds.

Browning Gold 20, 26 inch, 7.0 pounds.

Browning Silver Hunter 26 inch, 6.5 pounds.

Browning B-80 alloy, 26 inch, 6-1/4 pounds.

Browning B-80 steel, 26 inch, 7 pounds.

CZ 720, 28 inch, 6.5 pounds.

Franchi Affinity 26 inch, 6.0 pounds.

Ithaca M37 Featherlight, 26 inch barrel, 6 pounds. 13 ounces.

Remington 1100 Sporting, 28 inch barrel, 8.0 pounds.

Remington 870 Wingmaster Classic, 26 inch barrel, 6 pounds, 7 ounces.

Weatherby Element Deluxe Walnut, 28 inch barrel, 6 pounds, 7 ounces.

Weatherby SA-08 26 inch, 6.0 pounds.

Winchester SX3 Walnut Field, 28 inch, 6.5 pounds.
However, many lightweight double-barrel shotguns truly stink in the carry and handling departments. A big contributor is excessively heavy barrels. When alloy, or steel insert alloy receivers are used, the barrel set is the same old heavy set, often making the gun into a nose-heavy pig. A shotgun that may be well-balanced with a steel receiver can be turned into a disaster if all that is done is popping in lightweight alloy in the center, ignoring the weight of the barrel set. This is more pronounced with double-barrels, as there are naturally twice the number of barrels as a repeater involved.
The Fabarm D2 20 gauge has 28 inch barrels, topped with a 6mm rib. I weighed the complete D2 20 gauge at 5 lbs., 12 oz. The barrel set, with chokes installed, weighs right at 2 pounds, 12 ounces. In times past, I've weighed 12 gauge autoloader barrels. Here's how they came in.
24 inch Renegauge barrel: 3 lbs. 6 oz.
30 inch B-80 barrel: 2 lbs. 5 oz.
26 inch Remington V3 barrel: 2 lbs., 12 oz.
26 inch Fabarm L4S barrel: 1 lb., 15 oz.
The Fabarm D2 20 gauge 28 inch barrel set weighs far less than a single Savage Renegauge 24 inch barrel, and the same as a 26 inch Remington V3 barrel. This is what accounts for the superb swing dynamics of the Fabarm D2, and the Fabarm L4S for that matter.
Gasparini Industries has this to say about 7000 Series alloy, commercially called Ergal. "The main element of this series is zinc, with possible additions of magnesium, which increases the corrosion resistance. They have good machinability, but poor fusion weldability. This aluminum alloy is typically used when exceptional mechanical robustness and lightness are required. They are used in particular for aeronautical structures and for means of transport, especially in the motorcycle industry and in bicycle frames." The Fabarm D2 reciever is made from Ergal 55: a proprietary aluminum alloy similar to 7076T6 and 7076T-651. Matweb lists this alloy as having 83,000 PSI tensile strength, 73,000 PSI yield strength.
Actually, as a generalization, I do prefer steel receivers in an O/U, certainly for a target gun, and for the potentially crisper engraving and other finish possibilities. Those attributes are all well and good, but that takes away the entire salient point of the great enjoyment of a lightweight field gun: fun to carry, quick to shoulder, easy to swing . . . all in a well-balanced sub six pound package.
The sears on the Fabarm D2 break at a crisp 3-1/4 lbs.: one of the reasons that you look for a high quality vertical double in the first place is crisp, repeatable triggers and this Fabarm has got them. This D2 20 gauge also has a slight palm swell. A left hand stock option is available, as the D2 has 1/8 inch of cast at the heel of the buttstock. Sticker price for the D2 is $2995, available in 12, 20, and 28 gauges.

Like all Fabarm hunting shotguns, the D2 has 3 inch chambers, a five year written warranty, Tri-Bore barrels proofed to 1630 BAR, and is 100% Made in Italy. Tri-Bore barrels are precision drilled, meaning that the patterns you get with a specific shell are the same as I get. You can use steel shot with Fabarm "Full Chokes" as well. Fabarm Tri-Bore barrels eliminate the velocity losses associated with over-bored barrels as well.
Fall is fast approaching, and if the sub-six pound field double appeals to you, it is time to get busy. Fabarm and Caesar Guerini is working on a healthy backlog, with most guns heading straight to dealers. For more info, see https://fabarmusa.com/ .