Fabarm Elos Deluxe 20 Gauge O/U Shotgun


Photo by Randy Wakeman
The new Fabarm (www.fabarm.com) Elos Deluxe 20 gauge is an example of a boxlock over/under shotgun I can truly appreciate. It has better walnut, fit, finish and aesthetic value than most sub $3000 vertical doubles. It also comes with a better trigger pull than many shotguns these days. Yet, despite the elegant sculpted receiver enhanced with a dash of gold, it is understated elegance. The Elos is pleasing to the eye, a clear upgrade from many stack-barrel field guns, yet not so ornate as to be distracting, garish, or a gun you wouldn't want to hunt with.
Features include a ventilated rib with brass front bead, single selective trigger, gold plated trigger with stippled face and selective ejectors. The engraving is not done by hand, but it is well executed and looks good, as does the checkering. The mono-block barrels are nicely polished and hot blued. The barreled action is precisely inletted into a semi-fancy European walnut stock, which is not left overly proud.
Specifications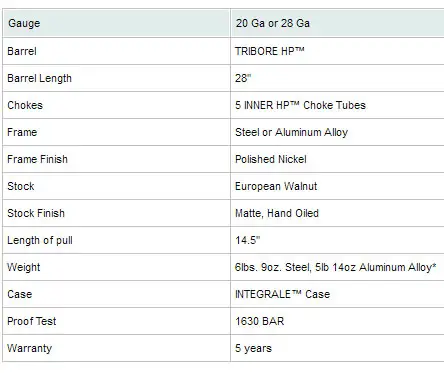 The 28 inch barreled Elos Deluxe weighs 6-3/4 pounds as tested, a very good combination of pleasant to carry and reasonably soft to shoot in a 20 gauge gun. It balances right on the hinge pin. Those who want an ultra light gun haven't been forgotten, either, as there is a version of this model with an aluminum alloy receiver that shaves-off up to a pound.
The sample gun's single trigger broke at from 4 to 4-1/4 pounds, a good hunting trigger right out of the box. I had no crying need to adjust the trigger on this gun, but my understanding is that it is user-adjustable from three to five pounds. No owner's manual was supplied with this gun, just a proof certificate and parts list, so I'll have to wait until I can get my hands on a manual to comment further.
Unlike the many guns partly made or assembled in Italy, or perhaps essentially made in Turkey and then run through the Italian proof house, Fabarm leaves no doubt as to the parentage of this shotgun. "100% Made in Italy" is inscribed right on the receiver.
The walnut buttstock comes with a fluted comb and a rather sharply curved pistol grip with a subtle right hand palm swell. It also has a bit more drop than many O/Us, which I find ideal for field use. The stock is finished with multiple coats of hand rubbed oil. The butt pad is black rubber and there is no grip cap. The four panel checkering is laser or machine cut in a generous point pattern. The forearm latch is of the Anson & Deeley type.
The Fabarm Tri-Bore barrel system is used on the Elos. This means the interior of the barrels are bored with a very long forcing come, a smaller center diameter and then the choke portion. The Elos yields some of the highest-efficiency patterns I've ever seen with factory choke tubes. (Fabarm makes their own choke tubes.) This gun joins an elite group of shotguns that need no aftermarket choke tubes. In fact, the factory choke tubes offer higher density patterns than you might want.
Obtaining low-percentage patterns is no great feat, as you can always open up a pattern. Many factory shotguns just cannot get where they need to be with the supplied choke tubes. After instantly crumpling a dove past sixty yards with a single shot from the Fabarm 5/10 Medium tube, the comment was "No way!" Well, way. This gun throws supremely efficient patterns and you have two tighter chokes supplied than the 5/10. After testing three different examples of Tri-Bore barrels, I'm becoming more impressed each time.
At this price point, the Fabarm Elos goes up against the similarly priced Browning Cynergy Field, offering greater aesthetic value, a better trigger, better wood and better factory pattern performance. It is also comes with a five year warranty backed by the best customer service team in the industry.
If you are getting the impression that I couldn't find anything to dislike about the Elos Deluxe 20 gauge, you are right. It is a fine combination of CNC machining where it matters, tasteful engraving, and a well fit and finished walnut stock.