F.A.I.R. Iside Prestige Tartaruga Gold Shotgun
By Chuck Hawks and the Guns and Shooting Online Staff
Illustration courtesy of IFG and F.A.I.R.
F.A.I.R. (Fabbrica Armi Isidoro Rizzini) is Italy's second largest manufacturer of Over/Under (O/U) shotguns (after Beretta) and Italy's largest manufacturer of Side-by-Side (SxS) shotguns. They also manufacture double-barreled rifles. All F.A.I.R. guns are 100% made in Italy.
Strangely, although it has been around since 1971, many North American hunters are not familiar with the F.A.I.R. name, although some know the I. Rizzini name. The Italian Firearms Group (www.italianfirearmsgroup.com), American importer of F.A.I.R. guns, was established in 2010 to change this. IFG also imports Sabatti, Pedersoli and FT Italia firearms.
In May 2014, IFG began constructing a new warehouse and distribution center in Amarillo, Texas for IFG products and services. This new facility ensures appropriate customer service and that product will be shipped on a timely basis. In our experience, these goals are being met and exceeded.
F.A.I.R. production is located in Marcheno in the Val Trompia area of Northern Italy, where some of the world's best shotguns have been produced for decades. From the beginning F.A.I.R. has emphasized quality, workmanship and beauty in their shotguns.
They are committed to developing and using the latest technology (CAD, CAM, CNC, laser checkering, laser engraving, etc.) and procuring the most advanced machines for manufacturing shotguns using the highest quality materials. This fusion of modern technology with the best traditional materials (high quality steel alloys and genuine walnut) and the traditions of fine Italian gun making allows F.A.I.R. to build extremely precise guns that will last for generations and become family heirlooms, yet at very affordable prices.
F.A.I.R. is proud of their ability to produce precisely interchangeable components. As an example, Justin Dodd (the Chief Operating Officer of IFG), told me about ordering a second set of barrels for a 15 year old F.A.I.R. shotgun. On delivery, they fit perfectly without any hand fitting. This is precision manufacturing!
As this is written, F.A.I.R. offers seven models of SxS shotguns. All are in the Iside line, which is named for the Egyptian goddess of fertility, marriage and love, who also protected travelers. A handy woman to know!
One of these is a hammer gun and the others are hammerless models built on a boxlock action with some important internal modifications, including the use of coil springs. There are no visible pins in the receiver, except the hinge pin for the barrels; all other pins are concealed behind the head of the stock. The hammer pin is located behind the fences, which results in a stronger action body than a traditional Anson & Deely type boxlock with the hammer pin directly below the knee of the action, which is already the weakest point in the frame. The F.A.I.R. guns are made entirely of steel and walnut, with no aluminum alloy or polymer parts.
The F.A.I.R. catalog and website states the Iside guns have demi-block or chopper-lump barrels, but this is not the case. I suspect this is a result of semantics and translation error, rather than an intent to deceive, as the translation from the original Italian to English on both the IFG and F.A.I.R. websites leaves a lot to be desired and gun making terms are not generally found in Italian/English dictionaries.
Our test gun's barrels were struck full length and attached by means of a short through-lump. (Not mono-blocked, as in many medium priced double guns.) The barrels to through-lump fit is so perfect that we had to use magnification to detect the seams.
The through-lump is a separate steel piece, about 2-1/4 inches long in the case of the Iside, machined with integral lumps and shaped to fit between the barrels at the breech end. The barrels are brazed to the through-lump at 1250 degrees F.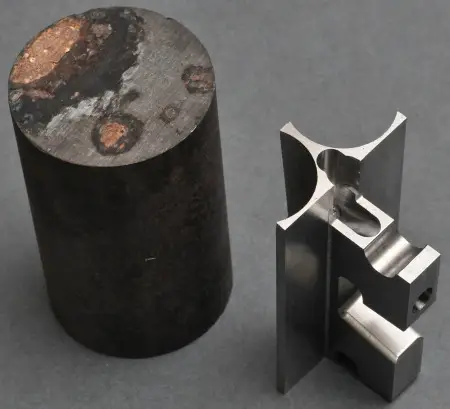 Billet and finished through lump. Illustration courtesy of F.A.I.R.
Through-lump barrel construction is perfectly satisfactory; it is the barrel attachment method used in all of the American best double guns, except the Winchester Model 21. However, the through-lump results in barrels slightly wider across the breech than chopper lump tubes of the same diameter.
F.A.I.R. apparently solves this problem by using very high quality steel in their barrels that allows them to have thinner walls and still pass the rigorous European CIP proof tests. For example, the F.A.I.R. Iside barrels have markedly thinner walls at the breech than the AYA No. 2 barrels to which we compared them. The result is the Iside's assembled barrels are noticeably narrower across the breech than the barrels of the 20 gauge AYA No. 2 gun that we reviewed earlier this month (the AYA actually has chopper-lump barrels.), or the 20 gauge Merkel 47E we reviewed in 2007 (with through-lump barrels). I measured the Iside 20 gauge barrels at only 1.889 inches wide at the breech. (The Merkel barrels measure 2.018 inches wide at the breech.)
The available gauges are 12, 16, 20, 28 and .410 bore, built on 12, 20 and 28 gauge size frames. (16 gauge barrels are fitted to 12 gauge frames and .410 barrels to 28 gauge frames.) The guns are made with long "X-cones" forcing cones and come with interchangeable "Technichoke" tubes and a choke wrench. The Iside basic model comes with three tubes, all other models come with five choke tubes.
The included Owner's Manual is printed in several languages, including English. Near the end is a small, but useful, exploded diagram, Unfortunately the parts are labelled only in Italian, so it helps to be familiar with the workings of double guns if you don't understand Italian.
The gun with its accessories (choke tubes, Owner's Manual, warranty card, F.A.I.R. online store brochure with prices in Euros) is packaged in a rather flimsy, but foam padded and compartmented, ABS plastic hard case. This is definitely better than a cardboard box and probably better than most soft gun cases, but most owners of such a fine gun will probably spring for a more durable trunk type case.
12, 20, 28 and .410 bore guns come with three inch chambers, while 16 gauge guns have 2-3/4 inch chambers. 12 and 20 gauge guns are proofed for steel shot. A single selective trigger (SST) or double triggers (DT) are optional on most models.
All Iside game guns come standard with a reasonably generous splinter fore end and attractive standard grade, or fancier depending on model, Turkish walnut. (Please note that the grades of walnut described in this article are my estimations, not F.A.I.R.'s.; they do not specify the grade of wood used in their guns.)
Turkish walnut is Circassian or European thin shell walnut (Juglans Regia). It is the same species of tree, whether cut in the UK, France, Spain, Italy, Iran, Turkey or elsewhere in its range. The soil in which it is grown has a pronounced affect on the color of the wood and trees from Britain, France and Spain are sometimes regarded as especially desirable. Turkish walnut tends to be lighter in color than Western European walnut, especially when viewed in bright sunlight. (Some would say less rich in color.) It tends more toward tan, beige, or honey tones with lighter dark streaks. Of course, these are generalizations and every walnut blank is unique.
European walnut is harder than American black walnut (Juglans Nigra) and typically has a tighter grain pattern, although not necessarily a more attractive figure. This makes it a superior gun stock material, the best there is.
Higher grade European walnut has more streaking and marbling (black lines) and it should also show similar figure on both sides of the stock. Grading gun stock walnut is subjective at best and F.A.I.R. does not appear to be particularly consistent regarding the grade of wood supplied on its guns. The three highest grade guns, Tartaruga Gold, Prestige and Prestige Tartartua Gold, are supposed to have the best grade wood. However, some appear to have considerably higher grade wood than others, ranging from Semi-Fancy through Fancy (AA grade).
The six hammerless F.A.I.R. boxlock gun models are:
Iside Gardena - A basic competition gun. Features include a pistol grip stock, ventilated rubber recoil pad, beavertail fore end, an unusual double trigger / single trigger fire control system, plain extractors, standard grade walnut, a simple checkering pattern and satin chrome finished receiver. 12 gauge only, 28 or 30 inch barrels, weight is listed as 8.16 pounds.

Iside - This is the basic, entry level SxS field gun. It comes with double triggers (DT), plain extractors, double-curve scalloped receiver without engraving, color cased receiver finish and a straight hand stock of Standard to Select grade Turkish walnut with fancy skip-line checkering and a black, hard rubber butt plate. Choice of 26.75, 28 or 30 inch barrels with three choke tubes included. The catalog weight is 6.39 pounds in 12 gauge and the higher grade guns to follow are similar in weight. (2018 MSRP $1600)

Iside EM - Basically a game scene and English scroll engraved Iside with about 75% receiver coverage. Additional features include a chrome coin receiver finish, single selective trigger (SST), selective ejectors (SE), gold plated trigger, ventilated top lever, five choke tubes and upgraded wood (probably about Select grade) with a hard rubber butt plate. This is a handsome boxlock gun anyone should be proud to own. (2018 MSRP $2600)

Iside Tartaruga Gold - Essentially an EM with a color cased receiver finish and otherwise identical features. The same engraving pattern as the EM, but with gold inlayed game birds on the receiver sides and bottom. Upgraded walnut and a wood butt plate are included. (2018 MSRP $2770)

Iside Prestige - The Prestige grade guns have decorative side plates and almost 100% engraved receivers. They have all the features of the EM guns, including the same fancy skip line checkering pattern, gold SST (DT optional), selective ejectors, ventilated top lever, hard rubber butt plate, chrome coin receiver finish, etc. and upgraded wood similar to the Tartaruga Gold. (2018 MSRP $2880)

Iside Prestige Tartaruga Gold - Justin Dodd sensibly refers to this top of the line gun as the "Prestige TG," as the full nomenclature is a bit of a mouthful. It incorporates all of the features of the Iside Prestige side plate gun and adds a color cased receiver finish with gold game birds on both sides and the bottom of the receiver, similar to the Iside Tartaruga Gold model. Upgraded wood and a wood butt plate similar to the Tartaruga Gold. (2018 MSRP $3060)
This is probably a good place to suggest F.A.I.R. should consider changing their model names. The Company is promoting that its guns are 100% made in Italy, so why are they named for an Egyptian goddess?
If I were the Managing Director of F.A.I.R. I would skip the obscure ancient deities and stick to more descriptive gun nomenclature. For example, how about renaming the Iside line of guns the "Upland" models? The standard boxlocks would become the Upland Competition, Upland Field, Upland EM and Upland EM Gold models. The standard false side plate guns would become the Upland Prestige and Upland Prestige Gold models.
There have not been many reviews of F.A.I.R. Iside shotguns in American publications, print or online, and almost all have been of the Iside basic model. IFG understandably wants to promote this gun, as it is a 100% Italian made double gun priced competitively with generally inferior Turkish SxS guns and, today, even some expensive autoloaders. It is, truly, a bargain and it makes a great first double gun for adult shooters.
Interestingly, Justin told me 28 gauge was currently their best selling chambering, slightly ahead of 20 gauge, and recommended we order a 28 gauge test gun. I found this surprising, as 28 gauge field guns are seldom seen in Western Oregon, where G&S Online is headquartered, and even 28 gauge shells are not very common. Our local Bi-Mart store, for example, does not stock 28 gauge shells. The last I heard, something like 50% of all shotguns sold in the US were 12 gauge, with 20 gauge in second place by a considerable margin over the remaining gauges.
The Guns and Shooting Online staff are experienced double gun owners who, like many of our loyal readers, know the best long term firearm investment, both in terms of pride of ownership and for holding (or increasing!) monetary value over time, is a high grade gun. In addition, G&S Online has a couple cases of 20 gauge shells on hand for reviews and exactly zero 28 gauge shells.
Accordingly, I talked Justin into sending us an off the rack, 20 gauge Prestige TG grade gun with 28 inch barrels for this review. This is the standard configuration with standard dimensions, three inch chambers, SST, SE and representative grade walnut, although double triggers, plain extractors and specially selected wood are available by special order.
This proved to be a good choice. The entire Guns and Shooting Online staff were knocked out by the appearance of the test gun when it arrived. The engraving, checkering, nicely done inlays, case colors and beautifully polished/blued barrels all drew admiring comments. It is clearly a deluxe grade gun.
Specifications
Model: Iside Prestige Tartaruga Gold
Type: Side-by-Side shotgun
Gauge: 20
Chamber: 3"
Barrel length: 28"
Chokes: TC XP50, 5 tubes
Rib: Concave English style, matte finish
Trigger: Single selective, gold plated
Ejectors: Selective
Stock: Turkish walnut; oil finished
Butt plate: Wood
Fore end: Splinter
Sight: Silver front bead
Safety: Manual
Length of pull: 14.5"
Overall length: 45.25"
Weight: 6.17 lbs.
Packaging: V400SP hard case
Warranty: 3 years parts and labor to original buyer
Country of origin: Italy
2018 MSRP: $3060
F.A.I.R. states that the Iside action body is machined from a billet of top grade steel with reduced cross-sections and all unnecessary metal removed. Consequently, it rivals the weight of guns with aluminum alloy receivers, without sacrificing the strength and wear resistance of steel. They consider the Prestige guns, with their slender, rounded profile side plates and upgraded walnut their highest expression of the Italian gun making spirit.
F.A.I.R. is not kidding about removing all unnecessary metal from the action body. This is a very slender and light 20 gauge gun. It looks and feels as if it were built on a 28 gauge frame.
Boxlock guns have, well, boxy receivers, but the Iside frame has rounded corners that make it more comfortable in the hand. With its 28 inch barrels, our test gun balances about 5/8 inch in front of the hinge pin, allowing a slightly smoother swing without feeling muzzle heavy. It would be a joy to carry on a long day in the field.
The barrels open smoothly, with only moderate effort, as long as the gun has not been fired (hammers cocked). However, it takes considerable force to open the gun after firing, in order to compress the heavy hammer coil springs and re-cock the hammers. Ignition is very positive, but I suspect the hammer spring rates could be reduced without degrading ignition reliability. Lighter hammer springs would be a real improvement, making the gun easier to use.
The barrels are secured to the action body by a typical hook in the front lump and a replaceable hinge pin in the action body. The barrel to frame fit is perfect. Double under-bolts lock the barrels closed for firing, leaving a clean breech face when the barrels are opened. A clean breech face makes reloading faster and easier.
The five supplied choke tubes are packaged in their own plastic box, along with a decent choke wrench. (Not one of those cheap wrenches simply punched from a steel plate.) The tubes are mirror polished, nickel plated to increase surface hardness and corrosion resistance, flush fitting and marked for constriction by small notches that are visible from the front of the muzzle. The more or less standard code for the identification notches in the Technichoke tubes (not including the four large notches in all tubes for the choke wrench) is: one notch = Full choke, two notches = Improved Modified, three notches = Modified, four notches = Improved Cylinder and zero notches = Cylinder.
Apparently the Iside basic model usually comes with an automatic safety, but the Prestige models usually come with a manual safety. An automatic safety is fine in the field, but an annoyance when shooting clay targets, where the safety is not used. The automatic safety is easy to disconnect and the Company is trying hard to give the US market what it wants.
The top tang safety incorporates the barrel selector for the single trigger in the form of a laterally sliding button in the middle of the safety slider. Slide the barrel selector to the right to shoot the right barrel first, or to the left to shoot the left barrel first. Because both barrels use interchangeable choke tubes, either barrel can have the tighter choke, at the shooter's discretion.
The Southgate (tumbler type) selective ejectors, powered by coil springs, reliably kick fired cases well clear of the action, while an extractor raises unfired shells for easy removal. Southgate ejectors are much more positive in operation, especially at removing dirty or slightly oversize cases, than the less sophisticated ejectors found in some moderately priced double guns. Fired shells land, side by side, several feet behind the shooter, which shows that the ejectors are properly timed.
The gold plated, inertia type, single selective trigger is another nice touch. The trigger released at 3-1/2 pounds after moderate take-up, per my RCBS pull scale. As those who read our reviews know, this is a much better than average shotgun trigger. The trigger guard is spacious, allowing the use of gloves when necessary.
The gun is very nicely finished, with its color cased action body, highly polished and deeply blued barrels and oil finished walnut stock and fore end. There is an oval for engraved initials in the stock. The wood to metal fit is generally good and outstanding around the side plates.
The sodium cyanide color case hardening process used on virtually all modern production guns that are actually color case hardened (as opposed to applying faux colors) is different from the traditional bone charcoal process, but it is true case hardening and produces true case colors. As I understand it, the steel parts are dipped into molten sodium cyanide that is hot enough (1600-1750 F) to harden the surface of the steel (the "case") by transferring carbon atoms from the sodium cyanide to the case, which is fixed upon quenching in water or oil and then throughly cleaned. The resulting, very hard case is approximately 0.01 to 0.03 inches deep. The case colors on our Prestige TG test gun are subdued and attractive.
The action body of the test gun is handsomely "triple depth" laser engraved with a tight English scroll and game scene motif. This engraving is clean and very well executed. This is the best executed and finest laser engraving any of us have ever seen. Receiver coverage is 100%, except for the fences and replaceable hinge pin, which are not engraved. The gold inlayed game birds stand out against the color case receiver and are highly detailed. The top tang receives an engraved border and a tiny bit of scroll, while the blued trigger guard and top lever receive more fine scroll engraving. The delicate ventilated and carved top lever is a nice touch.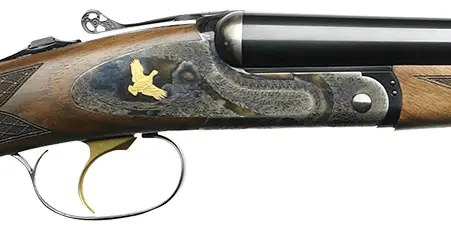 Iside Prestige TG receiver. Illustration courtesy of IFG and F.A.I.R.
There is no bottom tang to engrave, as it terminates immediately behind the rear trigger guard screw. The safety slider wears very fine checkering and the inset barrel selector has fine longitudinal grooves for a positive feel.
The screws are not timed, as there are no visible screw heads, only two small pins in the fore end iron and the barrel hinge pin. All other pins and screws are concealed. The exceptions are two Phillips head screws that secure the wooden butt plate to the stock. (There are two screws inside the fore end, which are not timed, but they cannot be seen unless the fore end is removed.) There are no tang screws, as the butt stock is connected to the action body by a draw-bolt.
The generous three panel, point pattern, skip line, laser checkering on the fore end and butt stock has a single border and includes a drop point on the grip sides. Like the engraving, this is the best and finest laser checkering any of us have ever seen. I'd guess it was cut at something like 30 lines per inch. Interestingly, the checkering pattern was originally developed for the Prestige grade guns, but in the interests of efficient production, is applied to all Iside game guns, including the basic model.
The slender, straight hand butt stock feels great in the hand. A proper straight grip makes guns with bulky pistol grips feel slow and clubby by comparison. The Prestige TG has a fluted comb and a long 14.5 inch length of pull. This length of pull is probably best suited to shooters with slender torsos and long arms, although the gun seemed to fit our medium size staff members pretty well, including myself. It is easy to reduce stock length, if necessary. I measured the drop at comb as approximately 1-1/4 inches, the drop at heel as approximately 2-3/16 inches and the pitch down as 2-1/2 inches at the muzzle of 28 inch barrels. There is a little cast-off for a right hand shooter.
Guns and Shooting Online's Gunsmithing Editor and gun maker Rocky Hays and I rate the Prestige TG test gun's walnut as either Semi-Fancy or Moderately Fancy, a legitimate "slider" that could be considered to be either grade. We would rate the wood on the Iside Prestige Tartaruga Gold pictured at the top of this page and in the F.A.I.R. catalog Medium Fancy (A grade). For more on grading walnut gun stock wood, see Grading Gun Stock Walnut.
The butt stock terminates in a separate, grooved walnut butt plate. The wood butt plate provides a classy look that was much admired at the range.
I applied a couple coats of Johnson Paste Wax (furniture wax) to the stock and fore end. This shines, beautifies and helps protect any wood gunstock.
Anyone who wants to adjust the length of pull and make the gun softer shooting at the same time can have their gunsmith fit a tidy rubber recoil pad, such as a Pachmayr Old English. These are leather faced, available in black or brown and thicknesses of 0.60, 0.80 and 1.0 inches.
The splinter fore end is not the tiny English type, useless for holding, but rather the larger and more functional shape seen on many American classic doubles. It is attached securely to the barrels by means of an Anson type push button latch, my favorite kind.
Shooting the Prestige Gold
Creswell Clay Target Sports in Walker, Oregon is our usual shotgun testing venue. This shotgun range offers multiple trap ranges, two skeet fields, a five stand sporting clays layout and a patterning range with a steel board and magnets to hold the paper. The Saturday following the arrival of the Prestige TG, Guns and Shooting Online Staff members Jim Fleck and Bob Fleck joined me there to shoot and pattern the test gun.
We shot each of the five chokes against the patterning board at 30 yards (about the average distance at which 16 yard trap targets are broken), using Remington 7/8 ounce, #8 target loads. The barrels shot to point of aim for me when I saw the amount of rib I figured appropriate for a double gun with 28 inch barrels and the chokes threw patterns commensurate with their markings.
I was pleased to see that there were no gaps in the Modified, Improved Modified and Full choke patterns through which a 30 yard trap target could squeeze. My inclination is to prefer an Improved Modified choke at the trap range, but I am confident the Technichoke Modified tube would suffice and it throws a bigger pattern, making hitting easier. For trap doubles, I would shoot the modified and Improved Modified chokes. The Cylinder and Improved Cylinder chokes threw large, even patterns that would serve nicely for skeet.
A word about the F.A.I.R. Technichoke tubes. All five tubes threw appropriate size patterns with the shot evenly distributed. In my experience the bored chokes in good double guns throw better patterns than factory interchangeable choke tubes. This makes sense, as a good double gun barrel struck full length is expensive to make and manufacturers cannot afford to be discarding them due to faulty bored chokes, while choke tubes cost only a few dollars each.
Only the truly premium tubes I have tested, such as Briley and Carlson tubes, pattern as well as bored chokes. The Technichoke tubes proved to be an exception, performing like expensive premium choke tubes.
F.A.I.R. claims the internal shape of their nickel plated Technichoke tubes has been specially designed to ease the flow of shot, improve penetration and reduce internal friction. During the manufacturing process, Technichoke tubes are subject to several quality controls in compliance with AQL 0.4 standard.
F.A.I.R. also asserts that their barrels' long X-cone forcing cones ease the passage of shot, deforming fewer pellets. I am skeptical of all manufacturer claims, but the fact is the Prestige gun and its Technichoke tubes performed very well.
"Officially," shotguns should be patterned at 40 yards and the hits in a 30 inch circle counted to determine the amount of choke. This is a good standard and allows comparisons between chokes and guns.
However, as a practical matter, what I want to know about a shotgun is not necessarily the pattern percentage at 40 yards a particular barrel/choke throws. More important to me is finding out if the barrel/choke combination will do what I expect and need it to do at the distance and for the target size I expect to shoot. This is why many trap shooters pattern at 30 yards and look for the largest, even patterns that will not let an edge-on clay target slip through.
Of course, competition trap shooters shoot only 12 gauge guns, but we are not serious clay target shooters. We just shoot an occasional round of trap for fun and practice and all three of us prefer the lighter weight and lower recoil of 20 gauge guns.
Summary and Conclusion
The F.A.I.R. Iside Prestige Tartaruga Gold is an extremely attractive gun, precision crafted from the highest quality materials. It is a side plate, box lock gun that incorporates worthwhile mechanical improvements over the Anson & Deely boxlock design.
The extremely compact and refined receiver makes this 20 gauge gun look and handle like a 28 gauge gun. In fact, despite its 20 gauge barrels, it weighs little more than many 28 gauge guns and less than some.
Those shotgunners who have never used a fine double game gun do not know what they are missing. Shoot one and afterward repeaters, as well as most O/U guns, feel like you are swinging a 2x4 board.
The Prestige TG is clearly a deluxe double gun. Somehow, F.A.I.R's super efficient and high tech manufacturing allows them to price this gun for little, if any, more than most entry level side-by-side game guns. Once you move past the Iside basic gun, it doesn't cost that much more to go all the way to the top of the line. This makes the Prestige TG a terrific long term value in a shotgun, as well as a best buy in the short term.
Note: This review is mirrored on the Product Reviews index page with expanded shooting results.