The Hunt Comfort FatBoy Seat Cushion
By Barr Soltis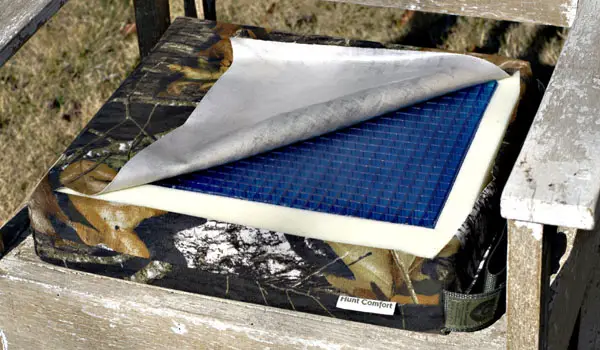 FatBoy cushion cutaway. Photo courtesy of Hunt Comfort.
Six months ago, when I was sitting in a Maine ground blind hunting black bear, I realized that my hunting days would soon end. It was not because I was cold or wet, or because I lost my passion for hunting. It was because I was in pain, constant pain, as a result arthritis in my lumbar spine. I had tried a number of cheap cushions and even tried doubling them, but nothing seemed to make any difference.
My fall deer hunt in Pennsylvania was no different. I used a slightly padded hang-on swivel seat strapped to a tree, but I still found myself moving around and often standing, just to get a moment of relief. As in Maine, instead of enjoying the hunting experience, I sat counting down the hours and minutes to sunset and relief.
I had already booked a wild boar hunt in Georgia, but my excitement was tempered by the thought of more agony. Then, one of my hunting companions recommended the FatBoy Ultra Premium seat cushion manufactured by Hunt Comfort. A quick Internet search located the FatBoy. I sealed the deal with a click of the mouse and my new seat arrived just a few days later.
The day of reckoning came the morning after a 10-hour drive to the camp in Georgia, when the guide dropped me off at my stand with rifle and cushion in hand. I sat for four hours, never squirming, never needing to stand and once again enjoyed being a hunter. Here are the specifications for the seat that I bought.
1 inch Gel Contact Layer with Patented Formula for Pressure Distribution

Frame for Stabilization

1 inch Mid Layer Delivers Cushioning Support

Foundation Layer

Hand Sewn w/ComfortTEX Outdoor Seating Fabric Developed by Hunt

40 inch x 1.5 inch wide Mil Spec Adjustable Utility Strap

Hand Made in the USA with a 3-year Warranty

Dimensions:

 

14"x16"x3"

Weight: 2lbs 12 ounces

MSRP: Camo Colored $64.99; Solid Colors $59.99

 
Beyond hunting, I can think of a wide-variety of uses for the FatBoy seat, from the bench at my local rifle range to stadium seating. Anywhere you need to sit on a hard surface, the FatBoy should fit the bill. You can even accessorize your FatBoy with their Cloud Top Merino Wool Cold Weather Cover. I absolutely have to buy one!
The bottom line is that the FatBoy Ultra Premium seat cushion is a quality product, successfully designed to provide superior seating comfort. Highly recommended!