The Federal Gold Medal Grand Shotshell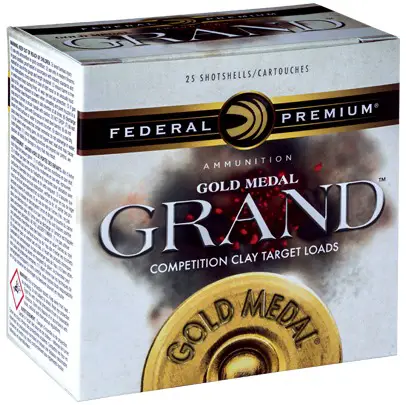 Illustration courtesy of Federal Premium.
While it may not rise to the level of reinventing the shotgun shell, the Gold Medal Grand is reinventing the Federal target shotshell. The reload-ability of shotgun shells has been largely set aside over the years. Years ago, it was straightforward: the 12 gauge hulls that were considered ideal for reloading were the old Winchester AA's or Remington STS / Nitro 27 loads. Everything else was second-rate.
With the redesign of the AA hull into the so-called "HS" hull to save on production cost, it became strictly STS territory for a premium reloadable hull. Back in 1998, Tom Armbrust was able to show that there was no noticeable degradation in ballistic performance with STS hulls reloaded a dozen times.
The new Gold Medal Grand hulls brag of 16-17 reloads. Federal appears to have exceeded that level. I personally trash hulls after seven reloads and that is not going to change. If the crimp does not look like factory, I have no use for them. Few shotgun enthusiasts bother to pattern their loads and far fewer check velocities and standard deviations.
Federal also claims better, more reliable ignition. That well may be true, however I have not had any ignition problems with economical Federal Top Gun shells, for example, so I'll just take their word for it.
Federal also claims lower recoil, roughly 5% less. Humans cannot detect that small a decrease in recoil, of course, which is one of the reasons so many gun manufacturers tout a 50 or 60% decrease in recoil.
Actual recoil can be calculated, but no one can calculate felt recoil; it is matter of personal opinion. We just know we do not like recoil. For the reloader to net the recoil reduction, it will require that they use the new Federal wad. Hopefully, Federal (and Alliant) will be forthcoming on these. They will sell a lot of wads if they follow through on this.
Federal testing's recorded increase in pattern efficiency is far more interesting: 77.09% 40 yard pattern efficiencies compared to the 72.96% pattern efficiencies from the classic Federal Gold Medals. Neil Winston's annual testing recorded the old Federal Gold Medals at a very good 76.4% percent pattern efficiency, so the approximate 4% increase from Gold Medal Grand shells would make it the best target load on the market.
The Gold Medal Grand shot is hard, spherical and consistent in diameter. I am not quite ready to pronounce Federal Gold Medal Grand as the best performing target shells on the market, but it sure is looking that way.