Can't Stop Fooling with Guns
By Jim Force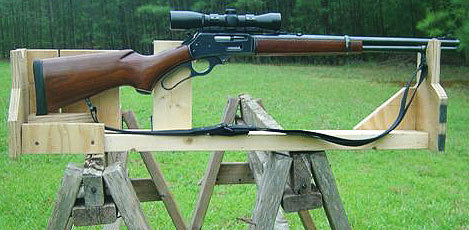 Improved Marlin 336. Photo by Jim Force.
A while back, I wrote about buying Marlin firearms in pawnshops. One of my purchases was a pre-cross bolt safety Marlin 336 in 30-30 Winchester. It was a plain Jane closet queen with the original buckhorn sights and front bead, sling swivel studs and hard plastic butt plate. Nice walnut stock, but I just could not leave it alone.
The first improvement I made was to install a telescopic sight and mounts. Weaver has made a one-piece base for years for the 336. It fits, is easy to find and inexpensive. I next chose Leupold 1" cross-slot rings. Again, they are time tested and do not break the bank. The scope is a Sightron S-II 4x32 with a matte finish. As I never intend to shoot beyond 200 yards, I find the fixed 4x magnification of the Sightron more than adequate to produce 2" groups @100 yards using a camp stool and homemade tripod. I did make my own plywood cradle and used clamps and shims to get the rifle plumb and level for installing all the parts and used Locktite on all the threads. I ordered the parts on-line and through a single source to save on shipping.
With the scope mounted, I needed to get a hammer extension to facilitate cocking. Midway stocks the Uncle Mike's hammer extension for my model year, so I ordered one and installed it myself. "Stone grind fitting" was recommended in the instructions, but I did not know how to do this. However, I got the extension on the hammer.
Since we climb in and out of stands, I wanted a sling to carry the un-loaded rifle to the elevated seat and back down. As the sling is serving simply as a carry strap, I wanted the simplest, least intrusive one available. A one-inch, black nylon, adjustable sling is very durable and does not get in the way. Uncle Mike's line seems as good as any and is available at the local "big box" sporting goods store. The swivels are very easy to install or remove.
While having another rifle modified, I ended up with a spare, un-used, Browning recoil pad. It fit the Marlin almost perfectly and I was able to do the install myself, after getting past the staples used at the factory for the original installation of the plastic butt plate. It looks good, gives me a longer length of pull and provides a measure of recoil relief.
After last season's success with this gun, I decided to let a gunsmith make further minor modifications. The front barrel band was a little loose and I wondered if something could be done with the heavy trigger pull. Jimmy M. first removed the curved barrel band screw, tapped out the hole and installed a new screw. He then disassembled the receiver and replaced the main spring with a Palo Verde Gunworks reduced tension Marlin main spring kit. It made the entire receiver and lever mechanism work smoothly and while there is still loose take-up in the trigger, the actual pull is lighter and crisp. The final touch was stone grind fitting the hammer extension. My little Marlin will be perfect for next season!