Frankford Arsenal DS-750 Digital Reloading Scale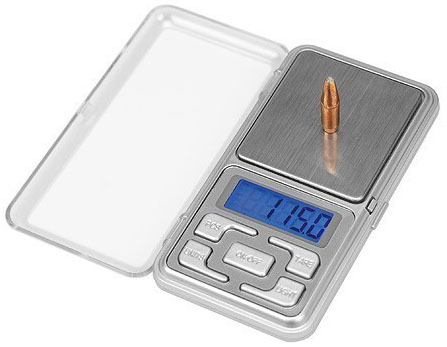 DS-750 Electronic Powder Scale. Illustration courtesy of Frankford Arsenal.
The advent of microelectronics digital scales have essentially made balance-beam scales obsolete, even for the beginning reloader. For precise measurement of powder and accurate reloads, a digital scale is far superior. However, we would caution readers against buying the cheap ones advertised online. These knock offs range in price from $10 to $20 and are very appealing to the budget minded. However, there is no guarantee that their accuracy is as advertised and accuracy is critical when weighing smokeless powder. Stick with known, reputable brands.
We have used digital scales for almost ten years and as a result have obtained greater accuracy with our reloads, especially in competition shooting. When we saw the Frankford Arsenal DS-750 the compact size was very appealing, especially given the crowded nature of our reloading bench, which is crowded with all of the gadgets we have accumulated over the years.
The DS-750 arrived shortly after the 2013 SHOT Show and we decided to test it for accuracy against our existing scales and also check it against our set of precision laboratory weights. These weights are as follows: 0.1 grain, 1 grain, 2 grain, 5 grain, 10 gr, 20 grain. The DS-750 registered the exact same weight as our MyWeigh Durascale 100, which set us back $84.90 back in 2004, and our RCBS Chargemaster 1500, which hit our budget at a bit over $250.
We used various combinations of our standard weights on all three scales and all yielded the same results. Each scale was accurate to 0.1 grain accuracy. As such, there is no particular advantage of one over the other with respect to accuracy. However, it was easier and quicker to check the calibration on the DS-750 than the other two. The Durascale was the most time consuming. If you do not follow the somewhat confusing instructions exactly and slowly (they even state that), you have to start over. Calibration of the RCBS Chargemaster is straightforward and quick. The DS-750 is even faster.
When Frankford states that their high-contrast backlit display is easy to read, they weren't kidding. Jim can even read the numbers without his glasses and that is saying a lot. The simple control buttons makes changing units, tare weights or counting a snap.
Specifications
Capacity: 750 grain (50 gram)

Accuracy: 0.1 grain (0.01 gram)

LCD display with blue backlight

Integrated protective cover

Carry pouch holds scale, pan and calibration weight

Auto Calibration

Measures in: grains, grams, carats and ounces

Tare Function and Counting Function

Overload protection

Auto shutoff after 60 seconds

Power: 2 AAA batteries (included)

2013 MSRP: $39.99
With an MSRP of $39.99, the Frankford Arsenal DS-750 is a bargain. It is lower in price than most other reloading scales and as precise as those costing much more. For us, this little gem has found a permanent home on our reloading bench.