Frankford Arsenal Quick-N-EZ Impact Bullet Puller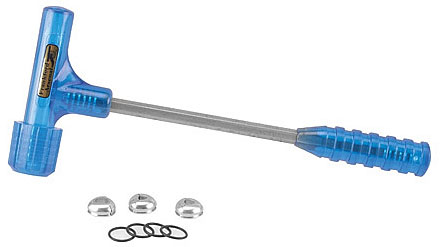 Illustration courtesy of Frankford Arsenal.
If you reload your own metallic cartridges, a bullet puller is a useful tool for your reloading bench for the following reasons: You might find, after loading a bunch of ammunition, that the cartridges won't feed properly in one of your firearms. (Of course, you should always load the first cartridge and try it in the firearm in question; particularly if you are not full length resizing and loading to the specified COL.) In that case, we have to pull the bullets and start over. Or, we have boxes of ammo that we reloaded years ago with what is now, old powder of questionable potency, so we pull the bullets and reload with fresh powder. Or we inherit a box full of reloads from a friend with no information as to bullet weights, powder brand or charges. Not wanting to take a chance with unknown reloads, we need to pull the bullets and reload the cases. When faced with any of the above, you need a bullet puller to recycle the cases/bullets and in most cases, dump the powder.
There are two types of bullet pullers, the impact type that looks like a modified hammer and the collet type, which screws into a reloading press like a die. There are a lot of impact bullet pullers on the market. Since the impact-puller patent design has expired, most of them appear as clones of one another, except for the all-plastic RCBS tool. With that in mind, why would you pick one particular brand over another? Company reputation and after market service are two good reasons.
The collet type bullet pullers fit into any standard 7/8-14 single stage reloading press. When properly used these do not damage jacketed bullets. These are what most competition shooters and other experienced reloaders use when they have to pull bullets. The drawback to the collet type is not its price of $21.95, but the fact that one has to buy a collet at about $12 for each cartridge for which you reload. Of course, many cartridges use the same rim dimension. For example, all cartridges with .473" diameter rims (that includes all cartridges based on the popular 7mm Mauser, .30-06 or .308 cases) share the same collet and all belted magnum cartridges based on the .375 H&H case share the same collet. In many cases, one or two collets are all many reloaders ever need.
However, if you reload many calibers with different rim diameters, which would apply to many handgun cartridges, the price of additional collets can add up pretty fast. Given the fact that most folks do not have to use their bullet puller very often, the cost-benefit ratio is questionable. If cost is no object and most of your reloading is for cartridges with common rim diameters, a collet type bullet puller is the way to go. However, if you need to pull swaged lead SWC bullets from .38/.357, .44 or .45 revolver cases, you will likely have a problem with the collet style puller, as there is frequently not enough bullet surface for the collet to grip. Under these circumstances, an impact puller is the only option.
For years, I used a competitor's impact bullet puller, until the chuck broke. I wrote the company and asked if I could purchase a replacement chuck. Their reply was that they do not sell the chucks separately. I had to revert to Plan B, using steel shell holders upside down in place of the chuck to hold the cases. While this worked, it did cause some damage to the rims and base of the cases, as one might expect from steel on brass. Tired of damaged cases, I ordered a Frankford Quick-N-EZ impact puller. The Frankford Arsenal Quick-N-EZ bullet puller includes three collets with extra O-rings to cover just about every caliber on the market.
Frankford Arsenal collet specifications courtesy of Frankford Arsenal.
A common complaint from folks who use impact bullet pullers is that they can deform the tips of soft-point lead bullets and even some polymer tips. We solved that problem by cutting a piece of dense foam and pushing it into the base of the cartridge cavity. With the foam firmly in place, we rarely damage a bullet tip. I am surprised that this "penny fix" hasn't been incorporated by all manufacturers. If they decided that the additional labor costs to install the foam were too much to absorb, they could include a piece of foam with the collets/chucks for the consumer to install.
Five or six years ago, some folks experienced problems with Frankford Arsenal's aluminum collets. They were too soft and frequently broke. That problem was corrected as soon as Frankford became aware of it. Now, their aluminum collets/chucks are as tough as any on the market. Frankford's quick resolution of this problem speaks highly of their commitment to provide quality products for reloaders.
The 2012 MSRP for the Quick-N-EZ Impact Bullet Puller is $19.99, but it can be had from Midway for $14.79 (2012 discount retail price), which puts it about $5 less than most of its competitors. Frankford's replacement collets package, should you ever need them, have an MSRP of $10.99 and Midway sells them for $9.29.