Frankford Arsenal Platinum Reloading Stand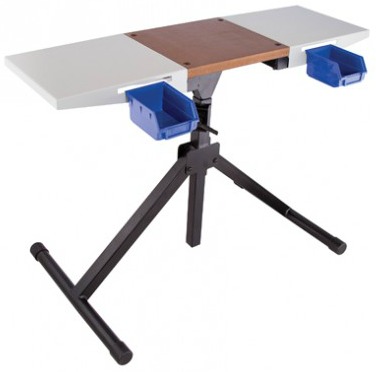 Illustration courtesy of Frankford Arsenal, Inc.
Over the past sixty years we have mounted our reloading presses on a variety of tables and benches. Sometimes they worked and other times the repetitive movement of the ram during resizing caused table tops to rupture, fracture, or just plain disintegrate. If that sounds familiar, then you now know you have not been the only one to experience those irritants.
Mary's father, Larry Eastman, was a skilled western mountain man and reloaded all of his own ammunition for hunting everything from mountain lions to prairie dogs. He never did anything without thoroughly thinking it through.
When we spotted his reloading bench, we knew what we had missed all those years. It was a 1/8 inch thick metal plate under the reloading press that extended outward to absorb the stress and take most of the pressure off of the table top. With that plate, a reloading bench top can even be made of particle board.
This brings us to the new Frankford Arsenal Platinum Reloading Stand (item number 489621). If you are one of those fortunate folks who has lots of room in your house, or has a shed that is dedicated to reloading, you probably do not need this stand. However, if you live in an apartment, mobile home, or a small house, this stand is just what the doctor ordered.
Features
Extremely stable and rigid work platform
Steel frame construction
Tabletop height adjustable 28.5" to 45" tall
Tabletop width adjustable 13" x 12" to 39" x 12"
Folds compactly for storage
Includes two storage bins
This reloading stand is well constructed and heavy enough to withstand the rigors of reloading. When not in use, it folds-up for storage. When open, it is stable and rigid, as one would expect of a stand weighing 30 pounds.
The frame is made from 1.5 inch tubular steel and opens up to 34 inches x 21 inches. The width of the table top is adjustable from 13 inches x 12 inches (the table center with the side shelves down) to 39 inches x 12 inches with the sides shelves up. The side shelves provide adequate space for free standing case trimmers, powder scales and extra reloading tools.
The hardwood center measures 13 inches x 12 inches and has adequate room for mounting a press and powder measure.
We have no reason to doubt the strength of the hardwood center as a platform for your press, but would still recommend picking up a small square of scrap sheet steel from your local welding shop to go under the press. In this way, you would guarantee that, no matter how much or how many years you use the reloading table, the hardwood center piece will remain intact.
For this stand, we would recommend a piece of steel 1/8 inch thick x 6 inches wide x 12 inches deep. You do not need to cover the entire surface of the hardwood center. A steel plate the recommended size is big enough to essentially eliminate the stress on the hardwood.
Besides being a space-saving reloading table, the height is adjustable from 28.5 inches to 45 inches, which allows one to use it while sitting or standing. That is a benefit not often found on fixed reloading benches.
The two plastic, detachable side bins are handy places for a variety of things: cases, bullets, dies, etc. It would be nice to have a bracket on the underside of each side for storing the side bins when the stand is folded up. Perhaps this is something for the engineers at Frankford Arsenal to consider.
With an MSRP of $179.99, the Frankford Arsenal Platinum Reloading Stand is not inexpensive. However, it is useful, designed to stand up to the rigors of reloading and it is ideal if you are short on space.