Frankford Arsenal EZ Sonic Cleaner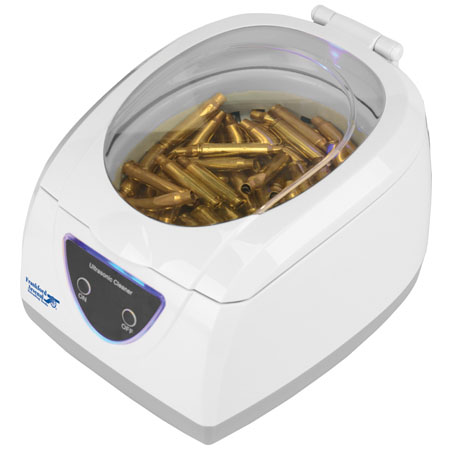 Illustration courtesy of Frankford Arsenal
We have to admit that, until recently, we never bothered with sonic cleaners. Tumblers cleaned up our brass just fine. Of course, if we put de-capped cases in a tumbler, there was always the problem of picking out pieces of tumbling media from the primer pocket hole. If we used brass that was not de-capped, we had to use a primer pocket cleaning tool on the pocket after decapping. Either way, there was a lot of additional time spent in cleaning out the primer pockets prior to seating the new primer.
All of the sonic cleaners on the market break down the carbon build up inside, outside and in the primer pockets. The benefit of the EZ Sonic Cleaner is its lower price compared to most of the others on the market. With that in mind, we compared it to a Hornady Lock-n-LoadŽ 2L Sonic Cleaner, which has a 2013 MSRP of $142.84.
We decaped a batch of 22-250 brass from our inventory and randomly selected 50 cases to put into each machine. We mixed up the prescribed cleaning solution for each device and put the cases in. The EZ Sonic cleaner has a pre-set 10 minute cycle, so we also set the Hornady cleaner for 10 minutes. When each had completed their cycles, we randomly inspected five cases from each basket. Some were adequately cleaned, while others were not. We put the cases back and ran the both machines for another 10 minutes. After two 10-minute cycles, all of the cases in both machines appeared to be properly cleaned. There was no apparent difference in the case appearance or condition between the cases from either machine. We repeated our test three more times with the same results. Our recommendation is that a 20 minute cycle is required for the majority of cases that have been fired once or twice.
Neither machine cleaned out the primer pockets (they do not claim to). However, the carbon buildup in the primer pockets was broken down sufficiently (in both machines) that a few swabs with a Q-tip was all that was required to clean out the pockets.
The Hornady machine had some extra bells and whistles, an adjustable timer and heat setting. The tank of the EZ cleaner measures 5.8x4.8x1.9 inches, giving it a capacity of 0.75L. The instruction brochure states that the basket will hold up to 125 cases of .223. However, we could only load 100 without being over the top of the basket. This isn't a problem, as it takes us longer to reload those 100 cases than the twenty minutes required to clean another 100.
Before you decide to throw away your tumbler, don't! If you are like us and collect brass from your local range, a sonic cleaner will not do remove the oxidation from exposure to the elements. You still need a tumbler to clean your field brass prior to preparing them for reloading.
The Frankford Arsenal cleaning solution is concentrated at a 40:1 ratio of cleaner to water, compared to most others with a 20:1 concentration. The Frankford Arsenal price for 32 ounces is $17.29 (2013 Midway price). It does an excellent job if you use distilled or RO water (as recommended) and can be reused multiple times, depending on how dirty the brass was. Hard tap water or salt softened water will not produce the same results as distilled water.
The bottom line is that the Frankford Arsenal EZ Sonic Cleaner with an MSRP of $64.99 (2013 Midway price of $46.99) is a bargain for reloaders who do not need to clean hundreds of cases at once.