Guns and Shooting Online 2011 Firearms Awards
By the Guns and Shooting Online Staff
Shotgun Award: Browning Cynergy Classic Series


Browning Cynergy Classic Field 12 gauge shotgun. Illustration courtesy of Browning.
The hingelock O/U has been tried before, but not with particularly good results. One example is the smallish hinge found on the TOZ 34. An upscale, rarely seen treatment is the Swedish Caprinus with patents from 1982, later known as the Flodman. The stainless steel Flodman with its lever-cocking action remains a scarcely known, pricey piece of exotica. The Cynergy, formerly code-named "Shiek" was designed by Dwight Potter and introduced in 2004.
The Cynergy was and is a remarkable shotgun, although the earlier versions suffered from an over dose of ugly Euro-trash styling. The Cynergy Classic series (Classic Field, Classic Sporting and Classic Trap) has substantially reduced the ugly quotient. In fact, except for an excessively hooked pistol grip on the Field and Sporting versions, the Cynergy Classics are good looking shotguns. The distinctive monolock hinge isn't going to look like Grandpa's shotgun, but Browning has softened the blow with the Cynergy Classic models. Aesthetics aside, many folks have come to the same conclusion, that being the Cynergy is either the softest-shooting O/U shotgun they have ever tried or the first and only O/U they have ever used that they really enjoy shooting.
The Classic Field has been given upgraded wood and engraving along with Browning's Vector Pro lengthened forcing cones in both twelve and twenty gauge. The great accomplishment of the Cynergy is its low-profile action, the cornerstone of the stack barrel premise. The Cynergy explores this to the greatest degree possible and in so doing sets itself apart from standard stack barrel fare. The Browning Cynergy is a breath of fresh air and if you've not pulled the trigger on a Cynergy, you owe it to yourself to do so.
Handgun Award: Ruger SR 1911 .45 ACP Pistol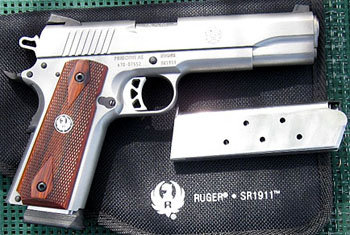 Photo by Randy Wakeman.
Ruger has produced a reasonably priced, made in the USA, 1911 style pistol that incorporates the best of the "modern" 1911 improvements without compromising the virtues of John Browning's classic service pistol design. This is no small accomplishment, considering the number of contemporary 1911's that have fallen short of that goal.
Ruger wisely incorporated only the most basic and functional changes in their "Series 70" style SR1911. The restrained improvements include a feed ramp shaped and smoothed to feed JHP as well as RN ammo, enlarged ejection port, slant cut slide grooves, Novak three-dot combat sights installed in dovetail slots, loop hammer, beavertail grip safety with speed bump, long aluminum trigger with adjustable over travel, extended magazine release and a slightly wider safety lever. Note the use of the word "restrained" at the beginning of the previous sentence. None of these modifications are radical or overdone.
Retained are all of the other traditional Colt/Browning design elements, including the barrel bushing, short guide rod and plunger, internal (leaf spring) extractor, grip safety and swinging barrel link. The top of the slide is smoothly rounded, sans rib, as per the original. The SR1911 has no front slide grooves and the mainspring housing is straight. There is no silly loaded chamber indicator, no magazine safety and no firing pin block. Drop safety is ensured by a light titanium firing pin held rearward by a strong spring.
The Ruger SR1911 is a handsome, well executed and reliable 1911 pistol in rust resistant stainless steel. It looks a lot like John M. Browning's original 1911 and remains fully real world functional. I think Browning would have approved of Ruger's approach to his most famous pistol design.
Rifle Award: CZ 550 Safari Classics Express Rifle

CZ 550 Safari Classics Express Rifle. Illustration courtesy of CZ-USA.
CZ Safari Classics Express Rifles are chambered for cartridges that fit standard (.30-06) length actions. The cartridges offered include .425 Westley Richards, .416 Ruger, .416 Taylor, .375 Ruger, 9.3x62, .338 Win. Mag., .300 Ultra Mag, .300 Win. Mag., .300 H&H Mag., .30-06 and .270 Win.
CZ 550 rifles are built on a lightly modified Mauser 98 type action with a square bridge receiver. The action has a generous, open top loading/ejection port that simplifies the single loading of a single cartridge under duress. Features include a cock on opening bolt with dual front locking lugs, receiver mounted ejector, full length extractor and controlled feeding. Like all CZ 550 rifles, the top of the receiver is machined with 19mm dovetails that accept the supplied CZ scope mounting rings.
The flat-bottomed receiver is machined from steel billet and incorporates an integral recoil lug. There is a one-piece, steel, trigger guard/bottom iron with a hinged magazine floorplate. A streamlined cap at the rear of the one-piece bolt protects the shooter's face from escaping gasses in the event of a blown primer and gas relief ports in the bottom of the bolt vent into the magazine well. A visible and tactile "cocked" indicator protrudes from the back of the bolt shroud. The standard, low, two-position safety locks the bolt closed when applied.
Safari Classics rifles are built in the CZ Custom Shop and are made to the customer's specifications. They feature a fully adjustable single set trigger, blued barreled action (rotary polished with about 400-grit), straight comb stock of #1 fancy black walnut with dual recoil cross bolts, satin oil wood finish, Pachmayr Decelerator recoil pad and detachable sling swivel studs with a barrel band front mount. Three panel cut checkering includes wrap around forend checkering and generous checkered areas on both sides of the pistol grip. Adjustable express style iron sights are included.
The price of a CZ 550 Safari Classics Express rifle is in line with prices of comparable safari grade rifles from other manufacturers. CZ offers a wide selection of calibers, including European favorites like our 9.3x62, which are unavailable from most manufacturers. The CZ 550 Safari Classics Express is a fine rifle that practically anyone would be proud to own.
Riflescopes and Optics Award: Leupold VX-R Line

VX-R 1.25-4x20mm. Illustration courtesy of Leupold Stevens.
For those who prefer an illuminated reticle in their riflescope, Leupold offers the new VX-R line. Under very low lighting conditions it is undeniable that an illuminated reticle can be desirable and Leupold has stepped up to the plate with their VX-R, made in the USA, riflescope line.
Introduced in 2011, the initial VX-R's include 1.25-4x20mm, 2-7x33mm, 3-9x40mm, 3-9x50mm and 4-12x40mm models. The VX-R's feature proprietary Motion Sensor Technology and Leupold's Fire-Dot reticles, which are available in Fire-Dot Duplex, Fire-Dot Ballistic, Fire-Dot Circle and Fire-Dot 4 configurations. There are eight intensity settings and the Fire-Dot reticle will automatically switch to stand-by mode after five minutes of inactivity, then reactivate when the rifle is moved. Power is supplied by a CR-2032 battery.
All VX-R models include a plethora of exclusive Leupold features, including a 30mm main tube, twin bias spring erector system, blackened lens edges, one turn focusing eyepiece, custom dial system, index matched lens multi-coating system, Argon/Krypton gas waterproofing and DiamondCoat scratch resistant exterior lens coatings. Most of all, they include Leupold's famous durability, lifetime guarantee and industry leading customer service.