Guns and Shooting Online 2013 Awards
By the Guns and Shooting Online Staff
It amuses us that most outdoor publications announce their annual award winners in January or February, right after new products are announced at the SHOT Show. How do they know these products are actually worth recommending? Of course, at that time, no one knows if the featured products will actually work in the field or how well they will hold-up to hard use. In reality, these early year awards are just a reward to the publications' major advertisers. We do things differently at Guns and Shooting Online.
Now that 2013 is almost in the books (these awards are being announced in October 2013) and we have had some time to appreciate the featured products, it is time for us to select the winners of the Guns and Shooting Online Shotgun, Rifle, Handgun and Optics of the year awards. To receive this award, products do not have to have been introduced in 2013 or advertised on Guns and Shooting Online; they just have to be available during the year and, of course, exceptional. 2013 was a good year for shooters, as you can see from the products honored below.
Shotgun Award: Browning Citori 725 Grade III and Grade V

Browning Citori 725 Grade V shotgun. Illustration courtesy of Browning.
Browning introduced high grade Citori 725 O/U shotguns for 2013. These are elegant O/U guns with silver nitride finish steel receivers, high relief engraving, highly polished and gloss blued VR barrels, high grade walnut stocks with gloss varnish finish, field type black recoil pads, 22 lpi checkering, selective hammer ejectors and Browning's FireLite selective single trigger. The barrels are struck full-length, not mono-blocked, and provided with ivory front and mid-bead sights.
The Grade III version comes with grade III/IV walnut and the game scene engraving features pheasants on the left, mallards on the right and a hunting dog on the bottom of the receiver. Grade V is more elaborately engraved with 100% receiver coverage with gold pheasants and mallards. Grade V guns come with very highly figured grade V/VI walnut and include a fitted Crazy Horse, wood frame, canvas/leather covered hard case. These fine shotguns are as functional as they are beautiful, deserving recipients of our 2013 Shotgun Award.
Handgun Award: Ruger Single-Nine Single Action .22 WMR Revolver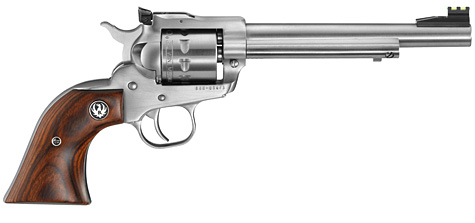 Illustration courtesy of Sturm, Ruger & Co., Inc.
The Ruger Single-Nine is a nine-shot cylinder version of the Single-Six Convertible SA revolver that has been a mainstay of the Ruger revolver line for generations. Chambered for the .22 Winchester Magnum rimfire cartridge, the new for 2013 Single-Nine is the most potent rimfire handgun on the market. Fully adjustable sights, extreme reliability, great ergonomics and accurate performance have been Single-Six virtues since its introduction and carry over to the new Single-Nine model.
For revolver small game and varmint hunting, not to mention as a camping companion, it just doesn't get any better than the new Ruger Single-Nine. A great revolver gets even better and wins our 2013 Handgun Award.
Rifle Award: Ruger M77/17-VHZ .17 Hornet

Illustration courtesy of Sturm, Ruger & Co., Inc.
Back in 1983, Ruger introduced their first bolt action, rotary magazine, rimfire rifle. This was an adult .22 intended to appeal to mature shooters, not kids. The M77/22 was a big success and, as they say, the rest is history. The original walnut stocked sporter rifle was joined by stainless synthetic and laminated stock versions, including heavy barrel varmint models. The basic action was subsequently adapted to rimfire magnums, the centerfire .357 Magnum, 44 Magnum and now the hot .17 Hornet varmint cartridge.
Developed by Hornady, the .17 Hornet is based on a blown-out and necked-down .22 Hornet case. It launches a 20 grain V-Max bullet at a muzzle velocity of 3650 fps and we regard the economical .17 Hornet as the best centerfire varmint cartridge introduced in years; maybe the best ever.
Ruger's new for 2013 M77/17-VHZ in .17 Hornet is based on their well-designed, strong and reliable rotary magazine action mated to a heavy barrel and a laminated hardwood stock. It is brilliantly accurate and made in the USA. Now, it is also our 2013 Rifle Award winner!
Riflescopes and Optics Award: Weaver's New and Improved Grand Slam Riflescopes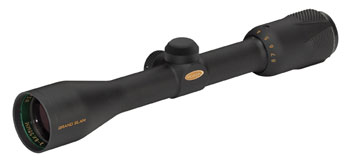 Grand Slam 2-8x36mm. Illustration courtesy of Weaver.
The Weaver division of ATK revised their high quality Grand Slam riflescope line for 2013. The new Grand Slam variable power scopes are completely revised inside and out and incorporate Weaver's high precision Micro-Trac 1/4 MOA windage and elevation adjustments. Always fine riflescopes, the new Grand Slam line is better than ever. All of the new Grand Slam riflescopes incorporate 1" diameter main tubes, fully multi-coated lenses, one-piece tubes and are purged and Argon filled for improved fog-proof performance. These scopes are completely waterproof, fog-proof and built to withstand the heaviest recoil.
There are expanded reticle offerings and, of course, the optics are sharp and clear. For 2013 the new Grand Slam line includes 2-8x36mmm, 3-12x42mm, 3-12x50mm and 4-16x44mm models. The 2-8x36mm Grand Slam is especially appropriate for a big game hunting rifle and is available with three different reticle choices. The higher magnification (12x and greater) models incorporate side focus parallax adjustment and provide the magnification required for varmint rifles chambered for cartridges from .17 HMR to .220 Swift. The 4-16x44mm is available with Weaver's special Varmint EB-X reticle. We are proud to award our 2013 Scopes and Optics award to the new Weaver Grand Slam riflescope line.