Guns and Shooting Online 2014 Awards
By the Guns and Shooting Online Staff
Once again the end of summer has arrived and autumn is beginning, bringing with it deer and big game hunting season. Fall also means it is time for the annual Guns and Shooting Online awards in the Shotgun, Rifle, Handgun and Optics categories, now that we have had most of a year to appreciate the featured products. (Unlike most outdoor media, we do not give our annual awards to brand new and unproven products to attract or appease advertisers.)
To receive this award, products do not have to have been introduced in 2014 or advertised on Guns and Shooting Online. They just have to be available during the year and, of course, exceptional in our estimation. 2014 was another good year for shooters, as you can see from the products honored below.
Shotgun Award: Ruger Red Label II O/U

Illustration courtesy of Sturm, Ruger.
A thousand dollar plus, American made O/U is something that no one else has been able to achieve. It is well below the Browning-Beretta entry level price and close to some Turkish imports that lack decent pads and choke tubes, much less a stainless steel pinless receiver and a genuine walnut stock with all the trimmings, including a vent rib, SST and selective ejectors.
Ruger is going to sell all the Red Labels they can make for a good long while. It is baffling how Ruger can put out a vertical double with a 2014 MSRP of only $1399 (the discount retail price is around $1000). Yet, they have, and a fine gun it is.
Handgun Award: Ruger LC9s 9x19mm Sub-Compact Pistol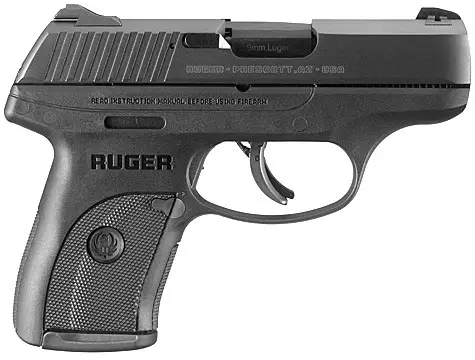 Illustration courtesy of Sturm, Ruger & Co., Inc.
From its introduction about two years ago, the Ruger LC9 has made waves and become an instant best seller. Excellent quality and an exceptionally affordable price no doubt play a significant role in the success of the LC9 line. Ruger's latest offering is the LC9s, a striker fired version of their popular sub-compact 9mm pistol with a single stack magazine.
When we reviewed the Ruger LC9s, we found it to be a well made, reliable, easily carried and accurate little sub-compact pistol. At a 2014 MSRP of only $449, it is an obvious choice. In quality and performance it sacrifices nothing to the substantially more expensive sub-compact nines (and .380s) we have tested. It is, after all, a Ruger, designed and made in the USA, so we expected nothing less.
Rifle Award: Winchester Model 1873 Sporter .357 Carbine

Winchester Model 1873 Sporter Case Hardened. Illustration courtesy of Winchester Repeating Arms.
Now you can own the real thing, a brand new, genuine, Winchester Repeating Arms Model 1873 carbine. These new '73s are furnished with an oil-finished walnut stock, classic crescent buttplate and 20" round barrel, just like the original. If you refuse to settle for a copy, this rifle is for you.
Rather than introduce these new Model 1873 rifles in hard to find, obsolescent calibers, Winchester wisely chose to chamber them for the immensely popular .357 Magnum/.38 Special cartridges. Modern shooters can own a Model 1873 and a revolver chambered for the same cartridge, as did their frontier forbearers. Here is our full review of the Winchester 1873 Sporter.
The only changes from the original Model 1873 action are a small bevel on the inner right side of the cartridge carrier to deflect the ejection of fired cases slightly to the right (instead of perfectly straight up) and the addition of a new striker/firing pin block that prevents the firing pin from contacting a chambered cartridge unless the trigger is pulled back. These subtle, internal changes increase safety without detracting in any way from the appearance, operation or handling of the rifle. The original hammer half-cock and lever disconnect safeties remain.
The left side of our test gun's barrel is roll marked: WINCHESTER Model 1873 -- Caliber .357 Mag - .38 Spl. ONLY. It's nice to again see the Winchester name on a new Model 1873 carbine.
Riflescopes and Optics Award: BSA PMRS Red Dot Sight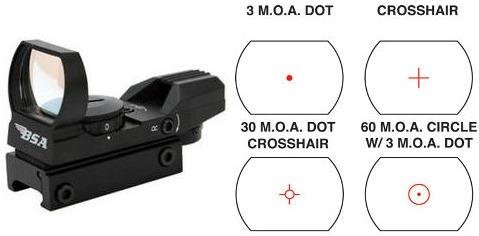 BSA PMRS. Illustration courtesy of BSA Optics.
If you plan to use your AR for hunting, the BSA PMRS "heads up" (tubeless) red dot sight is ideal. Whether you are going for whitetail in the scrub oaks of Pennsylvania or heavy brush of south Texas, you will be able get the sight on your game quickly. However, don't think for a minute that this sight is only for AR15 rifles. It is excellent for short barreled brush guns, such as the old Remington Model 600, Savage Model 11/111 Hog Hunter and lever action carbines.
Reticle selection is made with a thumb lever on the back of the sight, while the rheostat intensity control is on top, at the base of the battery compartment. Both controls can be readily accessed while holding the rifle to your shoulder. With an MSRP of $94.95, it is priced right for hunters and weekend target shooters.