Guns and Shooting Online 2015 Awards
By the Guns and Shooting Online Staff
Once again autumn is here, bringing with it the deer and big game hunting season. Fall also means it is time for the annual Guns and Shooting Online awards in the Shotgun, Rifle, Handgun and Optics categories, now that we have had most of a year to appreciate the featured products. (Unlike most outdoor media, we do not give our annual awards to brand new and unproven products in January to attract or appease advertisers.)
To receive this award, products do not have to have been introduced in 2015 or advertised on Guns and Shooting Online. They just have to be available during the current year and, of course, noteworthy in our estimation. 2015 was a good year for shooters, as you can see from the products honored below.
Shotgun Award: FABARM L4S 12 Gauge Autoloader

L4S Grey Hunter. Image courtesy of FABARM USA.
The FABARM L4S Hunter (field model) is available in "Initial Hunter" and "Grey Hunter" versions. Either way, the gun has a lively, responsive feel that most 12 gauge autoloaders lack. Nothing rattles, there is no loose forearm syndrome and it has a very solid, steady feel that autoloaders with recoil reducing devices in the stock lack.
Based on trigger quality, barrel quality, choke quality, generously chrome plated action parts and flawless assembly, the FABARM L4S is the most satisfying 12 gauge autoloading field gun of 2015. Add its (relatively) good looks and surprisingly low price (by 2015 autoloader standards) and the FABARM L4S Hunter gets our vote for Shotgun of the Year. Click to read our FABARM L4S Initial Hunter review.
Handgun Award: Ruger SP101 .22 LR Revolver w/4.2 inch Barrel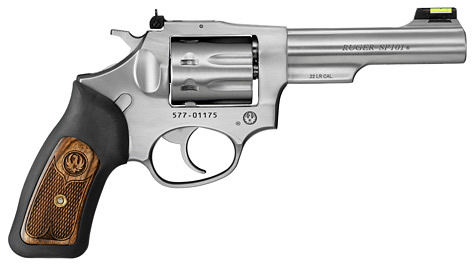 Illustration courtesy of Sturm, Ruger, Inc.
Ruger's double-action kit gun, the 8-shot .22 LR SP101 with adjustable sights and a 4.2 inch barrel was upgraded for 2015. We first reviewed it in 2011 and again this year. (You can read the 2015 review HERE.)
Functional improvements over centerfire SP101s include a grooved rib atop the barrel, fully adjustable rear sight, ramp front sight with a green fiber optic insert and an eight-shot cylinder. The barrel length is 4.2 inches.
Aesthetic improvements over centerfire SP101s include wood--rather than plastic--inserts in the black rubber grips, round barrel (instead of the earlier blob shaped barrel), short ejector rod housing (rather than a full length barrel under lug) and an improved top rib. The walnut grip inserts are decorated with checkered panels and a laser cut Ruger eagle logo. This 4" .22 is the best looking and most functional version of the SP101 to date.
Rifle Award: Nosler M48 Heritage Rifle

Illustration courtesy of Nosler, Inc.
In 2005, Nosler got into the rifle business with their Nosler Custom limited edition bolt action rifle. Two years later, Nosler introduced the Nosler Model 48 Custom Sporter.
For 2015 there are (semi) production M48 rifles in Heritage (walnut stock, 24 inch barrel), Patriot (composite stock, 24 inch barrel) and Outfitter (composite stock, 22 inch magnum contour barrel only) form and the list of calibers that can be ordered is extensive. We reviewed a Nosler M48 Heritage 9.3x62mm Rifle in 2015 and found it to be an exceptionally fine (and accurate) big game hunting rifle.
All Nosler M48 rifles, whether classed as "production" or "custom," are hand built at the Nosler plant in Bend, Oregon USA. Premium components are carefully assembled to the highest standards. Every rifle is proof tested and so marked on the barrel and receiver. They are designed and built to be simple, rugged, weather resistant and MOA accurate with available Nosler ammunition.
Riflescopes and Optics Award: Vortex Diamondback HP 2-8x32mm Riflescope
Illustration courtesy of Vortex Optics.
In 2015, for the first time, we reviewed two riflescopes from Vortex Optics. Both the entry level Vortex Crossfire II 3-9x40mm and the medium priced Diamondback 2-8x32mm HP proved to provide good value for the money. We chose the latter to receive our 2015 Award.
We have long regarded a 2x to 8x zoom riflescope ideal for big game hunting. The Diamondback HP's great field of view at 2x magnification is excellent for woods and brush country hunting, while its maximum magnification of 8x is more than required to take advantage of the maximum point blank range (+/- 3 inches) of virtually all hunting cartridges. With its medium magnification range, 32mm objective lens and one inch (25mm) main tube to avoid unnecessary weight and bulk, the Vortex Diamondback HP 2-8x32 is a good choice for almost any big game hunting rifle.
Diamondback HP scopes are available with either a V-Plex (Duplex type) reticle or a Dead-Hold BDC reticle. Optically, the Diamondback HP is competitive with other big game riflescopes in its price class. Unlike many zoom scopes, the optical performance is consistent from 2x to 8x with little apparent change. We look forward to reviewing other Vortex scopes in the future.