Galco Waistpacks for Concealed Carry
By Chuck Hawks
In my youth known as "The Jackass Leather Company," Galco is now one of the biggest and best known manufacturers of both leather and synthetic holsters of all types. The Galco fanny packs that are the subjects of this review are available in leather (Elite) or nylon synthetic material (Escort) and for either right hand or left hand draw. I have used Galco Escort fanny packs for over 10 years, so I am well acquainted with them.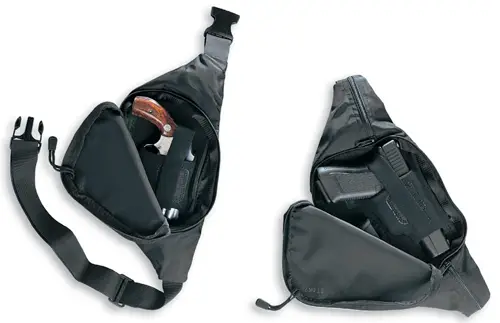 Escort waistpack. Illustration courtesy of Galco.
All Escorts are constructed of black 430 Denier water-resistant rip-stop nylon. Years of regular use have demonstrated to my satisfaction that this is a very durable material. There is a large front compartment for miscellaneous items and a full size pistol compartment to the rear. (Note photo above). Escort packs come in large, medium, and small sizes.
Elite waistpack. Illustration courtesy of Galco.
Elite belt packs are constructed of tough, full grain leather to a similar design. They are available in either black or brown color, but come only in large and small sizes. (Note photo immediately above.)
The large size Escort and Elite are intended for medium and full size autoloaders, such as the Glock 19 and Beretta 92. There is a slot for a spare magazine in the neoprene holster panel only in these large size Galco packs. The medium size Escort (there is no medium size Elite) fits most 4" barreled revolvers, such as the Colt Python or a "K" frame S&W. The small size Escort and Elite are appropriate for sub-compact autos and snubby revolvers such as the Kahr PM-9 or Colt Cobra.
Features common to both lines include an interior rain flap along the zipper's edge on the pistol compartment and taped inner seams. There is a hard, semi-rigid plastic backing behind the gun compartment (important so that the pack retains its shape for a clean draw). The aforementioned stretchy, built-in neoprene holster panel provides good security. For additional security, there is a Velcro fastened pistol retaining strap.
Dual front-opening zipper pulls on the gun compartment allow access to the pistol. Typically these zipper pulls are arranged so that they meet at the upper strong side corner of the pack, where there is a nylon pull cord to assist in opening the pack for a "fast draw." In a doubtful situation it is easy to unobtrusively slide the lower zipper pull down, opening the strong side (but not the top) of the pack for even easier access, without attracting attention or "flashing" the pistol within. Just remember to zip the side closed when the potential danger has passed!
Another nice feature about the dual zipper pulls is that if you want to be extra discreet you can bring them together at the top of the fanny pack, eschewing the convenience of the corner pull cord. That way even undercover police officers or others with a CCW permit, who may spot a gun pack by the tell-tale corner cord, have nothing to spot.
Police and/or other people carrying a concealed weapon may recognize a Galco fanny pack for what it is, but innocent civilians never do. I have worn fanny packs for a very long time (including out of state and/or out of the country where I don't carry a concealed handgun), and I have never been questioned or, as far as I can tell, even detected in the normal course of affairs. Sometimes there is nothing to detect, as I'm not carrying, even though I'm wearing a Galco fanny pack.
I have only been asked about a concealed weapon twice in my life, although I wear some sort of fanny pack whenever I leave the house, having found them extremely convenient in everyday life. Once I was politely asked if I was carrying at that time by a policeman during a routine traffic stop. (Maybe the fact that I handed him my CCW permit along with my driver's license helped tip him off.) I replied yes, and that was the end of it. Despite my minor speeding transgression, he recognized that we were essentially on the same side.
The other exception was when a clerk in a store, who was also wearing a Galco Escort fanny pack, asked what kind of pistol I was carrying. (I never do that, regarding it as impolite.) I replied that when I carried a pistol in that particular pack it was usually a G-19. End of story.
The adjustable 1.5" wide waistband strap attached to all Escort belt packs is comfortable and includes a Fastex release buckle that makes the Escort convenient to put on and take off. There is a second plastic buckle for adjusting the size of the belt. The waist strap is easy to adjust and fits all waists up to 46". I have found that the nylon belt will tend to slowly slip through the adjustment buckle with use, so I have learned to double the free end back through the adjustment buckle to help prevent slippage.
Escort belt packs come with a 1" strap that is fastened by means of a solid brass hook closure. This belt fits all sizes up to 48".
The large size Escort for autoloaders has a feature not present on the other two Escort sizes or either of the Elite packs. These are wing pockets that provide a space to keep small items such as keys, change, pillboxes and pocket watches organized and out of the front utility pocket.
The medium and small Escorts, as well as both Elite packs, have room for wing pockets, but for reasons that I have never understood, lack zippers to allow access to what is therefore wasted space. This is a shame, for when I use my small Escort I have to string a separate case for my pocket watch on the belt to one side of the pack and a small Cordura pouch for change and sundry small items on the other. I use the single large front utility pocket on either my large or small Escort to carry my wallet, card case, ballpoint pen, and note paper.
However you arrange them to fit your personal needs, the Galco Escort and Elite waist packs are rugged and dependable. As I mentioned at the beginning of this article, I am still using the first Escort I that purchased over 10 years ago. It shows very little wear, and I have no doubt that I will still be using it 10 years from now.
The Galco Escort waist packs carry a MSRP of $83.95, and the Elite leather versions carry a MSRP of $185. Although my local gun shop sells them for considerably less, they cannot be said to be inexpensive. On the other hand, because they are so durable, they represent a good long term value.