Gargoyles Protective Eyewear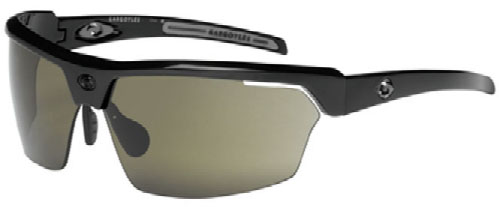 My favorite of the Gargoyles Instinct Collection: the Cardinal..
There are many choices in shooting glasses, hunting glasses and eyewear protection today. Here's a look at a few of the latest offerings from Gargoyles Eyewear (www.gargoylesinc.com), a division of Quantum Optics. The three sets of glasses evaluated are from the Instinct Collection. They are the Cache, Cardinal and Shakedown styles. All offer 100% UV protection, all are extremely light on the face and all offer the Gargoyle Ballistic Defense Lens. According to the folks at Gargoyles, "Gargoyles Ballistic Defense lenses offer extreme impact resistance that is 5 to 6 times greater than that of regular polycarbonate lenses. Developed from a superior blend of polymers by Carl Zeiss Vision®, our Ballistic Defense Lenses exceed all ISO and ANSI Z87 high impact test standards."
Gargoyles are also known for their Toric lenses. Again, according to Gargoyles, "The 10x4 base curve Toric lens is designed to provide the wearer with the maximum horizontal wrap protection while not interfering with the face vertically. Precision-molded and hand-finished, the toric lens design provides 210° of wraparound protection with no refraction and no distortion. The human eye has a 180° peripheral vision and the Gargoyles Toric lens wraps to a comfortable 210°, eliminating any peripheral obstructions and allowing seamless vision."
We all wear eyewear for different reasons. It is a combination of style, comfort, protection and the ability to see better without squinting or eyestrain. To hunters and shooters, vision quality and eye protection are generally the most important points to consider.
Let me mention a little personal history. I spent many years climbing over industrial machinery in industrial technical engineering sales. Protective eyewear was mandatory in many cases, advisable in almost all. You quickly learn to carry your own eyewear, as plant-supplied eyewear was often ill-fitting and seriously scratched. After watching too many people walk into fixtures and forklifts, you quickly get the idea that some protective eyewear is anything but. If you can't see what is going on, your awareness may be diminished to the point of dangerousness. Having theoretically protected eyes is of little consolation if the result is a cracked skull.
So it goes with many types of eyewear. Though they may be called protective eyewear, if there are not sideshields present or adequate wraparound, it is limited protection. When you are active, as in hunting and shooting, glasses with inadequate airflow between the frames and your face can give you a sudden case of "instant-fog," a feature that no one needs.
Glasses with swappable lens sets are popular these days with clay target shooters. The wire framed sets have a couple of drawbacks, though, one being weight. The other is the notion of swapping lenses itself. Though easily manageable between shoots, it isn't what you want to do during a four degrees below zero pheasant hunt.
Surprisingly, all three of the Gargoyles glasses tested fit me and others well. The Shakedown style was supplied in polarized smoke configuration. Good driving glasses, but they lack the wraparound found in the Cache and Cardinal styles. The Cache and the Cardinal also have better airflow and were supplied with trademark Gargoyle green lenses.
Green has long been considered the easiest color for the human eye to see, the middle of the visible color spectrum. The reason billiard cloth is traditionally green is because no other color allows objects to "pop" as prominently and crisply. There is validity to it, though I'm as far away from being an optical scientist as can be imagined. I used all three sets of Gargoyles for driving and for the Iowa turkey season opener.
Regarding fit, the Cardinals are the best for my face, although your face may differ. There is a huge amount of personal preference here, which is why there are so many different Gargoyles styles. Driving through Illinois and Iowa, the polarized Shakedown smoke lenses did the best job killing the glare and shine. For all-around general purpose hunting, the green Gargoyles did what they were supposed to do: they allowed me to see better without excessively darkening the imagery. I bagged my twenty-eight pound gobbler right at sunrise and I was wearing green Cardinal Gargoyles when I did it. Twelve hours later, guiding for Dad, it was green Cardinals again that made looking at several gobblers easier. They are as comfortable as any glasses I've ever worn.
For shooting under the lights or dark, hazy conditions, I'd like to see Cardinals available in pale yellow. For something like 95% of the time, the green lenses do superbly well.
The reason to get Gargoyles is to see better and protect your eyes. They let more light in than non-wraparound styles, with better airflow and lighter weight than many interchangeable lense style sets. They are far more affordable, as well. The green lenses associated with the Gargoyles brand work as promised. We were able to see better, but also with more comfort. They do more for you than the old "turn the light down" approach to outdoor eyewear and are as easy to recommend as they are comfortable to wear.