Garmin Foretrex 101 GPS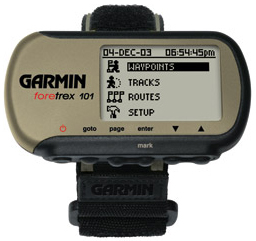 Garmin Foretrex 101 GPS.
The Garmin Foretrex comes with an impressive, if somewhat under-reported, pedigree. It is based on handheld units designed for the U.S. Army and used to great effectiveness during Operation Desert Storm. Garmin quietly released the Fore-XXX series, which includes the Foretrex and Forerunner GPS receivers, aimed specifically at the outdoor enthusiast.
Referred to by Garmin as a handheld GPS, in fact the Foretrex is a wrist-top unit supplied with an integrated, two-inch wide nylon web strap and Velcro closure. Two versions are available. The Model 101 is powered by a pair of AAA batteries while the 201 uses a rechargeable lithium-ion battery. Both models come with a very complete instruction booklet and a strap extender. The Foretrex 101 comes with a 2009 price tag of $138 and the 201 lists for $183. The 101 version reviewed here was purchased for $119 dollars on sale from Campmor.
The Foretrex should not be in any way confused with the many full featured, full color, do-it-all-and-cook-dinner GPS models. Forget the pretty color maps with topographic overlays, audible feedback or directions, touch screens or a database of addresses to find the nearest Piggly Wiggly. This is a bare bones GPS built rock solid to take almost any abuse that can be thrown at it. It uses a black and white LCD screen with very modest (read low) definition and only basic graphics, sacrificing flash and gadget gleam for simplicity of the interface and durability.
From start-up, the unit quickly acquires as many as five different satellites. It can achieve a positional fix with an accuracy as great as one meter (about three feet), although this varies according to local conditions such as weather, canopy cover and latitude.
Navigation through the different screens and functions is easily accessed with the Page, Forward, Back and Select buttons located on the side of the unit. Each button moves smoothly and provides good tactile feedback with a firm click. The buttons are also large enough and spaced well enough to be operated with gloves or by large hands and the screen is easily read under most conditions. The backlight provides good contrast in low light, although it causes additional drain on the battery. The screen resists glare moderately well in daylight conditions.
The Foretrex is not the best choice for a GPS starter unit. Being more coordinate driven as opposed to graphics laden, it is designed to be used with a topographical map and, realistically, a compass. Despite this, the Foretrex is heavily feature rich for the experienced user. With the ability to store up to 150 waypoints at the push of a button, recording base camp, blind or stand locations, remote camera or bait positions and visual landmarks is very easy. The unit also allows each waypoint to be named and assigned one of over a dozen distinct icons for easy recognition. Tracking back to any destination or specific waypoint is also easily accomplished by the click of a button. Information can be viewed as data tables, or as a simple graphic representation of the unit's relative position to any or all of the recorded waypoints.
Users can choose which information is displayed, selecting from a readily navigated list of three different coordinate systems including UTM, bearing, altitude, rate of ascent/descent, land speed, time/distance elapsed, time/distance to destination and a compass rose. Perhaps of most use in pursuit of game is the ability to display not only sunrise and sunset, but also a suggestion for optimal times for hunting and fishing based on a combination of the lunar calendar, location and atmospheric conditions.
The Foretrex is waterproof and survived after being submerged in 3 feet of water for 30 minutes. Temperature variations we handled well, although the AAA batteries showed a significant decline in colder weather and the LCD display was both sluggish and at times compromised in subzero temperatures.
Overall, this small portable GPS is highly functional and configurable for the experienced user. Beginners or those not familiar with reading a coordinate system on a map will be faced with a steep learning curve. The unit's weight is negligible and the included strap extender allows the unit to be easily worn over a jacket sleeve. Despite lacking the bells and whistles of higher priced luxury models, the Foretrex is an excellent GPS for anyone who cares less about a gadget that looks cool and more about a well-made tool that provides consistent, accurate results.