Glock 40 Gen4 MOS 10mm Auto Pistol
By the Guns and Shooting Online Staff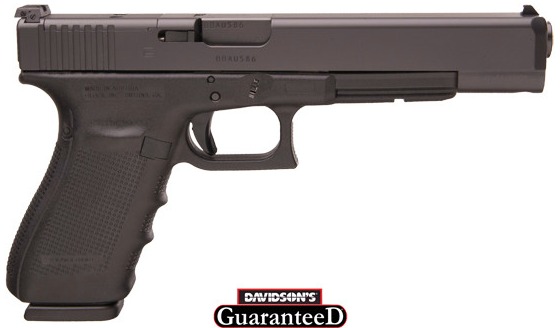 Illustration courtesy of Davidsons, inc.
Having previously reviewed a couple of Glock 20s and a SIG P220 in 10mm Auto caliber, we have come to regard the Big 10 as perhaps the most versatile of the commonly available autoloading pistol cartridges and one of the most accurate. Of all the commonly available cartridges for semi-automatic pistols, the 10mm Auto comes closest to the power, trajectory and versatility of the .357 Magnum revolver cartridge. (Aside from the fact that all .357 revolvers can also fire .38 Special cartridges.)
All four of the major US ammunition manufacturers, Remington, Winchester, Federal and Hornady, offer 10mm Auto factory loads. So do Norma, SIG, Cor-Bon, PMC and most specialty ammo companies.
The "long slide" G40 MOS (Modular Optical System) is Glock's biggest and most powerful offering, a 10mm field pistol with a six inch barrel. Not only does this Gen4 Glock have a hunting length barrel, it comes with fully adjustable Patridge type open sights. (You will need a small jeweler's screwdriver to adjust the rear sight's tiny windage and elevation screws.) The square front sight is marked with a white dot and the rear sight "U" is outlined in white. Unlike most pistols, the G40 MOS comes ready to accept optical sights.
It was with considerable anticipation that we waited for the arrival of our Glock 40 Gen4 MOS test gun. When it arrived, it was packaged in a foam padded, double hinged, double latched, plastic carrying case. Inside, in addition to the pistol, was a cleaning rod and brush, three magazines, magazine loading tool, gun lock, the usual literature and instruction manual and four numbered Glock MOS adaptor plates for use with optical sights.
The latter are of special interest. These Glock MOS adaptor plates are numbered 05 (for Docter, Meopta and Insight), 06 (for Trijicon), 07 (for C-More) and 08 (for Leupold). The screws and a Torx wrench for mounting these plates, along with mounting instructions, are included.
To take advantage of the Glock MOS system, we requested a DeltaPoint Pro prismatic red dot sight from our friends at Leupold. This is a sophisticated and very high quality little red dot sight, measuring only 1-3/4 inches long and about 1-1/4 inches high. Its base is almost exactly the width of the G40's slide (1-1/16 inches) and it weighs only 1.9 ounces with battery installed. The DeltaPoint Pro is made in the USA and comes with the Leupold full lifetime guarantee. The 2016 MSRP is $779.99.
To mount an optical sight, such as the Leupold DP-Pro, you simply unscrew a plate, which is located directly in front of the rear sight on top of the G40's slide, and substitute one of the MOS plates (#08 in our case). The red dot sight attaches directly to the MOS plate.
As with previous Glock pistols we have reviewed, the G40 is easy to operate. All Glock pistols, from the smallest to the largest, are based on the same Glock Safe Action and most internal parts are interchangeable between models.
Glock pistols incorporate three internal safeties: a trigger block safety, a firing pin safety and a drop safety. All safety features operate automatically.
There are no external safety levers to fumble or forget. Nothing needs to be remembered or manipulated by hand to render a Glock pistol safe before or after firing. All that is necessary is to follow the basic safety rule of keeping your finger off of the trigger until you intend to shoot the pistol.
The only external controls, aside from the trigger, are a small slide stop lever above the grip and a magazine release button behind the trigger guard. The extractor serves as both a visual and tactile loaded chamber indicator.
The Glock polymer-bodied magazines will drop free from the pistol when the release button is depressed. The G40 standard magazine capacity is 15 rounds.
The matte black, non-glare, Tenifer metal finish used on Glock slides and barrels is very hard (64 ROC) and extremely rust and abrasion resistant, more so than stainless steel. Tenifer is a ferric nitrocarburizing process that enhances the fatigue properties, scuffing resistance and corrosion resistance of the metal surface. Glock's Tenifer finish is said to be 85% more corrosion resistant than a hard chrome finish and 99.9% salt water corrosion resistant
The striker fired, hammerless Glock design reduces the gun's propensity to catch on clothing when drawn from a concealed carry position. There is a Picatinny accessory rail for mounting flashlights, lasers, etc. underneath the forward part of the frame.
Takedown is simple without any tools and there are no small parts to lose. When you field strip a Glock, it breaks-down into four large parts: the frame assembly, slide assembly, recoil spring assembly and barrel. No internal parts come loose or fall out.
As with all Glock pistols, field stripping for cleaning is accomplished by retracting the slide about 1/4 inch with one hand and pulling down the two little metal sliders protruding from small slots in the frame above the front of the trigger guard with the other hand. The slide can then be run forward off of the slide rails.
Ideally, one should clean any pistol after every use. However, if not abused by being clogged with sand or dirt, Glocks will typically shoot thousands of rounds reliably over a period of years without being cleaned.
With the slide removed, you have access to the internal parts. All Glock pistols are made with only 34 or 35 parts and can be detailed stripped using only a 3/32 inch punch (or something similar).
The internal parts need not be removed for cleaning, but you do have to go inside to replace the standard trigger connector with a so-called target connector. (This is a "drop-in" part; no gunsmithing is required.) We recommend this minor change for all Glock pistols.
Glock supplies a target connector in their target pistols, but refuses to sell this part separately, so an aftermarket version must be purchased. An aftermarket target connector will probably set you back about $12, which is outrageous for a small piece of stamped metal, but a worthwhile investment nevertheless.
Glock trigger pulls with the standard connector are supposed to measure about 5.5 pounds. We have normally found them to run about two or more pounds heavier than specified and our test pistol's out of the box trigger was worse than usual (over eight pounds).
Changing connectors only requires using the aforementioned 3/32 inch punch to remove the two pins in the frame above the trigger and the pin at the top rear of the grip to remove the required parts. (Detailed disassembly/reassembly instructions are available online on several websites devoted to Glock pistols, so we will not go into it here.)
While you are at it, check to see if the trigger bar drags on the inside of the frame when the trigger is pulled (ours didn't). If it does, bend the trigger bar slightly away from the frame.
While the pistol is apart to install the new connector, it is a good idea to polish the key engagement surfaces. These include the end of the trigger bar where it bears against the connector and the end of the cruciform sear where it bears against the striker tang.
We installed an aftermarket target connector, purchased from Brownell's, which is supposed to produce a 3.5 pound trigger pull. In the case of our G40, the target connector reduced the very heavy stock trigger pull to a measured 6.25 pounds. The trigger and sear engagement surfaces were examined and found to be smooth, so we had to live with the 6-1/4 pound trigger pull, which is certainly not conducive to accuracy. Our guess is this pistol came with heavier springs than previous Glocks we have reviewed.
Glock pistols are relatively easy on the shooter. The low bore axis of the Glock reduces muzzle rise and the Glock's polymer frame contributes to recoil reduction. This material contains no fiberglass, is corrosion free, resistant to climatic conditions, color stable, resistant to lubricants (including Prolix), absorbs recoil and requires virtually no maintenance.
The Glock grip angle (similar to a Luger or a Ruger .22) allows the pistol to point more naturally than pistols with more upright grips, such as 1911 based pistols, at least for most shooters. Try this simple test: point your index finger straight at something at eye level while curling your other fingers around a pen or pencil. The angle of the pencil to the line of your pointing finger will probably be similar to the grip angle of a Glock pistol and this is the natural grip angle of your hand.
The G40's barrel is hammer forged and uses hexagonal rifling. This is less likely to collect accuracy degrading lead, copper and powder fouling than barrels with standard lands and grooves.
Glock pistols are typically extremely reliable. Almost the only way to jam a Glock is to "limp wrist" it; not hold the pistol firmly when it is fired. This is a user malfunction that can result in a "stovepipe" jam (the failure to completely eject a fired case).
Specifications
Type: Semi-automatic pistol
Action - Safe Action (constant quasi double action mode)
Caliber - 10mm Auto
Magazine capacity - 15 (10 round mags available)
Barrel length - 6.02 in.
Barrel rifling - Hexagonal, RH, 1 in 9.84 in. twist
Sights: Fixed front, rear screw adjustable for W&E
Sight radius - 8.19 in.
Grip frame: Black polymer
Metal finish: Matte black Tenifer
Trigger travel - 0.49 in.
Overall length - 9.49 in.
Height - 5.47 in. (including magazine)
Width - 1.28 in.
Empty weight - 28.15 oz.
Loaded weight - Approx. 40.14 oz.
Country of origin: Austria
2016 MSRP - $840
Naturally, we were looking forward to taking our G40 pistol to the range for some shooting. For this review, Guns and Shooting Online staff members Chuck Hawks, Rocky Hays and Jim Fleck participated in the shooting chores.
We lucked-out in terms of the weather. The early Spring weather was warm and sunny with a high temperature of about 71 degrees and no wind.
Unlike some semi-autos, we expect Glock pistols to work correctly out of the box (they are shipped properly lubricated), so that is how we test fired the G20 SF. We didn't clean or lubricate it before shooting our groups for record.
We used the supplied open sights for our shooting for record (as shown below). Later, we returned to the range and had some fun shooting with the Leupold DP-PRO red dot sight, which is the preferred sighting system for a hunting pistol.
As usual, we did our shooting at the Isaac Walton gun range south of Eugene, Oregon. At this outdoor facility they offer covered bench rests and 25, 50, 100, and 200 yard target stands. For record, we fired 25 yard groups at NRA Slow Fire Pistol Targets using a Pistol Perch rest.
Three shot groups, instead of our usual five shot groups, were used to conserve our limited ammo supply. Three shot groups are probably most appropriate for a field pistol, since you would almost certainly not get more than three shots at any animal.
The test ammo we had available included Winchester Super-X with a 175 grain Silvertip JHP bullet at a catalog MV of 1290 fps, SIG Elite with a 180 grain V-Crown JHP bullet at 1250 fps and SIG Elite with a 180 grain FMJ bullet at 1250 fps. Many thanks to our friends at Winchester Ammunition and SIG Sauer for providing test gun ammo. Without their assistance, this review would not have been possible.
These are all full power 10mm loads, not "10mm light" reduced velocity loads intended to duplicate the power of the .40 S&W service cartridge. Full power 10mm loads can be zeroed at 100 yards for use in the field without danger of shooting over the typical 10 inch deep heart/lung vital area of a North American whitetail deer at intermediate ranges with a center hold. The maximum bullet rise is only about three inches above the line of sight at 50 yards.
Shooting Results (using the stock open sights)
Winchester 175 grain STHP - Smallest group 2-1/4 in.; largest group 2-5/8 in.; average group size = 2.46 in.
SIG 180 grain JHP - Smallest group 1 in.; largest group 1-3/4 in.; average group size = 1.46 in.
SIG180 grain FMJ - Smallest group 1-3/4 in.; largest group 3 in.; average group size = 2.25 in.
AVERAGE GROUP SIZE FOR ALL AMMUNITION = 2.06 inches
It was easy to zero the adjustable rear sight so the G40 shot to point of aim at 25 yards. The sights were pretty close out of the box. Just don't forget to bring your small jeweler's screwdriver to the range. Jim shot the smallest group with our G40, using the premium SIG V-Crown ammo.
All three shooters opined they could have achieved smaller groups with a lighter, smoother trigger. This G40's trigger pull received universal condemnation from our shooters. It is markedly worse than the G20 SF trigger we reviewed a while back. Glock should provide the target connector used in their target pistols as standard equipment in the G40 MOS.
There is no magazine disconnect. The pistol will fire with the magazine removed, so don't forget to clear the chamber. When the last shot is fired, the slide stays open.
Despite shooting full power factory loads, the recoil of the G40 was very controllable. The subjective recoil of the G40 was less than full power .357 Magnum loads fired in a typical six inch barreled revolver. (The two calibers are approximately equal in ME.)
As expected, the G40 was completely reliable. There were no malfunctions of any kind.
Conclusion
The Glock 40 GEN4 MOS is an exceptionally versatile autoloading pistol. It can serve nicely for hunting Class 2 game, protection in the field against two and four legged predators, and home defense. It is 100% reliable, soft shooting for a handgun of this power, easy to carry in a conventional belt holster and simple to operate and maintain.
Note: An expanded version of this review that includes shooting results using the Leupold DeltaPoint Pro red dot sight is available on the Product Reviews page.