Glock Safe Action Autoloading Pistols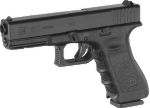 Illustration courtesy of Glock, Inc.
"Change is bad!" That's a phrase that my wife can readily testify that I use on a daily basis. I am a conservative, hardheaded old guy that does not readily adapt to new things. I basically grew up in the handgun world first with conventional DA revolvers and then on to the standard DA first shot, SA follow-up autoloading actions. This was the way it was, and as far as I was concerned, this was the way it should remain. When the Glock 17 first hit our shores, I tried one out down at the local gun shop. I didn't like it, because it was different . . . and change is bad.
Move forward about fifteen years. Now I'm even older, and even more set in my ways. I always figured there was no real need to change from my old standard, a slightly used, but much loved and cared for S&W Model 39-2. It didn't seem like .40 caliber handguns would make that much difference, and besides, bullet placement was what counted most regardless of your handgun's caliber.
I should point out that over the 20+ years of my military career, I have fired just about every type of handgun you can imagine. I qualified expert marksman with the old M-15 .38 special revolver that was Air Force standard-issue when I first enlisted, and have since qualified expert with the Beretta M-9, and been awarded the Gold Shooter's Cross by the German Army with their P-1 (a.k.a. Walther P-38). I have also had familiarization training with most of the former Warsaw Pact handguns including the Tokarev 9X19 mm and Makarov 9X18 mm weapons. In addition I have spent countless weekends at the shooting range with my friends and have fired just about everything commercially available in that venue, including the entire SIG and H&K lines. Except Glocks. I figured I had already tried them, and didn't like them, so why bother?
Finally, after repeated gentle prodding from my father-in-law, a certified Glock armorer (thanks, Chester), I gave Glock another try. This time it was the model 31C, a compensated full-size 357 SIG. The first few shots I thought, "Yeah, it still feels funny."
I kept shooting, figuring to work out a list of criticisms to offer Chester after I emptied the magazine. I started concentrating really hard on things like point-ability. Hmmm, this thing did point pretty well after all. Then I moved on to shooting comfort. Hmmm, ya know, this thing was pretty comfortable. Okay, but how about trigger pull? Aha! But wait, trigger pull was actually really smooth, with a very clean break. Before I knew it, I had emptied the magazine and the only real complaint I could muster was that I didn't like the sights. That front dot, rear outline thing just didn't seem intuitive to me.
Then I brought my target down for the ultimate measure of any weapons effectiveness, accuracy. Wow. I was not prepared for the very small size of the group. There were 4 flyers, which I was quite certain were the first four shots. The remaining eleven rounds were all right in the ten ring.
I was beginning to have second thoughts here. Could this pistol be the improvement that I didn't believe would ever happen? I asked Chester if he minded if I ran another magazine through this beast. With a knowing smile he said, "Sure."
Okay, time to get serious. Multiple staggered metallic silhouettes. Combat stance, rapid-fire. Double tap, double tap, double tap . . . clang-clang, clang-clang, clang-clang.
At this point, it was time to seriously reconsider my old hardheaded bias. By the end of the second magazine, I was hooked. I tried a non-compensated model 31 barrel in that same weapon to see if there was much difference. There was, a whole lot. Glock's porting works, and it works well. Lining up the sights for the follow up is so smooth and effortless that it is intuitive, as are all other operator actions with the Glock pistol. Perceived recoil was almost exactly what I was used to with my old 9x19, and the 357 packs a whole lot more punch.
I purchased my own model 31C just as soon as the waiting list (yes, they were evaporating from dealer shelves so quickly in my town there was a waiting list) allowed. I made a few small changes. Addition of the Glock extended slide release and Meprolight tritium three dot sights, and purchasing some old pre-Brady Glock-22 FML magazines completed my package.
After using and enjoying my Glock for quite some time, I can verify one other aspect of the Glock legend. This pistol is indestructible. No amount of abuse or neglect has the slightest effect on function or accuracy. Thanks again to Chester's good graces, I have had the opportunity to fire every weapon in the Glock line (except the model 18 variants, select fire Glock--drool). I have changed my mind, and anyone who knows me knows that is not something I say often. Glock is the combat handgun, period.
Note: Complete reviews of several Glock pistols can be found on the Product Reviews page.