G.P.S. Black Powder Range Bag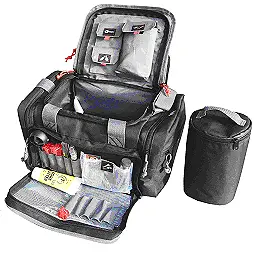 Illustration courtesy of G-Outdoors, Inc.
When muzzle loaders go to the range, they have to carry more stuff than most shooters, such as bore cleaners, powder measurers, primer/percussion caps and powder, to mention a few. At our local ranges, most of the "smoke pole" guys have wooden boxes to carry all the necessary paraphernalia. The boxes are bulky and heavy, but they get the job done.
After observing his fellow shooters at the range over the past few years, Patrick Gee decided it was time to design a range bag specifically for muzzle loaders. The result, pictured above, is a modification of his successful G.P.S. Medium Range bag, but with some significant differences. The front drop down pocket has elastic storage loops to hold speed loaders, powder measure tubes, pre-measured powder containers, nipple wrenches, a bullet starter and more. Inside the main compartment is a separate zippered Powder Pouch for extra black powder or pellets. This provides an extra level of moisture control for protection of the black powder and/or pellets during inclement weather.
The bag has many of the same features as the other GPS range bags. The patent pending Visual ID Storage system is in place, identifying the location of everything from binoculars, ear muffs, shooting glasses and more.
The bag is made of a heavy gauge denier polyester fabric. The pouch for your shooting glasses is lined with velour to prevent scratching. If you can't find a place for all your accessories in this bag, you probably don't need it. To make sure the bag will be serviceable for years to come, it is box stitched with nylon thread to prevent mildew and rot. To make it easily identifiable from other range bags, the front panel is embroidered with the words "Black Powder Bag."
This bag makes it possible for a black powder shooter to carry all of their necessary supplies and accessories in a convenient, yet lightweight, unit. No more heavy wooden boxes. This bag is ideal to take on hunts, as it has room for everything. It stores easily in the corner of any tent, on the back of a quad runner, or the bed of a pickup. Simply refill your possibles pouch from the BP bag each morning before you head out.
Patrick believes in this bag and priced it competitively, so that muzzle loaders could afford a bag tailored to their needs. With an MSRP of $69.99, it is a better deal than any other such bag on the market. If you don't have one, get one. We are keeping ours and may order a second bag for the kids.