G.P.S. Executive Backpack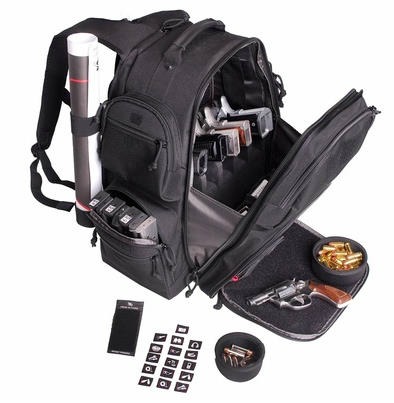 Illustration Courtesy of G-Outdoors, Inc.
This may be called the Executive Backpack, but for us it is the ideal pistol shooter's range pack. It has room for everything you might need and then some. Is it a bit pricey? Yes, it is. Is it worth it? Absolutely, and we will tell you why.
By sheer coincidence, we had agreed to test some new Sig Sauer pistol ammunition in four calibers. The exec backpack was ideal for transporting all five of our pistols to the range, along with 500 rounds of ammunition, extra magazines and our laptop, so we could use our ballistic program.
Once on the firing line, we removed the foam cradle with the pistols and set them on the bench for convenient access. In case you are wondering, our arsenal included: Ruger P345, Colt Gold Cup M70, SIG-Sauer P226, Springfield XD40 Match and Springfield XD9. Different sizes and shapes, but they all fit securely in the foam cradle.
The Executive Backpack is constructed with the same strong materials used in high quality luggage. The rigid internal frame in this pack will stand up to being bounced about in the back of your vehicle, dropped on the ground, rained on and generally beaten-up at the range. When empty, it doesn't collapse in a heap, even when wet, because of the internal frame.
This backpack, like all G-Outdoor products, is fitted with oversized lockable zippers with nylon pulls. The lockable zippers are essential if you live in California or other states that require handguns to be in locked cases during travel. The base-attachment points on the shoulder straps are box stitched and reinforced for strength. Throughout the entire bag, nylon thread is used to prevent mildew and rot.
The Executive backpack was obviously designed by a shooter for shooters, with many little extras throughout to insure that it meets the demands of the most discriminating shooter. There is a removable ammo dump cup to keep track of spent cases and a small plastic utility box for emergency tools. There are twin side pockets designed for storage of extra pistol magazines, as well as additional pockets for extra ammo, which we used in our testing. As a first in ALL range backpacks, there is a padded pocket for your laptop or tablet. The Executive is designed for maximum protection of your pistols and electronics.
The pockets for shooting glasses and ear protection are lined with velour for extra protection. There are pockets for your ear muffs, tape, pasters, stapler, binocular and more. A package of 16 Velcro backed-Visual ID icons is included with the backpack. This one allows you to decide where you will stash your stuff in the backpack and attach the appropriate icon. In that way, you can customize the Executive pack to your personal specifications and the equipment you routinely take to the range.
All that remains is to confirm that the Executive Backpack is comfortable to carry on your back. It is. Unless, you overload it, as Jim did, with 500 rounds of ammunition and five pistols during his ammo tests for Sig-Sauer.
Ok, that load would not bother me or many of you. However, remember, Jim is an old guy. However, he is my old guy, so I will keep him.