G.P.S. Medium Range Bag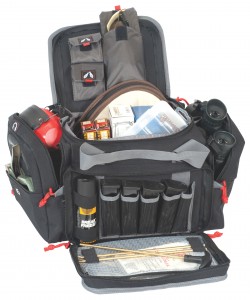 Illustration Courtesy of G-Outdoors, Inc.
Like most shooters, we have purchased and used a variety of bags to carry our equipment out to the range. Bags are available online, as well in most of the big-box stores. Yet, all of these bags share some common problems. They are often poorly manufactured from thin material, usually single stitched with thread that deteriorates or breaks over time and fitted with cheap plastic zippers and snaps. All these wonderful features are available at prices that range from $20 to $50. As a result, a lot of shooters have simply given up trying to find a durable range bag and have reverted to boxes, duffel bags or multiple smaller bags.
Patrick Gee, president of G-Outdoors, was just as frustrated as the rest of us and at the urging of several friends in his shooting club, he came up with a range bag that finally is worth buying and using. The G.P.S. Medium Range Bag is unique to the market. First, it is constructed from a tough 600 denier polyester fabric, reinforced with a waterproof backing laminate. That is a heck of a mouthful. What it means is that this bag will standup to being tossed about in the back of your vehicle, dropped on the ground, rained on and generally "beat up" at the range. When empty, it doesn't collapse, even when wet, because of the laminate backing.
Pat had his manufacturer install oversized lockable zippers with nylon pulls and metal hardware for the shoulder straps, as those are usually the first things that break in other bags. All of the areas around the shoulder straps and carry handles (lift ports for 2 hand carry) are box stitched and reinforced for strength. Throughout the entire bag, nylon thread is used to prevent mildew and rot. This bag is tough! We carried our four favorite pistols (and ammunition) to the range, with room for a couple more in the center compartment.
This bag was obviously designed by a shooter for shooters, with little extras throughout to insure that is meets the demands of the most discriminating user. The front flap that closes over the magazines is reinforced with a sheet of rip-stop cloth to prevent fraying and wear on the front of the bag.
The front and back pockets of the bag are bellowed to hold additional bags of ammunition, in case the center of the bag is already filled. There is a pocket for your ear muffs, tape/pasters, stapler, binoculars and more. The pockets for your shooting glasses and ear plugs are velour lined for protection. If you can't find a place for your stuff in this bag, you probably don't need it.
Pat doesn't do anything halfway. He included a small plastic utility box for emergency tools or cleaning supplies. Also an ammo dump cup (with its own pocket) for reloaders who save their brass. Located next in the same pocket is a clip for your car keys.
If all of the above has not convinced you that this bag is a "must have" for every shooter, we have saved the best for last. The patent pending "Visual ID Storage System" has found a home on this bag. The photo realistic icons are strategically placed on specific pockets to maximize the protection and storage of each item. Not only do these icons take the work out of organizing your stuff, it makes it easy to quickly check your bag before heading home to insure that everything is present.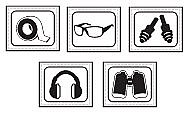 Illustration Courtesy of G-Outdoors, Inc.
The G.P.S. Medium Range bag is available in black or Digital camo with an MSRP of $99.95; not cheap, but is worth every penny. However, in checking around, there are some stores selling this superb bag for $89.95. This will be the last range bag you ever buy. In case you wish to check out the other Visual ID cases and bags, you can visit their website at: GoutdoorsProducts.com. The only problem we have is that our daughter wants our bag for her F-Class gear.
G.P.S. products can be found, nationwide, at your local sporting goods store. If your local store does not have them yet, they can contact G-Outdoors for a distributor in your area.