G.P.S. Range Tote Bag
by Mary and Dr. Jim Clary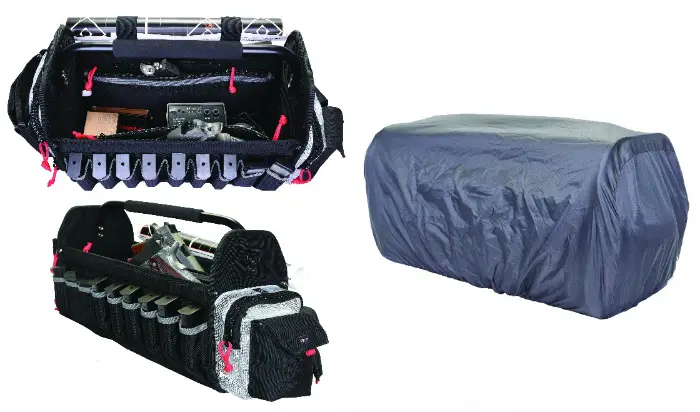 Illustration Courtesy of G-Outdoors, Inc.
We have used and tested various G-Outdoors products since they were first introduced almost ten years ago. We have also sampled similar products from various other manufacturers for comparison. Jim and I both believe there is no other comparable product on the market that can match the quality and durability of G-Outdoors range bags, totes or backpacks. That is saying a lot, given the large number of similar products on the market today, especially in the big box stores.
Patrick Gee, the founder and owner of G-Outdoors is a U.S. Navy veteran who will not settle for second-best. If he can't make the best on the market, he won't make it. From our first range bag in 2011 (G.P.S. Medium Range Bag) to the G.P.S. Tactical Range Bag with Ammo Tote in 2017, we have never been disappointed. Long story short, Patrick has made Range bags to fill your every need and/or desire, with his latest addition (The Range Tote Bag) topping off the list as one of our favorites.
This new range bag is our "Grab and Go" bag when we just want to head to the range for a couple of hours of fun and games. However, don't get us wrong, it also functions quite well as a complete range bag.
The fabric material of this bag is 800-1000 denier and oversize lockable YKK zippers are standard. The ends of this Tote are solid and connected with a metal bar that is padded in the middle for comfortable carrying. A padded shoulder strap is also included for extra ease of transport. You will not wear out this range bag.
Okay, so much for the construction, how about the organization of the Tote itself? There are magazine storage compartments on both sides of the Tote, nine pistol mags on one side and six AR mags on the opposite side. Internally there are two padded pistol cases to protect your weapons and they feature lockable zippers.
As with ALL G-Outdoors packs, the Visual I.D. Storage System Icons are located on each specialty pocket marking their intended use. The Visual I.D. System of icons is exclusive to G-Outdoors products and ensures that your accessories are organized and readily accessible. Patrick even added a couple of Velcro loops on one side of the Tote for your rolled up targets.
One of the most significant features of the Range Tote is the pullout rain cover that protects your gear in case of a sudden downpour. It also serves as a great dust shield for those of us here in the desert southwest and it conceals the contents should you need to stop on the way home for groceries, etc.
The MSRP for the Range Bag Tote is $59.99. That matches the price of most inferior bags that have flooded the market. This unit is a must have for all serious shooters.