G.P.S. Large Rolling Range Bag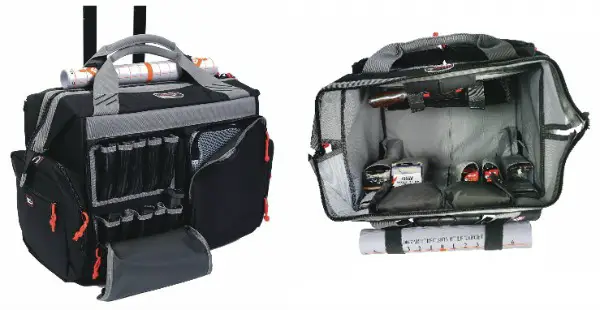 Illustration Courtesy of G-Outdoors, Inc.
Like most shooters, we have purchased and used a variety of bags to carry our equipment to the range. They are available online, as well as in most of the big-box stores that sell sporting goods. However, many of these bags share some common problems. They are poorly manufactured from thin material, usually single stitched with thread that rots out or breaks over time and fitted with cheap plastic zippers and snaps.
These features are available at "bargain" prices that range from $20 to $50. As a result, a lot of shooters have simply given up trying to find a durable range bag and have reverted to boxes, duffel bags or a combination of smaller bags.
The G.P.S. Rolling Range Bag is unique to the market. This new range bag is constructed with the same strong materials used in high quality luggage. A rigid internal frame with six metal rivets ensure its long term durability. The bag will stand up to being bounced about in the back of your vehicle, dropped on the ground, rained on and generally beaten-up.
When empty, it does not collapse in a heap, even when wet, because of the internal frame. It features a first in range bag technology, oversized ATV wheels, a wide mouth top opening and a telescoping handle for easy transport. It is now possible to have all of your ammo, pistols and shooting gear in a wheeled range bag. This bag rolls easily over gravel and dirt.
Like all of the G-Outdoor products, the Large Rolling Range Bag is fitted with oversized, lockable zippers with nylon pulls. (The lockable zippers are essential if you live in California or other states that require handguns to be in locked cases during travel.) The base-attachment points for the auxiliary carry straps are box stitched and reinforced for strength. Throughout the entire bag, nylon thread is used to prevent mildew and rot. It is a tough bag!
It was obviously designed by a shooter for shooters, with little extras throughout to ensure that it meets the demands of the most discriminating user. The front flap that closes over the magazine storage area is reinforced to prevent fraying and wear on the front of the bag. This area holds 10 magazines and there is room inside the bag if you have more. The pockets for shooting glasses and ear protection are lined with velour for extra protection, a nice touch.
The internal handgun pockets allow the shooter to store two medium size and one small frame handgun, which allows better organization at the range. There is a pocket for your ear muffs, tape and target pasters, small stapler, binoculars and more.
G-Outdoors does not do anything halfway; they included a small plastic utility box for emergency tools or cleaning supplies. If all of the above has not convinced you that this bag is a must have for every shooter, we have saved the best for last.
The patent pending Visual ID Storage System has found a home on this bag. The photo realistic icons are strategically placed on specific pockets to maximize the protection and storage of each item. Not only do these icons take the work out of organizing your stuff, it makes it easy to quickly check your bag before heading home to ensure that everything is present.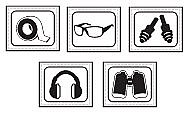 Illustration Courtesy of G-Outdoors, Inc.
The G.P.S. Rolling Range bag has an MSRP of $169.99. It is not cheap, but it is worth every penny. About the only thing you cannot put into this range bag is a cast iron tripod front rest, but I did try.