G.P.S. Tactical Range Bag with Ammo Tote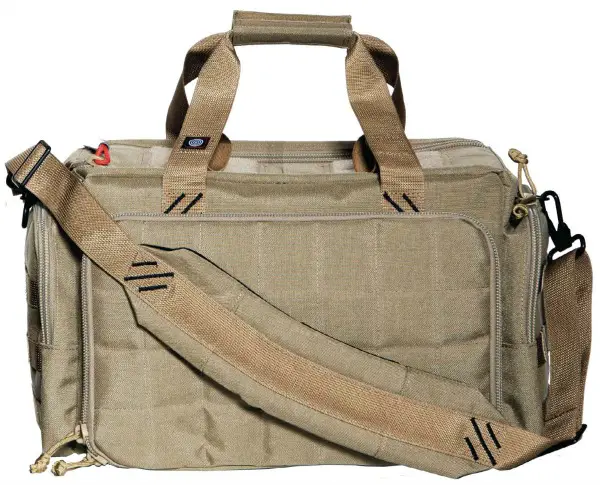 Illustration Courtesy of G-Outdoors, Inc.
With the increasing popularity of AR-platform rifles, there has been a concurrent increase in the demand for equipment tailored specifically for AR and tactical shooters. Some AR shooters looked to the military surplus stores for suitable equipment and what they usually found was worn out military equipment or cheaply made Chinese knock-offs.
Well, if you are an AR shooter, you do not have to look any further. Patrick Gee, of G-Outdoors (www.goutdoorsproducts.com) and a military veteran, designed the Tactical Range Bag with an ammo tote inside. When we saw this at the SHOT Show, I knew we had to get one. This bag incorporates all of the best features of the military tactical bags, plus some extras that Patrick knew shooters would like.
This bag has the patented G.P.S. Visual ID icon system for quick identification of gear stowed in the bag. It is made from better material than the standard military issue, using 1000 Denier material coated with DuPont Teflon. There is a handy carrying handle, as well as a reinforced shoulder strap.
The front and rear pockets of the bag have handgun sleeves that can be removed at the range for convenience. The front pocket folds flat for use at the range and has seven additional magazine storage pouches.
As is normal for all G.P.S. range products, the YKK Brand sippers are oversized and self tracking; none of those cheap sippers found on the big box store bags. The top zipper bar opens both zippers simultaneously for quick access to the main compartment of the bag, a feature we found especially convenient.
The MOLLE webbing is triple stitched and, unless my memory fails me, the stuff that our troops are being issued today are not. Given the stitching on the MOLLE webbing of this bag, we can guarantee that you will never lose anything attached to it.
The G.P.S. Tactical Logo patch (Velcro attached) is removable so that you can attach either your own name plate or club insignia. You can order the bag in black or tan.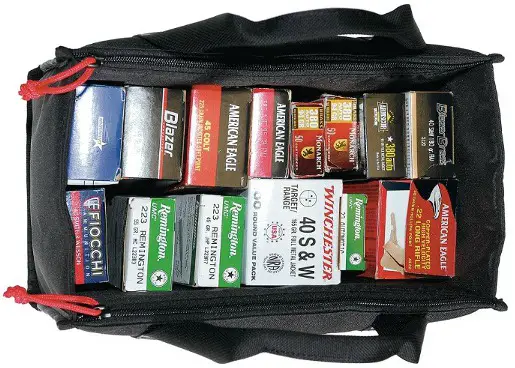 Illustration Courtesy of G-Outdoors, Inc.
The internal (and removable) tote bag is incredible. You can load more ammunition into it than any normal person can comfortably carry. In fact, we decided to keep the tote bag in our truck with all the ammo we need and use the extra space in the range bag for additional gear. Of course, that is up to you, but it illustrates the versatility of this bag and the tote. The ammo tote also features two zippered handgun storage pouches. This is very cool, as you have your ammo in close proximity to your handguns.
G.P.S. thought of everything when they put together the Tactical Range Bag with Ammo Tote. It is expensive, but worth its 2015 MSRP of $139.99.