G.P.S. Tactical Special Weapons Case
By Officer Kevin Smith as told to Mary and Dr. Jim Clary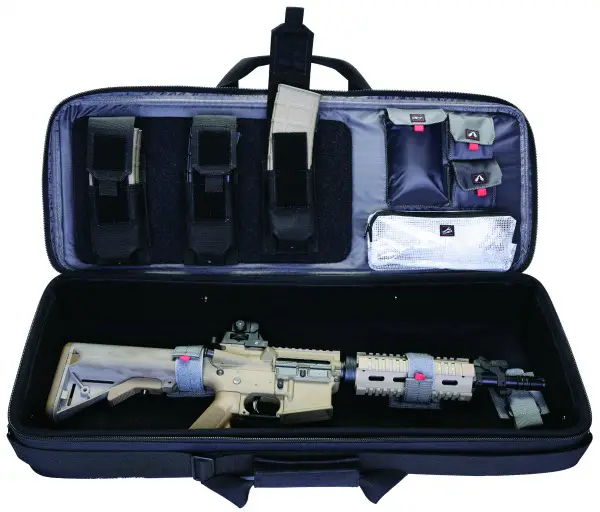 Illustration Courtesy of G-Outdoors, Inc.
How often do you go to the range and have a rifle bag in one hand and a couple of pistol pouches in the other? Personally, I would have to say this is almost, if not every, time. Not only do I go to the range with multiple weapons on my time off, but also while on duty. Almost every shooter, whether they are a novice, weekend enthusiast, hunter, or a professional of some sort will go to the range.
We have all experienced it, the pain of lugging around an arm full of firearms to enjoy a little time at the range. Some of us even making multiple trips to the car, just to grab some rounds we couldn't haul on our first trip.
Personally, I am at the range as often as I can, both for work and for a little fun on my time off. However, it gets tiresome loading and unloading firearms every time I go to the range. (I bet I am not the only one who feels this way.)
Until now, I assumed I would either have to break down and get one of those expensive, hard side, foam lined cases, or I would just have to continue making multiple trips from the car to the firing line. That was, until I heard about the new G.P.S. Tactical Special Weapons Case by G-Outdoors.
G-outdoors has always blown me away with the way they listen to consumers' needs. Not only do I personally use the G-Outdoors Tactical Range Backpack "Tall" for work, but now I have a new tool the entire department is itching to get their hands on. The G-Outdoors Tactical Special Weapons Case is a very spacious, well organized, well developed, zippered, hard side case.
Features and Specifications
Hard sided 1000 Denier heavy duty material with DuPont Teflon coating
3 Removable internal AR magazine storage pouches (Double magazine pouches hold 6 magazines total)
Hook and Loop weapon retainer straps
Visual ID Storage system for quick identification of gear
YKK Brand oversized self tracking lockable zippers
2 inch Padded Perimeter lip for added protection near the zippered areas
Hook and loop area for name or club placard
GPS-T34SWCB Tactical Special Weapons Case 34 inch, black
GPS-T28 SWC Tactical Special Weapons Case 28 inch, black
2018 MSRP: $149.99
As I have mentioned in previous articles, one of the things that is essentially mandatory for me, and in my profession, is organization. The Tactical Special Weapons Case is, by far, the most user friendly rifle case I have ever owned. With their trademarked Visual I.D. Storage system, it has never been easier to open my weapon case and know exactly where things should be. (I say should be, because it is up to the user to put things in their respective places.)
The simplicity is not just having great space and a lot of pockets. G-Outdoors also makes life easier with visual cues. The Visual I.D. Storage system uses markings on specific pockets, to show the user what is intended to be stored in which compartment.
Personally, I take pride in the tools of my trade. I enjoy having nice optics, a clean unmolested rifle and magazines that are not full of dirt. However, in reality, these things are easy to lose.
I hate to admit this, but in the past, I have broken a scope or two, scuffed the bluing on a shotgun and dropped more magazines in the mud and dirt than I care to admit. Am I saying that all of these could have been avoided with the right gun case? Well, to some extent yes, because that scope I broke was mounted on my hunting rifle in a soft case when it slipped off the truck.
The scuffed shotgun was in a case when the zipper blew out. As for the mags, well, I guess a nice case won't help with butterfingers.
I have brought these mishaps up in this article for a reason, because a case such as the Tactical Special Weapons Case by G-Outdoors might very well have saved me some heartache and money. With the Hard sided 1000 Denier heavy duty material with DuPont Teflon coating, I have been able to comfortably transport weapons on and off duty, without having to worry about harming them. This is especially important, considering these weapons may someday need to save my behind.
The other features that have caught my eye, are the three removable hook and loop weapon retainer straps and the three internal, removable AR magazine pouches, which are double pouches that hold a total of six magazines. The weapon retainer straps are easily movable, to ensure your weapon is secure and safe. I use two straps to hold my rifle and the third to secure a pistol. (I have not done this on duty, only to the range, so I cannot say if this is a good way to transport for long duration.)
Let's go back a little and discuss those pesky zippers I mentioned earlier. Admittedly, I do not know a heck of a lot about zippers. I only know that good zippers have "YKK" stamped on them. I know this for two reasons. One, I have never blown-out a YKK zipper and two, companies I trust use them.
G-outdoors features one of my favorite zippers on this case, the YKK oversize lockable zipper with self-tracking. This means a few things to me, one, I can keep honest hands off of my weapon while it is locked in the case, and second, I no longer need to worry about ripping a zipper from its track. (Hallelujah!)
Not only does G-Outdoors use a great zipper and fastening system for your weapon, but they also protect your gun by covering the zipper on the inside of the case. G-Outdoors has added a two inch padded perimeter lip to the inside of the case to make sure your investment does not get scuffed.
The last thing I am going to touch on is the outside of the case. I have had times at the range where I mistake a buddy's case as my own, or vice versa. The guys at G-outdoors have added a hook and loop patch on the front of the case that is perfect for a name plate, department identifier, or a club card.
It is the little features like this that keep me coming back to G-Outdoors. The time, effort and craftsmanship put into their products show they are shooters themselves. For me, the Tactical Special Weapons Case has shown its usefulness and taken its place with my duty gear.
To purchase your own G-Outdoor Tactical Special Weapons Case, or to view their other products, visit their website at www.goutdoorsproducts.com