2009/2010 Harley-Davidson Night Rod Special (VRSCDX)
By Chuck Hawks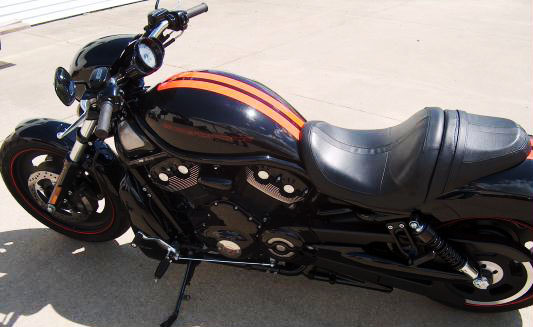 Photo courtesy of Carlton Harley-Davidson, Mantua, OH.
Harley-Davidson's wicked looking 2010 Night Rod Special is a carry-over model from 2009. It is available in three variations of black finish: Black Denim with Silver Denim racing stripe, Vivid Black with Silver Pearl racing stripe and Vivid Black with Mirage Orange Pearl racing stripe. I prefer the latter and that is the color scheme I chose to test ride for this review.
The Night Rod Special is a modern, very aggressively styled machine; this is not your father's Harley-Davidson. What appears to be the gas tank is actually the air box cover and the real gas tank (fuel cell) is below the hinged seat. Very low slung with a raked-out front fork, this street racer reeks of its drag bike heritage. The wheels are black, cast aluminum, slotted discs and the bike comes with tubeless radial tires. The little color matched speed screen surrounding the headlight looks racy and is a great finishing touch. I find the Night Rod Special extremely attractive, perhaps the best looking of all the modern street racers and power cruisers.
Nor is the aptly named Revolution liquid-cooled, 60-degree, internally counter balanced, DOHC, 4-valve/cylinder, V-twin power plant traditional Harley fare. Instead, it sounds and performs more like a Porsche engine, which makes sense, as it was a joint design project of H-D and Porsche. The red line is at 9000 RPM and the power really comes on between 7000 and 9000. This motor's performance is very different from H-D's TwinCam V-twin with its bags of low-end torque that we all know and love.
The Night Rod Special, like other VRSC (V-Rod) models, is all about the 1250cc Revolution motor. Fortunately, the slipper clutch and smooth five-speed transmission are outstanding and perfectly complement the powerful motor. Clutch effort is the lowest I've ever encountered and the transmission shifts precisely, effortlessly and without a trace of "clunk." Naturally, final drive is by silent, maintenance free, Kevlar composite belt. This is an outstanding drive train.
The black, straight shot, "2 into 1 into 2" exhaust pipes on the bike's right side incorporate matte silver mufflers with black caps. Some staff members found these mufflers ugly, but I thought they looked fine. Nevertheless, I would probably install freer flowing Vance & Hines replacement mufflers if I owned this bike, along with a Screaming Eagle low restriction air filter and a remapped fuel injection module. Not that the Night Rod Special really needs more horsepower, but these changes are so easy to make that it seems a shame not to take advantage of their availability.
The VRSC frame is a hydro-formed perimeter type, very different from previous H-D frames. It is stiff and does its job well, as does the swing arm, controlled by dual shock absorbers that are adjustable for pre-load. Front suspension is provided by conventional forks that perform satisfactorily, if not exceptionally. Suspension wise, the Night Rod Special is equipped with standard cruiser fare.
The tires, on the other hand, are race bred Dunlop 207's. The sidewalls of the tires are accented by a very nifty looking orange stripe. Why road-racing tires were chosen for what is essentially a freeway or stoplight Gran Prix motorcycle with only 4.2" of ground clearance and a maximum 32-degree lean angle, I cannot imagine. The rear tire is a very wide 240mm, which further compromises the bike's handling in corners. Altogether, the choice of tires seems rather schizophrenic. Higher mileage, cruiser type tires would seem more appropriate for this motorcycle.
The brakes are outstanding Brembo triple discs with four piston calibers that provide plenty of stopping power. Optional, but included on our test bike, is H-D's excellent ABS system ($845), which in NOT linked. The front the rear brakes are completely independent, as preferred by experienced motorcycle riders. This is probably the best motorcycle braking system available today. Our test bike was also supplied with the optional security system ($370), which I completely ignored. (I prefer to provide my own .38 Special security system.)
Here are the specifications for the VRSCDX.
2010 MSRP: $16,699 (basic bike), plus $335 freight charge; $18,249 as tested (with ABS and security system).
Length: 94.4"
Seat height: 25.2" (laden), 26.3" (unladen)
Ground clearance: 4.2"
Lean angle: 28-degrees/32 degrees
Rake steering head: 34-degrees
Trail: 4.5"
Wheelbase: 67.2"
Fuel capacity: 5 gallons
Mileage: 34 MPG city, 42 MPG highway
Oil capacity: 5 quarts
Engine type: liquid-cooled, 60-degree, DOHC V-twin
Displacement: 76.28 cubic inches (1250cc)
Bore x stroke: 4.134" x 2.835"
Compression ratio: 11.5:1
Torque: 85 ft. lbs. (at crankshaft)
Horsepower: 120 (at crankshaft)
Fuel supply: Electronic sequential port fuel injection
Primary drive: gear, 117/64 ratio
Gear ratios (overall): 1st = 11.752, 2nd = 7.898, 3rd = 6.322, 4th = 5.459, 5th = 4.899
Wheels: cast aluminum slotted disc type, 19" front rim, 18" rear rim
Tire sizes: 120/70ZR-19 60W front, 240/40R-18 79V
Indicator (idiot) lights: high beam, neutral, low oil pressure, high coolant temperature, low fuel, turn signals, engine diagnostics, security system (optional)
Brakes: Brembo triple discs with 4-piston calibers
To start the Night Rod Special you use a barrel-type security key to unlock the three position rotary switch located at the front right side where the frame members meet. Once the switch is unlocked, the key is removed and plays no further part in operating the motorcycle. The middle position is run. Click the handlebar mounted rocker kill switch to "run," wait until the engine light goes out and hit the starter switch; the Revolution motor burbles to life.
The Night Rod Special's riding position is unusual and not particularly comfortable, due to a combination of low handlebars, forward foot pegs and a very low seat height. I have heard it called (derisively) a "clamshell" position. It actually isn't that bad for short rides. However, for longer rides the accessory "reduced reach" foot pegs, which move the rider's feet back and up an inch, coupled with the "reduced reach" VRSCDX handlebar that provides an extra 1.5" of rise and 4" of pull back compared to the stock handlebar, would provide a more upright and comfortable riding position for most riders. I was able to try a bike with these pegs and bars; they are a definite improvement in comfort.
The stock seat is satisfactory for riding around town, but I would recommend the optional Sundowner (touring) seat and the associated Smooth Look Touring passenger pillion if you plan to hit the highway on a Night Rod Special. Other worthwhile tour oriented accessories include the sharp looking Compact Mid Sport Windshield, Gloss Black Luggage Rack, Gloss Black Low Sissy Bar Upright with Smooth Look Compact Passenger Backrest Pad and nylon VRSC Sport Saddlebags. These accessories make the Night Rod Special a far more practical sport-touring bike.
At very low speed, as in parking lots or pulling away from a stop in town, the extended front forks give the front wheel a heavy feel and a tendency to fall in the direction of a turn. Otherwise, the bike's low center of gravity, ultra-smooth clutch, transmission and motor make city riding easy. The roughly 25" seat height allowed me to easily put both feet flat on the ground at stoplights, and I am only 5'9" tall with a 30" inseam. It is only when parking or riding at walking speed that you notice the bike's substantial weight. Less fork rake would be very desirable at slow speeds. Once parked, the side stand is easy to deploy and works fine; there is no center stand.
When riding windy roads, the forward foot controls, long wheelbase, wide rear tire and limited lean angle combine with the 34-degree fork rake to make the Night Rod Special less than reassuring. Get a little wild with the throttle and the powerful Revolution engine can quickly exceed the bike's cornering capability. However, if you stay at or below the speed limit, you should have no trouble; it is not a difficult bike to ride at moderate speeds.
On a freeway, the Night Rod Special is in its element. There is tremendous passing power on tap and the powerful, anti-lock brakes are reassuring. That is a good thing, because at an indicated 135 MPH the bike was still accelerating! Static stability is good. The suspension handles high-speed sweeping turns well. The bike runs smooth, quietly and feels rock solid. H-D's excellent self-canceling turn signals are appreciated, as is the logical hand control layout. The mirrors are steady at speed, if not overly generous in size. I wish the mirror stalks were a bit longer to give a better view astern.
The large, centrally located speedometer is easily read, as is the digital odometer/trip counter/clock at the bottom of the speedometer's face. (The odometer's LCD display can also display the time of day.) The usual motorcycle warning lights are located in the face of the speedometer in an arc above the needle's pivot point. Unfortunately, the small, crescent shaped tack to the left of the speedo leaves a lot to be desired. It is slow to respond and very hard to read. To the right of the speedometer is the gas gauge, a great convenience on any street bike. This instrument cluster is stylish and correctly located directly above the top of the triple clamp, but it is less functional than a traditional, separate tach and speedo mounted in the same location.
I did not find the Special particularly difficult to ride, despite the forward foot controls that I don't like and am not used to. It would be nice if the Night Rod Special at least maintained the 5" ground clearance of the standard V-Rod. Less fork rake and taller rear shocks would make a big improvement in the bikes handling and also make it a safer ride. As it stands now, emergency avoidance maneuvering capability is limited, which is not a good thing. On the other hand, an experienced rider who habitually plans ahead while riding should be fine. Good situational awareness is important when riding any motorcycle, especially a bike like the Night Rod Special, given its combination of great acceleration and top speed, but limited ground clearance and lean angle.
On the plus side, the motor has plenty of grin factor, the drivetrain has proven very reliable and the bike looks great. The price is reasonable given the quality of the motorcycle. The powerful, anti-lock brakes are a big safety factor. Harley-Davidson is the oldest motorcycle company in the world and they have learned a thing or two about building motorcycles. The VRSCDX is handsome, reliable and will hold its resale value far better than power cruisers from other manufacturers. As with all Harley motorcycles, the Motor Company offers a plethora of accessories that allow the owner to personalize his or her bike and optimize it for any reasonable purpose.