The Harley-Davidson Dyna Wide Glide FXDWG
Riding And Modifications
By David Tong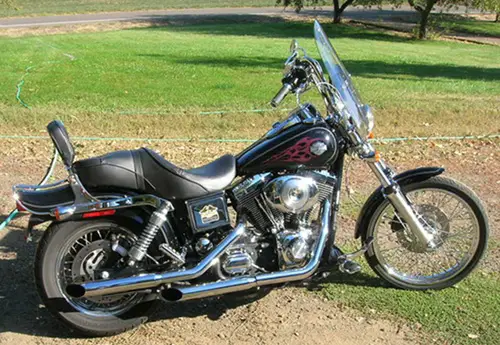 Photo by David Tong.
As regular readers of the Motorcycle section of chuckhawks.com know, my experience with motorcycles spans decades, and mostly the mileages involved a BMW of one kind or another. I've put over 120,000 miles on the Bikes from Bavaria, and largely because my left-brain centeredness dictated a desire for a practical nature to the bike which includes ease of owner servicing, readily available parts supply, a healthy aftermarket for accessories that the factory doesn't meet, twin-cylinder power delivery, and long range comfort. For the most part, BMWs have met these requirements.
Some of you may have noted my article about the Harley V-Rod elsewhere on the site, and I've had an interesting banter with some of you regarding bike choices and cruisers in general.
My life is changing a bit. I'm in my latter 40s now, and the sustained high speed cruise and handling capabilities of the BMW are not quite so important as they once were to me, as the lovely state of Oregon where I reside has many miles of two lane secondary roads that don't really sanely permit this sort of travel, at least during the winter months. Also, sadly, it is far safer to travel at those sorts of elevated velocities in an interesting car, especially with company, so I began to think, rather warmly, about the Harley-Davidsons and other V-twins I had much access to while writing for several of the motorcycle magazines in L.A.
I have spent time on the Electra Glide Classic; the Tour Glide (now known as the Road Glide); the FXR Evolution Super Glide, the Sportster 1200s; the Softail Deuce; the V-Rod; and finally the Dyna Super Glide and Wide Glide. I have also spent much time on the BMW R1200C, the Honda VTX1300 and 1100 Spirit, and the Yamaha Road Star and Warrior. I found that the relaxed cadence and basso profundo exhaust note of a V-twin, and their torque-rich power delivery at real-world speeds are an antidote to my fairly harried existence in the insurance industry.
While my mind was pretty much formulating the paradigm shift of a cruiser type motorcycle for light touring duty, it also expected a modicum of feel and capability the bike as well. While the "fat-tired" 16" front wheels offer more outright braking power and perhaps load capacity, I found that their poor steering feel was just wrong - if you cannot feel what the front tire is doing, to me, this is an unpardonable sin on a motorcycle which is going to be used on unfamiliar roads, and hinders confidence in using the more limited traction and ground clearance of a typical cruiser.
Besides that, I really was looking for a paradigm shift. I will probably never be without a bike again as it's so much a part of my blood now, but I also wanted this bike to have less high speed capabilities as I simply have more to live for these days than merely strafing apexes. Yet, I still appreciated both crisp steering feel and cruiser style.
One thing that people don't really take into account as much as they should when purchasing a bike for largely touring duty is riding position comfort. As the recipient of several rear-end car accidents within the past decade, my neck is no longer quite as supple as it once was, and the "crouching frog" riding position of the sportbike, carrying a lot of weight on one's wrists and forearms, with knees acutely bent putting one's feet under your butt is no longer as comfortable as it once seemed to be.
Cruisers, with their feet forward riding position, unkink your knees, but, as those of you who read my V-Rod piece, transfer more of your weight from your thighs to your derriere, and the quality of the seat dictates the quality of your ride.
However, as you may have gleaned from this, cruisers also allow for a "heads-up" natural neck and wrist position that is ever so much less taxing on long rides. It is far easier to do quick head checks when changing lanes or simply watching traffic, and less tiring for your wrists to just sit up straight, and an article in Motorcycle Consumer News a few years back talked about this with commentary from a chiropractor who agreed that this position is ultimately the most comfortable, for most people, on longer rides, if a windshield or fairing of some kind is fitted to negate highway wind blast hitting you.
The esteemed Editor-in-Chief of this website has already waxed eloquent about the Harley-Davidson Dyna Wide Glide as a near perfect blend of custom style and comfort, and he had commented favorably about the use of factory accessories that provide not only the usual finish quality but also are engineered correctly to be a perfect fit.
So, all this led me to conclude that a Wide Glide would fit the bill. My local H-D shop had a clean 2004 with 5100 miles on it, and that was that. I made the choice as the bike could be ridden lots, with good reliability, minimal maintenance (no valves to adjust, single carburetor means no balancing, mostly oil changes and belt and primary chain adjustments), and much lower than average depreciation, along with being able to customize it for any possible use besides road racing (!). The fun began then . . ..
Rather than decking the thing out with chrome gewgaws, which would be a more typical way to accessorize a Harley, my intent was to maximize comfort on trips, improve already better than the class average handling and steering, and make subtle running changes without tearing into the motor. (That's the intent, anyway!)
The previous owner had fitted a washable K&N air filter into the stock airbox, but had neglected to properly jet the carburetor (yes, the 2004 was the last year for carbureted Big Twins at H-D) for idle warm-up and possibly midrange, as I noticed some backfiring on downshifts while blipping the throttle to match revs. The bike is also fitted with aftermarket mufflers onto the stock headers, which allow a bit less backpressure and more sound, but probably exacerbate the jetting issue some.
The bike has the factory "Sundowner" touring seat, but was fitted with 20" high so-called "ape-hanger" handlebars, which puts the grips about shoulder level for my 5'10" frame. Not good without a fairing over 55mph or so, lemme tell you! You are a sail in the wind, and simply moving at 65-70mph at the local flow of traffic means you're hanging on for dear life, performing a constant pull-up.
The next item was to replace these with the stock ape hanger bars. With normal triple clamps and risers, it is a straightforward swap, and these bars offer pretty good comfort and far better control. The factory accessory polyurethane bar riser bushings replaced the too-mushy stock rubber ones, for better steering response and only a tad more vibration at certain rpm's. At the same time, a stainless steel braided brake line was fitted in front for better braking feel, and a factory bridge-type fork brace I added to reduce torsional flex in the fork (as an aside, if you grab the brake lever on the dealer's floor and push down on the fork, as if braking, you will notice the front fender visibly flexing - the brace eliminates this problem caused by having only one caliper providing this unequal torque force to the fork sliders).
The current quick-detachable windshield system is worthy of particular note. It replaces a now replaced system involving the semi-permanent installation of rubber bushings and hairpin type springs which held the shield in place and offered detachability. The new system uses four die cast steel clamps which have a camming over-center action that securely locks the shield onto the fork tubes between the triple clamps, and is absolutely rock solid. Worth every dollar.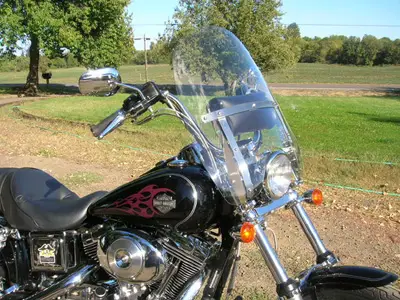 Detachable windshield; note bag inside of shield.
Also note stainless steel brake and throttle cables. Photo by David Tong.
A factory leather flapped windshield bag allows the carrying of wallet, sunglasses, and paperwork, and uses the center crossbar mounting bolt to secure it in about 20 seconds. Neat.
The factory fender hugging luggage rack I installed next, the better to strap on gear for camping trips. In the future, I plan on installing a wider and taller passenger backrest to better provide comfort for my sweetie, as well as to better stabilize a T-Bag or other luggage system on trips.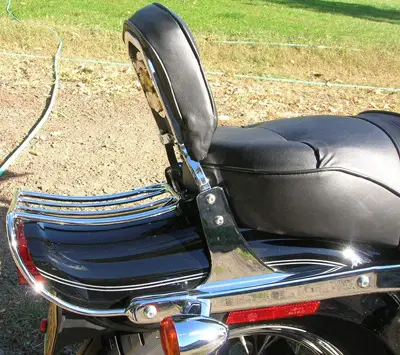 Rack and low passenger back rest. Photo by David Tong.
Finally, for those chilly fall and spring days and nights ahead, the factory electrically-heated handlebar grips were installed. Regulated by a thermostat, they offer six-position adjustability, and set in the middle are as warm as my BMW grips used to be on their highest of two positions. Nice. Nothing beats warm hands in thinner gloves for dexterity and control on colder rides.
With the 5.1 gallon tank, I fully expect mileage to be in the mid-40s at the least, giving me a comfortable 175 mile range between stops. The bike is finished almost impossibly well from the factory, by today's matte-black painted and plastic-fairing encrusted standard, and moreover one needn't apologize any longer about a Milwaukee product leaking oil or breaking down. Harleys are, with Triumphs, the only current bikes that have the insides of their steel gas tanks painted to combat rust, and they have for years powder-coated their frames.
The prior Evolution engines would last 100,000 plus miles if you left them at their stock (rather low) power output, and the Twin Cam 88 is designed to be even more durable and offers nearly 40% more horsepower right from the crate.
All of the foregoing might seem rather dry and practical; one is, after all, a product of one's experiences. However, let's not forget this is still a HARLEY-DAVIDSON, and without delving into the machismo lifestyle aspect of ownership at all, these are pretty solid and satisfying bikes to ride, so the question I pose to conclude this work in progress is, "What are your riding priorities?"
I think I've found a pretty compelling answer. Your comments and questions are always appreciated. Ride safe, and ride well.