Heckler & Koch P2000SK Pistol
By David Tong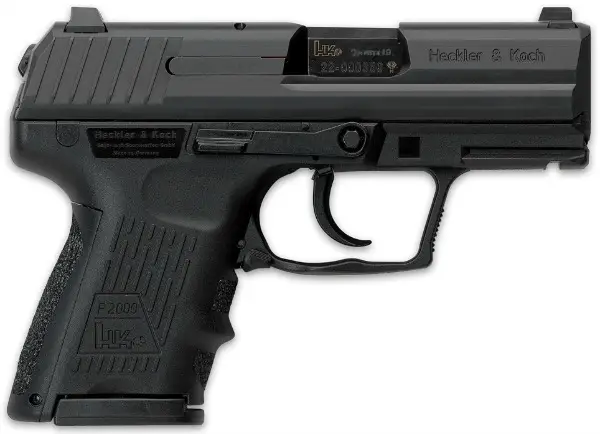 Illustration courtesy of Heckler & Koch.
Heckler & Koch is a manufacturer that is expanding their civilian offerings after having previously catered primarily to law enforcement and military users. What this means for civilian purchasers of their arms is that they are fully developed and tested to military standards of durability and longevity.
The P2000SK is offered in calibers 9x19mm and .40 S&W. The subject of this article is the .40 caliber version.
The .40 S&W cartridge comes in four typical bullet weights; 135, 155, 165 and 180 grains. Normal 135 grain (1,250 fps) and 155 grain (1,150 fps) factory loads are supersonic, while the 165 grain (1,050 fps) and 180 grain (950fps) loads are subsonic. Subsonic cartridges are slightly quieter than supersonic ones, as there is no "crack" to add to the usual report of cartridge discharge.
The P2000SK is a rather large subcompact pistol with a 3-1/4 inch barrel. It is roughly the same length as a subcompact Glock 27, although it is as tall as a compact Glock 19 service pistol and, at about 25 ounces, it is heavier than a G19 (to put it in familiar perspective).
Compared to the earlier USP compact and subcompact pistols of the 1990s, the P2000SK has had its slide sides tapered toward the top and the top of the slide is now semi-rounded. It uses a conventional DA/SA action, in that it has a hammer fired, double action first shot (with second strike capability), with follow up shots in single action trigger mode.
It features ambidextrous magazine release paddles, located at the lower rear of the trigger guard itself (not in the grip frame) and ambidextrous slide stops, so it is fully functional for the left handed among us. There is no traditional manual safety and none is needed. The only other control on the pistol is a small de-cocking button unusually located on the left rear of the frame adjacent to the hammer.
At about 11.5 pounds, the double action trigger pull is nothing to write home about. It is smooth, but heavy. The single action pull is nice and crisp at 4.5 pounds, better than most stock semi-automatics these days.
The grip's length is abbreviated to make it more concealable. H&K added a "pinky" magazine extension floor plate to provide a "wedge fit" for your shooting hand. It is probably best suited for small to medium sized hands. A flush magazine floor plate (as shown in the photo at the top of this article) makes the pistol a bit more concealable. Larger capacity magazines intended for the USP Compact as well as the larger P2000 and P30 service pistols will also fit the P2000SK.
The standard sights are steel, Patridge type with three white dot inserts. Both the front and rear sights are mounted in dovetails, so windage adjustment is possible (albeit inexact) by moving the sights laterally in their dovetails. Tritium night sights are optional at extra cost.
H&K must be one of the few manufacturers that shoots and sights-in every single pistol before it is shipped. This is done to confirm that point of aim is also point of impact at their usual shooting distance of 25 meters, with typical weight bullets for the caliber. I have noticed this characteristic with every single one of the six H&K handguns I have owned over 31 years.
(Remember, this factory sighting-in is only approximate for the end user, as the way an individual holds a pistol changes the point of impact. So do different loads, even when using the same weight bullet. You still need to zero the pistol for your chosen load yourself. -Editor)
The P2000SK comes with three interchangeable back strap inserts to alter the grip length and two magazines. Also included is an action lock key. A short accessory rail for a laser sight or small light is molded into the frame in front of the trigger guard. An unusual option is the availability of a .357 SIG barrel for .40 S&W caliber pistols.
Specifications
Type: Subcompact autoloader for concealed carry
Calibers: 9x19mm and .40 S&W
Magazine capacity (.40 S&W): 9 rounds (12 w/extended floor plate)
Overall Length: 6.85 in.
Overall Height: 5.07 in.
Overall Width: 1.38 in.
Barrel Length: 3.26 in.
Weight with empty magazine: 24.96 ounces
Trigger: Traditional DA/SA
Trigger Pull: DA 11.47 pounds; SA 4.5 pounds
Sights: Patridge type w/three dot inserts
2016 MSRP: $983.00
The rather high MSRP is significant. It is the main reason why these pistols have not sold well and the primary reason the H&K 2000SK has been a rarity on dealers' shelves.
The Internet is replete with negativity about the Company's customer service. However, my own recent experience with them was professional, prompt and respectful, just as I would expect.
While these pistols are not common and rather pricey, I believe you get what you pay for. Reliability is excellent and parts breakages under heavy use are extremely rare.