Hawke Endurance 16-48x68mm Spotting Scope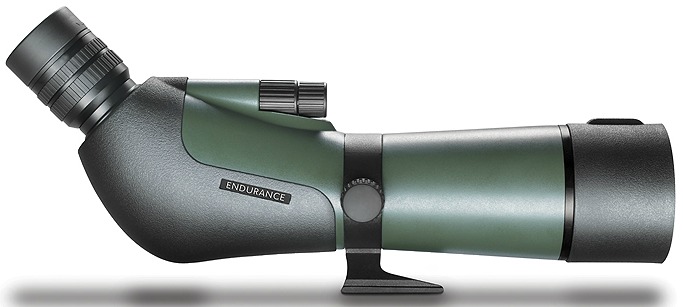 Illustration courtesy of Hawke Sport Optics, LLC.
Spotting scopes do not get as much attention as binoculars or other optics. Prices vary all over the map, from the promo clam-shell packed fodder up to around $3000 for a Swarovski Optiks HD-ATS-80 HD Spotting Scope with 20x60 Eyepiece.
This Hawke Endurance 16-48x68mm is a bargain compared to many offerings. For example, this model compares optically to the Vortex Razor HD Angled Spotting Scope, 16-48x65 that sells for about $1200. Yet, this Hawke spotter retails for approximately $600.
Spotting scopes are used for everything from checking targets, to gauging your trophy animal from long range prior to the stalk, to birding and wildlife viewing. The optimum exit pupil for low-light use is considered to be 7mm for young eyes, or about 5mm for aged eyes. In bright light, a 2mm exit pupil is about all the human eye needs.
To achieve useful exit pupils at high magnification, you need massive objective lenses (in excess of 50mm for a 25x scope) and that means added weight and bulk. This Hawke unit, at a bit over 3-1/4 pounds and 1-1/3 feet long, has a 68mm objective lens. It is not the biggest spotter on the market, but it is not the most compact, either.
Hawke Optics advertises this spotter as having fully multi-coated optics. It is nitrogen purged, sealed and both water and fog proof.
The Hawke Endurance exceeds the sweet spot of observation scopes, as 20x to 30x magnification is generally all that is needed or wanted. It does surprisingly well after sunset at 16x and in daylight the images are rich and contrasty to at least 35x magnification.
Specifications
Power: 16x-48x
Objective Diameter: 68mm
Lens Coating: Fully Multi-Coated
Field of View (ft. @1000yds): 130.5 - 64.5
Close Focus: 16.4 ft.
Eye Relief: 20mm
Overall Length: 15.9 in.
Weight: 52.6 oz.
2016 retail price: $599.99
If you are looking for a spotting scope for hunting, range use, birding, wildlife and general viewing, yet are not willing to cough up the price of a premium scope (most folks aren't), you may well be satisfied with the Hawke Endurance.