Hawke Optics Sidewinder 30, 4.5-14x42mm Tactical Riflescope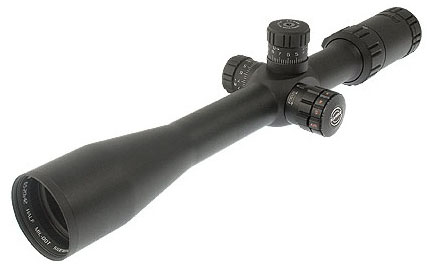 Illustration courtesy of Hawke Sport Optics.
The full name of this scope is quite a mouthful. It is the Hawke Sports Optics HK4022 Half Mil-Dot 10X Tactical Sidewinder 30 Riflescope with illuminated reticle. I'll refer to it as the "Sidewinder 30" from here on.
A big, heavy, full-featured 30mm scope with an exotic, dual color, illuminated reticle is what we have here. Hawke Optics has developed their own BRC software that helps you get the most out of their scopes with the least effort. You can download it from www.hawksoptics.com/us/ and experiment with it, if you like.
As you might think from the tactical moniker, this scope has tactical type extended knobs. The scope is also parallax adjustable by side-focus, with the illuminated reticle in both red or green, as you prefer. The 30mm tube makes it stronger than one inch tubes and offers more room for internal adjustments. At 14.6 inches long and 27.4 ounces, this is a big, heavy riflescope. It is most at home on heavy barrel varmint or similar heavyweight rifles.
The eye relief is a generous four inches. Hawke claims to have upped their optics quality. This scope is sharp and clear, with good edge sharpness and it compares favorably with many high-end scopes. The reason for the "Half Mil-Dot" array is to give you more precise aiming points. Assuming use on a .22-250, you have eleven precise aiming points from 250 yards to 805 yards! (Before you try to launch 55 grain bullets into outer space, realize that the +/- 1.5" MPBR of a typical 55 grain .22-250 varmint load is about 254 yards. -Editor.)
Sidewinder 30 reticle. Illustration courtesy of Hawke Sport Optics.
This full-featured Hawke scope can be had for around $400 and actually compares well to scopes with similar specifications and features that go for $850 - $900. The illuminated reticle on the Hawke is crisper and brighter than most, yet can be quickly set to match low-light conditions; there are five distinct settings.
It is also packaged extremely well, coming in its own hard case and featuring aluminum screw-in lens covers on both ends. All of the controls are oversized and easy to use, with the side-focus and the rheostat control on the left turret of the scope. A four-inch sunshade is included.
With generous eye relief, dual illuminated half-mil reticles, sturdy build quality, oversized controls and features difficult to find in a tactical scope for less than $800, the Hawke Sidewinder 30 qualifies as a tremendous value. The BRC software you can use to calibrate your scope adds even more value.