Hawkeye Shooting Edition Borescope
By Jon Y. Wolfe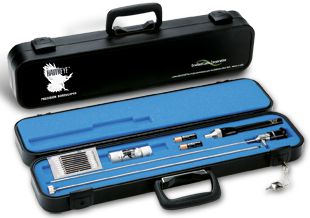 Hawkeye Classic Slim Kit. Illustration courtesy of Gradient Lens Corp.
On a cool November morning last fall, I was visiting my friends at Criterion Barrels, inspecting the next run of our 5R/20 barrels for the M14 rifle. During my inspection, I spotted a Hawkeye borescope and I asked to examine one of my barrels. After a quick tutorial on how to use it, I was getting an extremely clear and magnified view of the chamber and bore.
If you have ever looked through a Hawkeye borescope, you know that very minor imperfections are magnified with remarkable clarity. After spending some time using the Hawkeye borescope, I decided that it was a great product and I set out to acquire one for our shop. I settled on the Hawkeye Shooters Edition with the 360 degree, 17 inch mirror tube.
The borescope has been used on at least 100 occasions to inspect chambers, throats, bores and even brass. I was so impressed with the quality and design that I decided to write this review.
Looking at the external characteristics of the Hawkeye, it is evident that precision machining was used during manufacturing. The eye cup, lenses, light source and mirror tube all display characteristics of fine craftsmanship. What's more, the engineers at Gradient Lens Corp came up with an ingenious design and used the popular Mini Maglite as the lighting source and handle for the borescope.
In doing research for this article, I discovered the Hawkeye patented endoGRINS lenses are of superb quality and rank equal to or better than many German-made endoscopes. I do not have a German endoscope to compare, but the image quality on my Hawkeye is remarkable.
I have been able to identify numerous burned throats, pitting and non-concentric tool marks from reamer chatter during the last year. The clarity and definition allow the user to easily make determinations about the chamber, throat and bore condition. With my 17 inch mirror tube, I am able to inspect barrels from both ends and see the entire bore, breach to muzzle. This allows one to examine a chamber and bore up to 34 inches in total length.
Another fine attribute of this borescope is the 360 degree mirror tube with beveled indicator. This feature allows a full view of the bore and is adjusted using the knurled bezel. We found when viewing large caliber bores that the focus was hard to maintain as the view was rotated. An easy fix for this was to simply hold the body of the tube directly next to the area to be examined.
I do not know how our shop went so many years without a Hawkeye borescope. I have used it to examine gas ports after drilling, the neck, throat and leade after reaming a chamber, erosion patterns in high velocity chambered barrels and large numbers of chrome lined, chromoly, stainless and nitrided barrels.
Last month, we built an M21 clone using an era original barrel. The barrel was usable, but the gas port was oversized. We drilled and tapped the gas port, inserted a socket set screw and plug-welded it. The Hawkeye allowed us to perfectly time the set screw so that it was a few thousandths shy of the groove diameter. This allowed us to bring this vintage barrel back into service with a properly sized and located gas port.
Recently, I viewed some match Norma .223 Remington brass. I was able to see how precisely they are drilling and chamfering their primer hole. I removed the mirror tube so I could look straight ahead. Brass inspection is an important aspect of accurate and safe reloading. I now use the Hawkeye to inspect my brass, both new and resized. It is a little time consuming, but the peace of mind is well worth it.
Overall, the Hawkeye is an invaluable tool. It is an excellent choice for nearly all gunsmithing applications and any use where the end-user wants to know precisely the condition of their chamber and bore. As a gunsmith and maker of precision M14 and bolt action rifles, I am thankful for such a fine product. I appreciate the attention to detail, ease of use and remarkable clarity provided by the Hawkeye.