Henry Golden Boy Rifles
By Chuck Hawks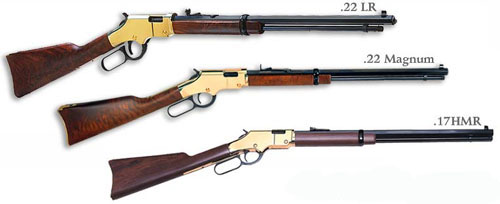 Illustration courtesy of Henry Repeating Arms Co.
The original Henry lever action rifle of 1860 was a brass framed, top ejecting rimfire in caliber .44 Henry Flat. It was designed by Benjamin Tyler Henry and made by the New Haven Arms Co. of New Haven, Connecticut. New Haven Arms was owned by Oliver Winchester and evolved into Winchester Repeating Arms Co., which is still located in New Haven. B. Tyler Henry became Winchester's chief designer, and the original (Model 1866) Winchester was in fact an improved version of the Henry rifle with the addition of a forearm and a cartridge loading port in the right side of the frame. The Model 1866 was also chambered in .44 Henry Rimfire. Until recently, all Winchester rimfire cartridges bore an "H" head stamp to honor B. Tyler Henry.
The present Henry Repeating Arms Co., located in Brooklyn, New York, actually has no connection beyond a name and some clever advertising to the company founded by B. Tyler Henry. However, the modern Henry Repeating Arms Company's Golden Boy lever action rifle became the first rimfire ever to win the "Rifle of the Year" award, back in 2001. This new Henry offering is styled to resemble the Henry rifle of old, but they are actually modern side-ejecting rifles.
These eye-catching lever actions sport a shiny Brasslite receiver (whatever Brasslite is, it looks like brass) and solid brass buttplate, set off by an American black walnut stock and a blued hammer, lever, trigger, bolt, barrel and magazine. The octagon barrels are equipped with a Marble's adjustable buckhorn rear sights and post front sights with a flat-faced brass bead. Golden Boy rifles are available in calibers .22 Short, Long, Long Rifle, .22 WMR (Magnum), and .17 HMR.
The only slightly jarring feature is the shiny black barrel band that secures the front of the forend. It is made from an alloy with a shiny black finish that doesn't really match the rest of the rifle. A brass replacement barrel band is available from Henry RAC, and makes a worthwhile addition to any Golden Boy rifle. Another option is a large loop lever, presumably for those who wish to play "Rifleman."
In order to preserve the beauty of the Brasslite receiver, the top of the Golden Boy's receiver is devoid of the usual 3/8" dovetail scope rails. This is a departure, as the regular (blue/black finish) Henry Lever Action rifles do have grooved receivers to make scope mounting a simple and inexpensive operation.
Mounting a scope on a Golden Boy rifle requires a special Henry cantilever scope base, which mounts to the barrel forward of the receiver. This rather ungainly mount puts the scope higher than would ordinarily be necessary and definitely detracts from the otherwise clean lines of the rifle. The cantilever scope mount is available directly from Henry RAC.
Here are the basic specifications of the Henry Golden Boy rifles:
Action type -
Lever action repeater
Caliber -
.22 S, L, LR; .22 WMR; .17 HMR
Magazine capacity -
16 (.22 LR), 12 (.22 WMR or .17 HMR)
Barrel length -
20" (.22 LR and .17 HMR), 20.5" (.22 WMR)
Length of pull -
14"
Overall length -
38.5" (.22 LR and .17 HMR), 39" (.22 WMR)
Weight -
6.75 pounds
2005 MSRP -
$399-$490 depending on caliber
There is also a Golden Boy Deluxe version, a fully hand engraved presentation rifle in .22 LR with a 2005 MSRP of $999.95.
Operationally, the Henry is a traditional, external hammer, lever action rifle. The safety is a "quarter cock" hammer position. With the hammer in the safety notch the trigger cannot be pulled. The bolt is equipped with dual extractors, and a fixed ejector flips the fired case from the action when the bolt nears the end of its travel. The trigger does not move with the lever. The Golden Boy is a modern rifle, but it looks and operates like a classic 19th Century lever action.
It also balances between the hands and handles like a traditional lever action carbine, which is to say splendidly. It weighs enough to swing smoothly, yet is not a burden to carry in the field. The thin receiver makes it a natural to carry in one hand.
The Golden Boy sent to Guns and Shooting Online for review was chambered for the hot .17 HMR cartridge. The trigger of this rifle was initially commendably light, but gritty with a lot of travel before let-off. I measured the weight of pull at 3 1/8 pounds by my RCBS Premium Pull Gauge. However, with use it smoothed and lightened dramatically. By the end of our testing the grit had disappeared, the travel was reduced, and the pull weight measured only 2 1/8 pounds.
One thing that should be mentioned is the smoothness of the Henry action. It is exceptionally smooth and tight. There is no lever wobble in any position. A person familiar with operating lever action rifles can fire a Henry very rapidly.
The smooth action, medium weight barrel, and good trigger help to make the Henry an easy rifle to shoot accurately. And we found during our testing that it is inherently very accurate, fully the equal of most bolt action .17 HMR rifles. Altogether, it is nearly an ideal small game hunting rifle.
We did our test shooting using the inefficient and hard to see factory supplied iron sights. The front sight is fine, but the tiny rear notch of the buckhorn rear sight was difficult for our middle-aged eyes to make out, and the useless "ears" of the rear sight tended to obscure the surrounding area.
I have never understood why buckhorn style sights are still supplied on modern rifles. The Patridge (square front blade/square rear notch) type open sight is better, and an aperture (peep) sight is far more accurate as well as faster and easier to use.
Even so, the Henry Golden boy turned in some excellent 5-shot groups. Bob Fleck and I did the shooting, and we both agreed that the sights and our middle aged eyes were the limiting factors, not the intrinsic accuracy of the rifle.
While not dirt cheap, the Henry Golden Boy is also not expensive. Based on its MSRP, I'd call it a medium priced rimfire rifle. But rifles offering its combination of classic good looks, reasonable price, smooth operation, superb handling, and deadly accuracy are few and far between. The Golden Boy is an excellent value.
Note: A complete review of the Henry Golden Boy .17 HMR Rifle can be found on the Product Reviews page.