Hess Knifeworks: the Hess Whitetail Knife
By Gary Zinn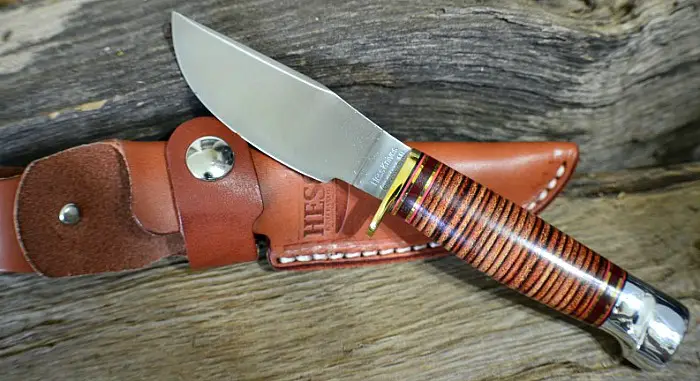 Hess Hunter knife. Image courtesy of Collector Knives.
Hess Knifeworks was established by Don and Andy Hess in 2005. Father Don and son Andy were employed as cutlers by Marble Arms, but they and other cutlers were cut adrift when Marbles closed its Gladstone, Michigan knife making operation. The Hesses went into business for themselves. (I believe that Mike Stewart, founder of Bark River Knives, is another Marbles refugee.)
The Hess's concentrate on what they know and do very well. They handcraft traditional style fixed blade hunting knives, which are very similar to the knives they made at Marbles. Images of the Hess Hunter model (above) and a 1960s vintage Marbles knife illustrate this. In essence, Hess knives preserve the tradition of the Marbles hunting knives, which were well respected by hunters and outdoors enthusiasts of a bygone era.
New Marbles branded knives are still on the market. Marble Arms sold the cutlery brand name to a marketing company that sells cheap, imported products under the Marbles trademark. These bear no comparison with "real" Marbles knives. Hess knives, by contrast, are faithful in both style and quality to the Marbles knives of yesteryear.
Hess Knifeworks is a family business that makes knives in a shop, rather than in a factory. Thus, their production is limited. Consider that in 2017 Great Eastern Cutlery produced 1088 blade blanks for Hess, according to GEC 2017 production records. As far as I know, GEC is the sole supplier of blade blanks for Hess, so this is an indication that average monthly production of Hess knives is likely no more than about 90 units. That might be overstating the case, for Hess bought only 494 blades from GEC in 2016. Whatever, Hess knives are limited production items.
It appears that Hess produces knives in nine patterns, ranging from the Mini Caper (2-1/2 inch blade, 5-1/8 inches overall length) to the Frontiersman (6-7/8 inch blade, 12-1/2 inches overall length). I base this on the knives listed by the handful of vendors that sell Hess knives, plus the patterns that were listed in the 2017 GEC run of blades for Hess. GEC produced roughly equal numbers of blades in each pattern, indicating that Hess does not favor one pattern over another.
Blades are 1095 carbon steel, which has what might be called medium edge retention when properly heat treated. Its biggest advantage is that it will take a very sharp edge and is easy to sharpen.
Blade profiles are variations of clip and drop point designs. Most patterns have hidden (rat tail) tangs, but the Caper and Outdoorsman patterns feature full tangs. Stacked leather disks, wood or wood burl (various wood species) and stag antler are the usual handle materials on hidden tang models, while Micarta, G10 and exotic woods are used to haft full tang knives.
I infer that the Hess family makes knives, because that is their craft, rather than to become wealthy. These are handmade knives, meticulously crafted by skilled cutlers, yet the retail prices of Hess knives are quite moderate. Prices range from about $70 for a Mini Caper to $145 for a Frontiersman. I did not fully appreciate the bargain and value of these products until I got my hands on one, as I will detail in the review below.
Neither are the Hess's trying to become famous. Their business is so low profile that they do not even have their own website. My overview is based on studying the offerings of internet vendors of Hess knives, plus a couple of informative articles written by persons who have first hand familiarity with the family and their operation. Ultimately, Hess knives speak for themselves, to anyone who has more than a vague understanding and appreciation of traditional hunting knives.
Hess knives are marketed through a small cadre of internet cutlery vendors, notably Collector Knives, DLT Trading Company, Knives Ship Free and TSA Knives. A couple other vendors that supposedly carry Hess knives came up on a Google search, but no actual knives were listed by them at the time I searched.
The Hess Whitetail knife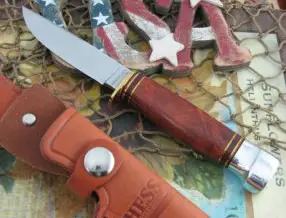 Hess Whitetail knife. Image courtesy of Collector Knives.
After doing an online investigation of Hess Knifeworks, I had to get my hands on one of their knives. After some agonizing deliberation, the one I ordered is the Whitetail model. This looked to me like a knife that could be used to field dress a deer, prepare small game or fish for a camp meal and be used for most outdoors cutting tasks.
Specifications (as reviewed)
Model designation: Whitetail
Blades shape: Clip point
Blade length: 3-1/16 inches (length of sharpened edge)
Blade thickness: 0.115 inch
Blade material: 1095 carbon steel (Rc 58-59)
Blade finish: Satin
Handle material: Amboyna burl wood
Weight: 3.10 ounces (4.45 ounces with sheath)
Total length: 7-3/8 inches
Sheath: Leather
Country of origin: USA
2018 retail price: $98 (Collector Knives)
Frankly, I feel a bit guilty that I was able to buy this knife for $98 (plus $7 shipping) from Collector Knives. Once I got it in hand and spent some time examining it, I realized that it would still have been a solid value at a price of at least $50 more. Everything about the knife is that good. Moreover, the Whitetail is true, in materials and design, to the hunting knives I recall from my youth.
I came of age as a deer hunter in the late 1950s, my early teen years. That was the time when I became aware of the subtleties of hunting knife design and materials, for it was also a time when hunting knives were going through a transition. Most hunters I knew carried fixed blade knives with carbon steel blades, clip points and handles made of leather, bone, or wood.
High chromium "stainless" steel was just emerging on the working knife scene, as was the drop point blade pattern and synthetic handles. Anyone who carried a hunting knife with a stainless steel drop point blade was practically a radical, especially if the knife had a "plastic" handle. With that background, I will break down the Whitetail feature by feature, starting with the blade.
The 1095 carbon steel, tempered to Rc 58-59, will at best get a bored yawn from modern day fans of the various super steels. I have nothing against the new, highly refined steels; I own several knives with S30V, S35VN, etc. blades and I admire the performance of these modern steels a lot. However, knives that harken back to the styles of over a half century ago would just not be right with blades of the new steels.
For a throwback knife, 1095, the queen of plain carbon steels, is exactly the right choice. Yes, 1095 is not nearly as corrosion resistant as the super steels, nor will it hold an edge as long under sustained use. That said, 1095 is still a very serviceable blade material, as long as the user understands its merits and limitations.
The blade has 3-1/16 inches of sharpened edge in front of a 5/16 inch ricasso. The spine has a long, straight and gently sloped clip, which is lightly swaged on both sides. The cutting edge is straight for the first inch forward of the grind plunge, then it has a smooth, increasing curve to the tip. The blade is 0.115 inch thick at the spine.
Coupling this geometry with a maximum blade width of 11/16 inch produces a blade that is on the slender side for a hunting knife. This and the blade length means it would not be an optimum choice for field dressing a large animal, such as an elk, but it can certainly do good work on deer, small game and most freshwater fish. It would not be my preferred choice for a skinning knife, though, as the blade does not have enough belly and curvature toward the tip to make it an efficient skinner.
I saved the most remarkable feature of the blade for last. It has a convex ground cutting edge, which is astonishingly sharp. I cannot recall another knife at this price point factory-sharpened with a convex grind. The edge made my top qualitative grade of sharpness, Extremely Sharp, with acuity to spare.
I have been trying to remember when I last encountered a blade with as keen a factory edge, and I am getting nothing. My tools and techniques for sharpening convex ground blades will get a workout trying to keep this knife as sharp as it came out of the box. Actually, I probably will not even try to keep it quite that sharp.
(See Knife Sharpness, Sharpening Methods and Tools for an explanation of my knife sharpness classification system and Sharpening Convex Ground Knives for information on tools and techniques for sharpening these blades.)
One of the Hess vendors, TSA Knives, notes that, "The blades on these knives are convex ground resulting in a razor sharp edge that stays sharp! If you decide it needs resharpening, simply send the knife to Hess Knifeworks with a few dollars to cover return shipping and they will bring the edge back to new."
The handle is a thing of beauty, with materials, lines, proportions, fit and finish that perfectly blend together. I set out to get a knife with a stacked leather disk handle, since that was the most common handle treatment for hunting knives of the era I was recreating. However, a wood handle knife hijacked me. I am a sucker for wooden knife handles, so I was a goner when I ran across a Whitetail knife with an Amboyna burl handle. This is an exotic wood with which I was not familiar, making it even more intriguing.
According to The Wood Database website:
"Amboyna is technically not a distinct species, but is the name of the burl wood from any of the Pterocarpus species. The name is derived from Ambon Island in Indonesia, where much of the figured wood is believed to have been initially exported. Amboyna is among the most expensive and sought-after of all burls and is frequently sold as veneer, or as small turning/craft blanks. Some suppliers specify 'Red Amboyna' for material with the typical rich reddish brown heartwood, or 'Golden Amboyna' for pieces with lighter yellowish brown coloration. Amboyna is commonly used for fine furniture, turned objects, electric guitar tops, knife/gun grips and other small specialty wood items.
Collector Knives had two Whitetails with Amboyna handles, one each of the red and golden color variations. The red appealed to me and the image above is of the exact knife I bought. (I appreciate that Collector Knives takes the trouble to photograph and post images of knives with unique handle treatments. This is helpful when one is shopping for a special knife.) The focus of the image is just enough off that it does not truly show the rich color and grain contrast of the wood and the opposite side of the handle is even more figured than the side that is shown. It is a beautiful piece of wood.
The handle is anchored to the rat tail tang by a small brass finger guard at the front and a brass press nut under a nickel silver pommel at the butt. Brass, acrylic resin and fiber disks accent the transitions between the guard, handle and pommel. The overall aesthetic effect is: Wow!
The dimensions of the handle are well proportioned to the size of the blade, which makes the handle just a bit small for my medium-large hand. Working length of the handle is 3-3/4 inches, with maximum dimensions of 11/16 inch thick and 7/8 inch wide at the middle. It does not fill my hand as well as I would like for a knife I might work long and hard, but it is not uncomfortably small, either. My little finger rests naturally on the knob of the pommel. The handle size is not a deal breaker for me, but I want readers to be aware of the facts.
Besides Amboyna, I saw knives with six other wood handle treatments on hidden tang knives, plus traditional stacked leather disk and stag antler handles. I saw full tang models hafted in Micarta, G10 and wood. Handle options will vary from time to time, given the limited production of Hess knives.
I must gush about the fit and finish of the knife I received. It is perfect. The blade is smoothly and evenly buffed to a satin finish and I have already noted the exceptional sharpness of the convex ground edge. The contours of the handle were exactly symmetrical and the seams between handle parts were totally smooth. The finish of the handle and hardware is immaculate. I looked hard for even the smallest flaw in fit and finish and I could find nothing to criticize.
I have seen some very good knives that came with sloppy sheaths. This is not one of them. The sheath is a sturdy weight of leather, dyed a pleasing medium brown and finished on par with the knife. It has a retention strap with a good metal snap and a very generous size belt loop. A comparable aftermarket sheath would cost at least $25, so the sheath adds even more value to the bargain price of the knife.
In conclusion, if the knife I have is representative of the whole line, then I am all in on Hess knives. This is the most immaculately crafted knife I have reviewed for Guns and Shooting Online, with quality workmanship far beyond the moderate prices at which the knives sell. That Hess knives are true to the traditional materials and styling of classic Marbles hunting knives is icing on the cake.