High Standard S-101 Supermatic Target Pistol
By David Tong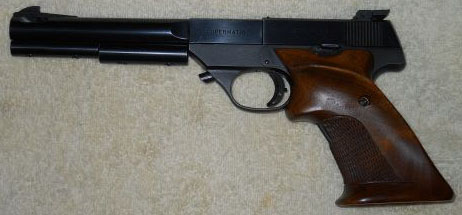 Photo by David Tong.
One of the things I absolutely love (and dread) about my local favorite gun shop is that one never knows what sort of firearm is going to among the offerings. Generally, I prefer my arms designed before 1980 and mostly before 1950. Generally, it is because they were manufactured with old-fashioned materials and techniques, but also enjoyed modern notions about ergonomics, function and consistent accuracy. High Standard, founded in 1932, is a revered old name of gun making. Formerly produced in Connecticut, High Standard was particularly well known for their line of .22 caliber semi-automatic pistols. These were widely used by the military in WWII and by civilians for everything from casual plinking to international level match/target competition. The test pistol is one of the latter variety.
Manufactured between 1949 until 1957, the "slant grip" Supermatic was arguably the best target pistol of its time. Versions of this pistol could be used in ISU rapid-fire Olympic courses of fire (.22 Short caliber), as well as standard bullseye shooting. US shooters won Olympic Rapid Fire gold medals in 1952 and 1960 using High Standard pistols, the only gold medals ever won in this event with an American made pistol.
The sample pistol features a 6-7/8" barrel with integrally machined muzzle brake, two removable barrel weights, finely adjustable rear sight and a two-stage trigger that breaks like the proverbial glass rod at 2.5 pounds with zero over-travel due to an integral screw stop system.
In addition, High Standard was the only American manufacturer of .22 semi-auto pistols that designed a quick change barrel feature into the frame. A simple spring-loaded plunger located just above the front of the trigger guard is depressed with the slide locked back. The barrel slides forward off a dovetailed track and a shorter and thinner field grade tube could be fitted. Other options were also available.
One of the more infamous uses of the High Standard .22 was by one of our lettered-agencies' assassination efforts. This silenced pistol was known as the "Hush Puppy." Another interesting example was President Dwight Eisenhower's engraved and cased presentation "Space Gun," described in another Guns and Shooting Online article.
The fit and finish of the Supermatic surely makes one yearn for the good old days. All parts are made from milled forgings except for the pressed-steel slide catch, thumb safety lever and the magazine tube. The finish is a high quality polished blue on the barrel and slide, with matte sand-blasted upper surfaces and rear of the slide to cut glare along the sighting plane. The receiver is also finished in matte blue and both front and rear straps have fine serrations for a solid grip.
Specifications:
Type: Single-action, blowback-operated semi-automatic target pistol

Construction: Forged and milled/stamped high carbon steel, hot blue finish

Overall length: 10.3"

Barrel length: 6.825"

Height: 5" to top of rear sight

Width: 1.25" across the safety and slide catch

Weight (empty): 47oz(?) with optional 2oz. and 3oz additional barrel weights attached

Caliber: .22LR standard velocity target pistol ammunition

Magazine capacity: Single-column, ten rounds

Trigger: Two-stage, 2.5lbs pull with adjustable over-travel stop screw

Sights: Rear click adjustable for elevation and windage; front Patridge square blade integrally machined on serrated ramp base secured by screw to the barrel

Safeties: Thumb activated, non-detent type on left side; magazine disconnect

Stocks: Flat section checkered plastic. Test pistol has Herrett's Shooting Master walnut checkered target stocks with palm shelf and thumb rest
While I am not as fond as others of the Supermatic's Luger-like grip angle, the Herrett's stocks fit my slender size 9 hand like a glove. (Most High Standard pistols manufactured after the early 1960's and all High Standard .22's made since 1994 use the 1911 grip angle.) At nearly 50 ounces empty, very muzzle heavy and having an integral ported compensator, recoil is nil for the slow fire offhand shooting for which it was designed.
Shooting it proved that the acute grip angle makes the pistol somewhat ammunition sensitive. Bullet profile that differs significantly from the original round-nose .22 LR design or bargain ammo need not apply, nor should one use them. (This is not a problem with later models.) Sub two-inch hand held groups at 25 yards were relative child's play.
I believe that the slide and frame were hand fitted and polished, though I am honestly not familiar with High Standard's production methodology. However, it is apparent that the very smooth, free running, fit of the slide on the frame is not an accident or coincidence.
Both the breech end of the barrel and the standing breech of the slide are left in the white. The removable barrel feature allows the careful owner to clean the barrel from the breech end, as one should always do to avoid damage to the muzzle crown.
The overall condition of the pistol is approximately 98%, with only the barest hint of blue wear on some slide edges and at the muzzle. I like the fact that the rear sight is a relatively compact design that does not feature the later sheet metal mounting system and huge blade of the "Military" models manufactured in the 1960s through the 1980s. That later system interfered somewhat with the ability to rack the slide easily, as anyone with a Citation or Victor pistol can probably attest.
Alas, High Standard's time in the sun as a competitive target pistol was relatively short. This may have been partly due to changing shooter tastes, but was probably mostly due to unfortunate decisions by the Company management. In 1968 the Company was purchased by Leisure Group, a sports conglomerate. (Almost always bad news for a gun manufacturer!) There were many subsequent ownership changes, culminating with the 1993 acquisition of all Company assets and trademarks by the High Standard Manufacturing Company, Inc. of Texas, who moved all assets and manufacturing from Connecticut to Houston. In the 1995 National Matches at Camp Perry, High Standard was again the number one .22 pistol brand on the line. You can visit the modern High Standard Manufacturing Company website at www.highstandard.com
What is interesting to me is that this pistol's relative commonness makes it a bargain in 2011 dollars. When a Ruger Mark III MK-512, 5 1/2 " bull-barrel Target model can exceed $350 street price, constructed as it is of a folded and welded sheet metal frame and a tubular upper receiver, a pistol of the High Standard's quality selling in the $500 range seems almost cheap. It is certainly less expensive than any version of the comparable Colt Woodsman "Match Target" or Browning Medalist target pistols, which tend to sell for nosebleed prices.
I suspect the Supermatic will always be able to outshoot this lowly scribe and it would always challenge me to become a better shot than I already am. I kind of like that idea.