Heckler & Koch HK45 .45 ACP Autoloading Pistol
By David Tong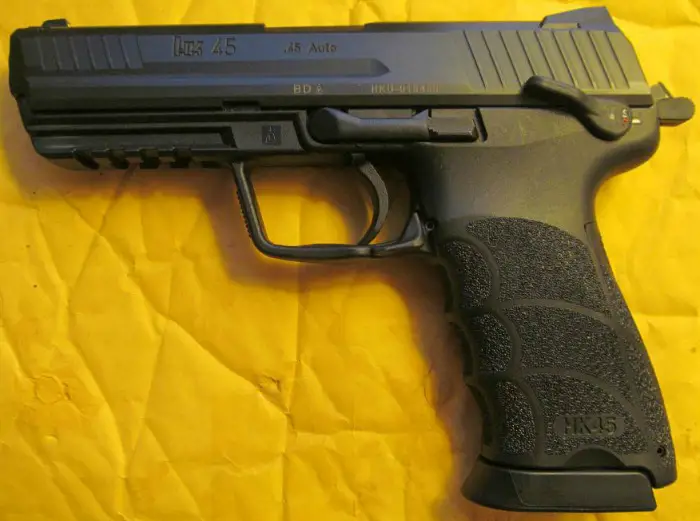 Photo by David Tong.
For the past fifteen years or so there have been several halting attempts by the U.S. military to seek bids or requests for proposal for a new service pistol to replace the Beretta M9. While the current Beretta M9 in 9x19mm NATO caliber has been a decent sidearm, troops have reported sensitivity to sand, having to run the pistol with extra lubricant and parts breakages, such as locking blocks and trigger return springs.
Moreover, there have been numerous complaints about the 9mm cartridge. The NATO 9x19mm ball load uses a 124 grain round-nosed, full-metal-jacket bullet, an ideal design to minimize stopping power. The muzzle velocity is a nominal 1,185 fps. Personnel have complained of incidents where adversaries soaked up multiple center mass hits before stopping their aggression.
In addition, there have been some issues with the size of the M9's butt girth. It is fairly large for small-handed personnel to grasp properly and pull through the rather long and heavy initial double-action trigger stroke.
While adopting a .45 ACP bullet might improve the situation somewhat, as it has roughly 62% more frontal area than a 9mm bullet, it shares the same poor shape. The thought of most personnel is that, "If we are stuck with hardball (Hague Convention Declaration IV, 1899), we may as well use big hardball." This is among the main reasons .45s are being used by some special operations units.
One attempt to replace the M9 was a request for development and proposal of a Joint Combat Pistol in 2005. This was spurred primarily by Special Operations Command and was intended to be a shared-services handgun with over 600,000 potential units to be built. USSOCOM made it clear that only .45-caliber handguns were requested. As a result of that program, which was abruptly ended only four months after it began with no pistol selected, H&K introduced a civilian version of their entry, the HK45, in 2006.
The HK45 is the first H&K handgun to be assembled in Newington, New Hampshire from American and German made components. It is offered as a full sized service pistol, compact model or tactical model with tritium night sights and a barrel threaded for a suppressor.
The test pistol that is the subject of this review is the standard, full-sized service model, V1 type. The V1 comes with a SA/DA trigger and a decocking lever. (There is also a police model with a DAO fire control system.) It is a product improvement of the Company's earlier and still available USP45 service pistol of 1995. Noted firearms experts Larry Vickers (Delta Force) and Ken Hackathorn (a firearms trainer formerly with Gunsite and also a SF veteran) helped H&K refine the earlier pistol.
The slide at first glance resembles the USP, but it has lost its parallel sides and now has a more tapered shape that reduces weight and bulk. Cocking serrations are provided fore and aft and provide good purchase. The front of the slide is cleanly beveled and the front of the accessory rail is rounded to facilitate smooth holstering.
The full-sized .45 USP has a 12 round magazine. The ergonomics of the HK45 were markedly improved by using a 10 round magazine. Indeed, the feel is quite unlike the rather parallel sided and blocky USP.
The standard HK45 is available with three available finish colors. These include black, olive drab and tan. The test pistol is the basic black version.
Advertised Features
Integral MIL STD 1913 (Picatinny) rail molded into the polymer frame dust cover for mounting lights, laser aimers, and other accessories
Ergonomic grip profiles with user replaceable grip panels to adjust the feel and grip circumference of the weapon to suit individual operator hand size and shooting preference
HK45 grip-to-slide angle matches Model 1911 profile
Common high-capacity metal magazines with a capacity of 10 rounds (for both HK45 and HK45 Compact models)
Ambidextrous controls with dual slide releases and enlarged magazine release
Uses the proven modified Browning linkless recoil operating system
O-ring barrel for precise barrel to slide lockup
Polygonal rifling for longer barrel life and better accuracy
Improved ergonomic control levers (safety and/or decocking)
Low profile drift adjustable 3-dot sights
Contoured and radiused slide with forward slide grasping grooves and anti-glare longitudinal ribs
Specifications
Product Code: Part No. 7450018208 A5
Type: Semi-automatic service pistol
Operation: Modified Browning short recoil, tilting barrel action
Caliber: .45 ACP (standard velocity and +P loads)
Length: 8.0 in.
Width: 1.4 in.
Height: 5.7 in.
Barrel length: 4.5 in.
Rifling: polygon, cold-hammer forged
Finish: Matte black ferritic nitro-carburizing (Tenifer or derivative)
Trigger: DA 10 lbs. / SA 4.8 lbs.
Weight Empty: 31 oz. with empty magazine
Magazine Capacity: 10 rounds
Sights: Fixed, open, Super LumiNova three dot (optional tritium night sights available)
Included accessories: 2 magazines, medium size back strap, 3 additional barrel O-rings, cable lock, internal action lock key
Country of Origin: Designed in Germany, Assembled in USA
2016 MSRP: $1,199
An interchangeable back strap, size medium, is provided while the small back strap comes installed. The finely molded stippling provides a secure, but not overly abrasive, grip texture. The soft contours of the finger grooves are comfortable and not distracting. I am not sure which insert I prefer and even the larger of the two does not change the length of pull, just the amount of curve in the hollow of your palm. The grip angle is similar to a Model 1911.
There are a pair of small magazine release paddles mounted in the bottom rear of the trigger guard and a second slide stop is fitted to the right side of the frame, thus making the pistol completely ambidextrous. The HK45 uses an H&K proprietary, high temperature O-ring for tight barrel-to-slide fit and improved accuracy.
Since this was to be a U.S. issue pistol, the proprietary HK accessory rail was replaced by a M1913 Picatinny rail in front of the trigger guard on a strengthened dust cover. Try as I might with my fingers, I was unable to flex or twist it, so it would offer a very sound place for lasers and lights.
H&K is one of relatively few handgun makers that also build their own magazines. Some of the problems with the Beretta M9 have been attributed to the use of contracted aftermarket sourced items, so H&K took no chances.
One look at the precision sheet metal dovetails along its rear spine with double induction welds and you know it is a quality piece. It is also easy to load, without the need for any tool.
The magazine floor plate is easily removed for cleaning. In addition, it is made of an impact and damage resistive rubber. This is in marked contrast to nearly all other magazines with which I am familiar, as they usually use either thin sheet steel or hard plastic that can bend or shatter if dropped.
To this long-time 1911 shooter, the balance and feel of the HK45 is superb. The pistol points naturally and feels great in the hand. I am glad to see the time spent on updating the USP's ergonomics paid off handsomely.
If I were to pick nits, I would say that the bore axis is a fair bit higher than some other designs and so might marginally increase muzzle flip on recoil. In addition, the decocking/safety lever's pivot point and thickness make it harder and less comfortable to use than could otherwise be the case. It rides right on the base joint of my thumb, so it enforces a low thumb hold on the butt, rather than the high thumb position I have been accustomed to with the 1911. At least the pistol has molded-in concave areas for the thumb.
The smooth machined cuts in the forged steel slide, hammer forged barrel, precise molding of the polymer frame and the hairline fit of the interchangeable back strap insert reek of quality. German designed arms have long impressed me and the HK45 is no exception.
If you remove the barrel from the pistol and place a cartridge into the chamber, you can see the excellent chamber support for the case head. The wall thicknesses are even all around. The barrel sits atop the metal guide rod end, which covers the trigger area. The feed ramp terminates directly over the magazine well, so in the unlikely event of a ruptured case head, escaping powder gasses should vent into the magazine well.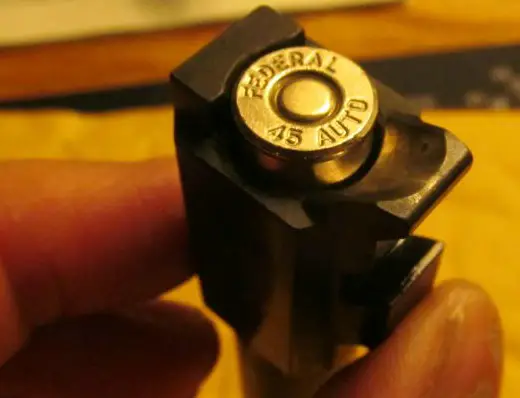 Photo by David Tong.
H&K claims a minimum 20,000 round service life for the HK45. In one reported in-depth test conducted over a nine month period, some 50,000 rounds were fired through an off the shelf HK45. This individual pistol went nearly 32,000 rounds without a failure to function or broken part. It averaged over 7,000 rounds between cleanings and the only part that broke during the testing was a trigger return spring.
Shooting Results
We were able to bring a variety of ammunition to the Izaak Walton outdoor shooting range south of Eugene, Oregon. These included Remington/UMC 230 grain FMJ, Winchester/USA 230 grain FMJ, Winchester Super-X Silvertip 230 grain JHP, Winchester Supreme Elite 230 grain JHP and SIG-Sauer 200 grain JHP factory loads.
G&S Online Senior Technical Advisor Jim Fleck and I did the test shooting. The summer weather was hot with a high temperature of about 90-degrees F. Wind was not a factor.
The targets used were Caldwell vinyl rifle scope targets that can be placed into a three-ring binder. These are grey squares optimal for a crosshair, not the usual bold circle, and were thus a bit hard to see. Five shot groups for record were fired from a bench rest at 25 yards.
SIG-Sauer 200 gr. JHP: Best group 3.8 in.; Worst group 4.7 in.; Mean Average = 4.3 in.
Remington/UMC 230 gr. FMJ: Best group 2.8 in.; Worst group 4.0 in.; Mean Average = 3.4 in.
Winchester S-X 230 gr. STHP: Best group 2.8 in.; Worst group 2.8 in.; Mean Average = 2.8 in.
Winchester/USA 230 gr. FMJ: Best group 3.8 in.; Worst group 4.3 in.; Mean Average = 4.1 in.
Winchester S-E 230 gr. JHP: Best group 1.8 in.; Worst group 2.5 in.; Mean Average = 2.2 in.
Mean average for all groups = 3.4 inches
Neither the Winchester 230 grain FMJ nor the SIG-Sauer 200 grain JHP ammo shot well in our testing, while (except for an occasional shooter caused flyer) the Winchester Supreme Elite load performed best. Typically, my groups hit close to the point of aim in windage, with some vertical stringing due to single flyers, while Jim's groups tended to be dispersed horizontally, the exact opposite.
After we discussed these results, I came to the conclusion that I may have been "heeling" the pistol a bit, while my trigger control was okay. Jim might have been pushing against the trigger, causing most of his shots to hit high and left. I am convinced that the HK45 may be capable of better accuracy than our results indicate.
We agreed that the pistol feels good in the hand and has a decent single-action trigger pull for a traditional DA/SA autoloading pistol. While the trigger has the tiniest bit of creep before let-off, it did not appear to be a hindrance during shooting. I would not call the trigger quality 1911-like, but it is a cut above most of the polymer-framed handguns I have fired.
While it weighs about 10 ounces less than a steel 1911 service pistol, recoil-wise they are comparable in terms of feel and muzzle flip. The H&K one-piece steel guide rod and captive spring with its integral cam lug help moderate recoil more than one might think. H&K claims up 30% recoil reduction with their unique internal mechanical recoil reduction system.
The compromise made to provide plenty of light around the front sight in the rear notch meant that precise aim on a bullseye target at 25 yards is not easy. My eyes are still reasonably sharp for a guy in his mid-50s, so perhaps with a tighter rear notch I could have shot somewhat tighter groups. A little more practice would not hurt, either! The iron sights were well regulated for me, meaning the point of aim and point of impact generally coincided, at least with 230 grain bullets. Jim's results differed.
H&K produces five different front sight heights to adjust elevation. I know of no other manufacturer that does this. Since this .45 is designed for service use in a military context, 230 grain bullets at a standard velocity of 830-880 fps are most likely to hit near the point of aim with the supplied front sight.
Conclusion
My association with the 1911 pistol, former H&K offerings and exposure to polymer-framed, lightweight service pistols of different makes has been an educational process. The admittedly expensive Heckler & Koch HK45 seemingly combines the best attributes of a proven defensive caliber with a slender feel, above average trigger pull, comfortable ergonomics, reliability and light weight.