Heckler & Koch VP9 9x19mm Autoloading Pistol
By David Tong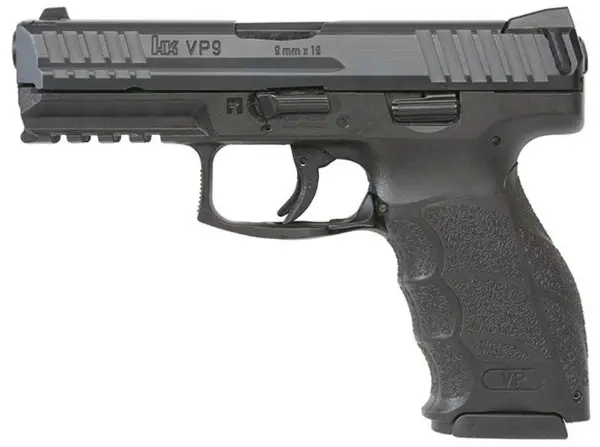 Illustration courtesy of H&K-USA.
While many people believe that the first high-capacity, double-action only, striker-fired, polymer-framed, 9mm pistol with polygon rifling came from a certain Austrian maker, the Oberndorf, Germany firm of Heckler and Koch offered a similar item in 1970.
Known as the VP-70Z in the U.S., it was a pretty ungainly device with a long, 17 pound trigger pull and an 18-round magazine. It was originally developed as the VP-70 machine pistol, designed for three-round burst automatic fire and to be used with a detachable shoulder stock.
H&K has long prided itself on its law-enforcement and military sales. Unlike most manufacturers, who concentrate the preponderance of their marketing effort on civilian sales, this means that their products are durability and reliability tested. HK owners are not beta-testers.
The U.S. military uses a number of H&K firearms in Special Operations, including the gas-piston powered HK 416 assault rifle, Mk. 23 Mod. 0 .45 ACP offensive handgun and the USP-Compact Tactical. All can be fitted with suppressors.
The Company's last striker-fired handgun was the squeeze-fire P7 series, which ceased production in 2008. Introduced in late 2014, their new VP9 can be considered an amalgam of their previous hammer-fired P30 handgun with the now more common striker-fired system. The bore axis is higher than a Glock, but lower than a Walther PPQ, or Springfield XDm.
Specifications
SKU: 700009LE-A6 (with tritium night sights)
Caliber: 9x19mm Luger
Magazine capacity: 10 or 15 rounds
Length: 7.3 in.
Width: 1.3 in.
Height: 5.4 in.
Barrel length: 4.1 in.
Rifling: Polygon, 1 in 9.8 in. twist, right hand
Sights: Fixed, Patridge type
Sight radius: 6.6 in.
Trigger: Single-action only
Weight (with empty magazine): 26.6 oz.
Country of Origin: Germany
2015 MSRP: $719
The aforementioned Austrian pistol (Glock) has pretty much set the standard for the current striker-fired service pistol. However, many civilians and uniformed personnel prefer a sharper grip angle, more like a 1911 pistol, which the VP9 provides. In addition, the VP9's interchangeable grip panels allow the purchaser to change the size of the butt to fit different sized hands.
It features not only small, medium and large back strap inserts, but also interchangeable side panels. This makes it adjustable to fit nearly any hand. The fit of the optional grip panels is hairline precise. One can interchange them, so if the small back strap fits your short fingers, but you need more meat to fill your palms, the size large side panels can be fitted, no sweat.
The pistol comes in the small configuration out of the box. I have not found much need to change it with my size medium hands. My index finger's first pad and distal joint reach the trigger naturally, the molded stippling provides a non-slip, yet comfortable, feel and the finger grooves on the front strap are not a distraction, as finger grooves can so often be.
Of all the striker-fired designs, I think the only two that offer a comparable trigger pull are the Walther PPQ and the Glock 17/19. The VP9 has a Glock-like trigger safety blade in the front face of the trigger. The pull has approximately 1/4 inch of travel, then hits a noticeable stop before sear trip. The pull is a slightly creepy five-plus pounds.
None of the striker fired service handguns have trigger pulls comparable to the best hammer-fired service pistols and this one is no exception, but it is eminently shootable. The reset distance is just over 1/10 inch, so accurate and rapid repeat shots are possible.
H&K has definitely sweated the details on the VP9. The internal machining and metal stamping of parts, the smoothness of the interior of the slide and the fit of the barrel when in battery is confidence inspiring.
Externally, the sights are at the extreme ends of the slide, maximizing sight radius. The slide has rear sight retained, plastic charging supports that are a small extended ridge at the rear of the serrations. This is to ensure good finger purchase when racking the slide from rest or slide lock, to ensure reliable reloading. However, the Browning tilt-lock action is easy to rack, due to reasonably light springs and exceptionally prominent front and rear serrations.
H&K manufactures their own magazines in-house and they have the dovetailed and welded construction that once was used by SIG-Sauer. Made of carbon steel and finished with a matte black, rust-resistant coating, they are easily disassembled for occasional cleaning with no more than a pencil eraser inserted into the floor plate. Three magazines are included with new VP9 pistols.
Magazines can be loaded to full capacity using just your fingers, although a plastic loading tool is supplied with new pistols. A line of witness holes on the back offers an indication of remaining cartridges.
The magazine release is a pair of ambidextrous levers pivoting at the base of the square-front trigger guard. H&K has used this system for better than 20 years now and it is well proven. The slide release is also ambidextrous.
The barrel is a hammer-forging, out of what H&K calls "cannon-grade" steel. Hammer forging work hardens the steel, which makes it more durable over a long service life. The prior P30 handguns had barrel testing done to over 90,000 rounds and the VP9's tube is made of the same material, while the polygon bore is known for somewhat better gas seal and slightly higher velocity than conventional lands and grooves.
The barrel has robust-looking chamber support of the case head, as well as fairly thick chamber walls all-around. There is a stainless steel locking block and trigger housing. The placement of the chamber and the feed ramp, which extends to its rear into the magazine well, are design features that may help prevent over-pressure cartridge damage or destruction of the handgun, as well as injury to the shooter.
All exterior surfaces have been beveled and chamfered to make the pistol smoother to holster and handle. The slide has full-length angle cuts, giving it a truncated-conical shape when viewed from the rear.
The slide and barrel are finished in ferritic nitro-carburizing, also known as Tenifer or Melonite, for extreme corrosion resistance. Most other metal parts are also blackened with a corrosion-resistant finish, but they are not self-lubricating.
The Patridge type sights are drift-adjustable for windage. Both are dovetailed for easy replacement. The pistol I used for this article had the optional tritium inserts for dim light shooting, as well as a Picatinny rail for laser and light fitment.
The striker has a painted red dot on its rear to indicate it is cocked and ready to fire. The extractor, 1-1/4 inch in length and coil spring powered, has a small, red painted, recessed area to indicate a loaded chamber. Since it barely protrudes, I do not consider it a very good example of the breed from a tactile perspective. I always prefer an actual visual chamber check to confirm either loaded or unloaded, but dumb laws are dumb laws.
Worthy of mention is the short 32 page Operator's Manual, which nicely covers functioning and care. It includes an exploded parts diagram, parts list and a shooting log. Remarkably, it lacks the pages of lawyer-speak included in so many firearms instruction manuals have these days.
Conclusion
H&K has a long history of innovation and selection of alternative materials to produce reliable handguns. The VP9 appears to have profited from that experience. It features adjustable ergonomics, a better than average trigger for the breed and a relatively low price point for an H&K pistol.