Hornady .45 Colt LEVERevolution Factory Load
By Chuck Hawks

Illustration courtesy of Hornady Mfg. Co.
Hornady has announced a new .45 Colt (.45 Long Colt) load for 2009. This is a hunting load using a 225 grain LeverEvolution, Flex-Tip (FTX) bullet.
The .45 Colt has long been a popular revolver cartridge and more recently it has been adapted to lever action carbine replicas, but due to the pressure limitations of such firearms there has been a pressing need for a modern, high performance, hunting and field load that was suitable for use in these guns. High pressure (+P) ammunition intended ONLY for use in Ruger Blackhawk revolvers and T/C single shot rifles and pistols is unsafe in most other revolvers and rifles, especially replicas of 19th Century Colts and Winchesters. (See the article "High Pressure Loads for the .45 Colt" on the Handgun Information page for more information.)
Now, the Hornady Mfg. Company has filled the need for a .45 Colt hunting load. Here is what the Company says about their new factory load:
"In 2008, Hornady began producing the most technologically advanced 45 Colt ammunition in history."
"Hornady engineers had a difficult task at hand to generate modern performance from a cartridge that was designed to be loaded to low pressures with black powder and fired in fragile — at least by today's standards — revolvers. There are a number of companies who offer "high performance" 45 Colt ammunition but they are loaded to pressures that are unsafe in original 1873 Peacemakers or replicas."
The new LEVERevolution® round is loaded to SAAMI spec pressure so it's safe for all 45 Colt firearms, AND the specially designed FTX™ bullet delivers exceptional terminal performance that makes it a great choice for hunting. If you want to take a classic 45 Colt out in the field and have 100% peace of mind that there's no chance it will damage the gun — and deliver LEVERevolution® performance you've come to trust — Hornady has the answer."
Here are the published ballistics for Hornady's .45 Colt 225 grain FTX factory load.
Velocity (fps)/Energy (ft. lbs.): 960/460 at muzzle, 895/400 at 50 yards, 842/345 at 100 yards, 795/316 at 150 yards.
Trajectory (inches): -0.8" at muzzle, +/- 0 at 50 yards, -10.0" at 100 yards, -32.3" at 150 yards.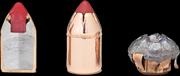 Illustration courtesy of Hornady Mfg. Co.
Achieving adequate expansion at .45 Colt velocities has been a serious problem with previous .45 Colt factory loads. Hornady's new .45 Colt FTX bullet is designed to expand at revolver velocities, delivering maximum stopping and killing power for game-getting performance. It may also prove to be the best choice for those who prefer to use a .45 Colt revolver for personal protection. In addition, its jacketed FTX bullet eliminates barrel leading issues.
This new Hornady LeverEvolution load is a boon for .45 Colt fans. Visit the Hornady web site at www.hornady.com